Floor Cracks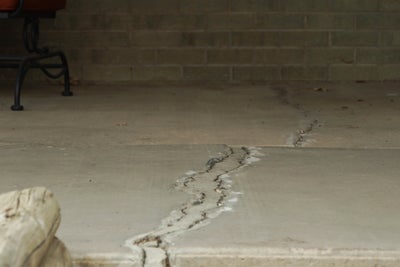 When a maze of cracks begins to appear on your home's concrete slab floors, it's more than a cosmetic issue — it is a warning sign of potential underlying problems. These floor cracks can jeopardize the structural health of your home and create avenues for groundwater invasion, creating the potential for lots of damage quickly.
At JES Foundation Repair, we provide trustworthy service and effective solutions for foundation concerns. Guiding homeowners to structural safety with proficient expertise, we are a trusted ally in safeguarding your home's foundation.
Continue reading to deepen your understanding of the reasons behind floor cracks and how to approach them with an informed perspective.
What Are Floor Cracks? 
Floor cracks can be described as breaks, gaps, or fissures occurring in your home's flooring, often stemming from a variety of reasons including pressure inconsistencies and foundational issues. They frequently herald other complications such as:
Water permeating into the home
Mold development
Not every floor crack is a severe threat; however, timely intervention can prevent water damage and additional deterioration of your home's structure.
Unearthing the Causes of Floor Cracks 
To effectively address floor cracks, one must first identify the underlying causes, a task expertly undertaken by our skilled team through meticulous inspection.
Material Contraction 
Materials like concrete used in flooring can undergo shrinkage during the curing process, potentially leading to cracks. Although not always a structural concern, these cracks can facilitate water ingress if ignored.
Overload Issues 
Heavy furnishings, libraries, or appliances can exert excessive pressure on the floors, instigating cracks. Being mindful of the floor's load-bearing capacity is essential to prevent such occurrences.
Soil Movements 
Altered soil conditions under your home due to varying factors such as weather or erosion can cause the floor to shift, resulting in cracks and other irregularities.
Soil Characteristics 
Specific soils, notably those containing clay, can expand and contract with moisture changes, a phenomenon that causes recurring floor cracks in homes erected on expansive soils.
Foundation Uplift 
Excess water underneath the floors can exert upward pressure on the foundation, fostering crack development. These cracks can progressively worsen, enhancing the potential for water infiltration in your home.
Identifying the primary cause is a pivotal step in deriving the right solution. Trust JES Foundation Repair to provide solutions crafted to address your home's specific needs.
Can Floor Cracks Be Effectively Repaired? 
Yes, with modern technology, floor crack repair is not only possible but can be undertaken efficiently without resorting to total floor replacement.
We caution against DIY solutions that merely cover the surface issues while neglecting the underlying problems. Rely on professional inspections and interventions to achieve lasting results.
JES Foundation Repair's Strategy for Tackling Floor Cracks 
We pride ourselves on our customer satisfaction, grounded in attention to detail and a commitment to excellence. Our approach includes:
Comprehensive Inspection 
Our experts will conduct an exhaustive analysis of each crack, encompassing its dimensions and associated conditions to determine the most beneficial solution for your home's individual circumstances.
Load Redistribution Techniques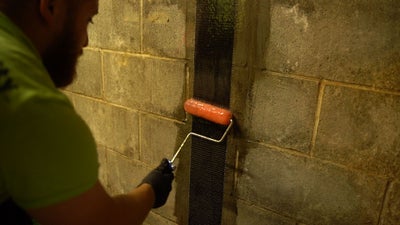 Where soil movement is identified as the culprit, we employ specialized foundation piers to redistribute the load effectively and potentially restore the original floor level.
Strengthening Wall Structures 
Wall reinforcements to halt further damage are a part of our strategy, ensuring a comprehensive solution to the problem at hand. Certain cases may call for carbon fiber straps, wall anchors, or I-beams.
Water Mitigation Measures 
Our solutions extend to waterproofing, deploying tactics to shield your home from moisture-related issues and fostering a healthy living environment.
The Importance of Timely Floor Crack Intervention 
Delaying floor crack repair can escalate into substantial foundation issues. Quick action can prevent:
The rapid spread of cracks due to sustained pressure
Increased chances of water intrusion, fostering mold growth and soil erosion
Growing structural concerns and the development of uneven floors over time
High repair costs due to deferred maintenance
Maintain your home's structural integrity by remaining alert to signs such as floor cracks. Choose JES Foundation Repair for thorough solutions that delve beyond surface repairs to enhance your home's foundation stability.
Connect with JES Foundation Repair for Expert Solutions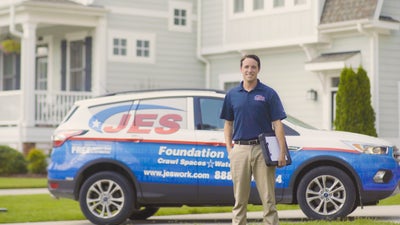 If floor cracks are a concern in your home, do not hesitate to act. Rely on JES Foundation Repair to offer advanced solutions in repairing existing cracks and bolstering your home's foundation.
Contact us today for a complimentary inspection and secure peace of mind with proven solutions from experts you can trust.
FAQs
At the earliest sign of floor cracks, secure professional inspection to facilitate efficient and economical solutions. 
Cost estimates are personalized based on the extent of the damage and the chosen remediation method. We offer transparent pricing along with a free initial assessment to provide you with an accurate quote. 
While minor repairs might take a day or two, substantial remediations might require a more extended period. We provide a precise time estimate during our initial evaluation, tailoring solutions to match your schedule and needs. 
Publish Date:
Last Modified Date:
Explore more problem signs