Sticking Doors and Windows
Feeling some resistance when you try to open or close your doors and windows? While this can just be a symptom of an old home, in many cases it actually points a warning sign at your foundation. Sticking doors and windows frequently appear alongside other symptoms, such as sagging floors, wall cracks, all pointing to foundational challenges like settlement.
With a rich history of serving the mid-Atlantic, JES Foundation Repair is your go-to expert in diagnosing and addressing foundation-related concerns in homes like yours. Reach out to us to nip potential foundation troubles in the bud before they escalate.
What Are Sticking Doors and Windows?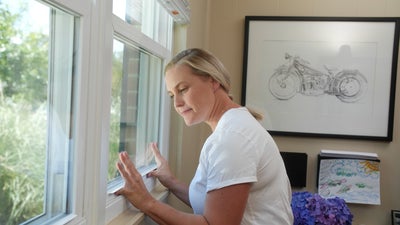 Doors and windows that don't operate smoothly and often get stuck are known as sticking doors and windows. This problem, which may seem minor at first, can signal deeper issues with your home's foundation.
This can include warped frames around windows and doors and even drywall cracks nearby — signs that shouldn't be ignored as they point to significant foundation concerns. Primarily, the underlying issues stem from foundation settlement and impaired crawl space supports. Addressing these issues early on can prevent a host of other problems in the future.
What Causes Sticking Doors and Windows?
Several factors can lead to sticking doors and windows, including: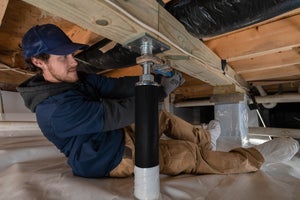 Ground Settlement: Foundation settlement may result in uneven floors and altered interior wall positions, causing jamming issues with doors and windows.
Compromised Crawl Space Supports: When crawl space supports deteriorate due to wood rot, over spanning, or water damage, it leads to sagging floors and consequently, sticking doors and windows.
Water Damage: Persistently damp conditions can cause door and window frames to swell and warp, giving rise to sticking issues.
Natural soil shifts beneath your home, poor drainage, and improperly compacted soil can also provoke foundational problems that result in sticking doors and windows.
Can You Fix Sticking Doors and Windows?
Certainly! Addressing the root of the structural issues is key to providing a lasting solution to sticking doors and windows. Once the foundation is secured, in many cases, the floor will be brought back to level. This makes reframing the doorways and windows much simpler for a lasting solution.
How JES Foundation Repair Solves Sticking Doors and Windows Issues
JES Foundation Repair utilizes a multi-faceted approach to correct the sticking doors and windows phenomenon:
Through a tailored approach, we work to offer permanent fixes to sticking doors and windows, wherever the issues stem from, enhancing your home's longevity and functionality.
Why Address Sticking Doors and Windows Issues Now?
Ignoring sticking doors and windows can result in:
Trip and Fall Hazards: Doors and windows that don't open and close smoothly can create hazards, such as tripping over raised thresholds.
Blocked Emergency Exits: In emergencies, easily accessible exits are vital. Sticking doors and windows can hinder quick exits, posing a safety risk.
Mold and Mildew: Foundation issues can lead to water seepage, promoting mold and mildew growth, which have adverse health effects.
Pest Infestation: Cracks and gaps resulting from foundation problems can become entry points for pests, leading to infestations that threaten your health and comfort.
Avoid the cycle of temporary fixes and opt for a permanent solution with JES Foundation Repair to protect your home for the long term.
Reach Out to JES Foundation Repair for Your Sticking Doors and Windows Issues
Don't let sticking doors and windows persist as a nagging problem in your home. Entrust your home's foundation to the expert hands at JES Foundation Repair. We're here to provide tailored solutions, offering you a seamless, problem-free living experience. Contact us today for a complimentary estimate!
FAQs
Yes, other signs include cracks in walls and ceilings, uneven flooring, and noticeable cracks in bricks. Our experts are trained to thoroughly evaluate your home for these issues before we create your repair plan.
While high humidity can cause minor sticking, persistent and severe cases are usually a sign of underlying structural problems that need addressing.
DIY attempts at fixing foundation issues are generally discouraged as they can aggravate the problem. It's best to consult with professionals like JES Foundation Repair to secure a detailed assessment and enduring solutions.
Publish Date:
Last Modified Date:
Explore more problem signs