BasementGutter™ Interior Drainage System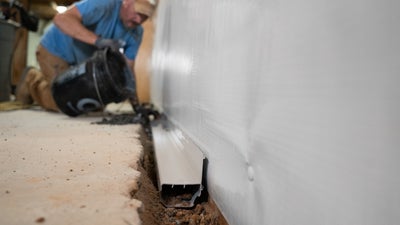 Facing a leaky, damp basement is every homeowner's nightmare — especially when it impacts the living conditions and the structural stability of your home. JES Foundation Repair, a trusted name in the Mid-Atlantic, including Virginia, Washington, DC, Maryland, Northeast NC, and West Virginia, offers the AquaStop BasementGutter™ Interior Drainage System — your ultimate defense against basement water intrusion. Our custom-tailored solutions are designed to maintain a dry and secure foundation for your home.
What Is BasementGutter™ Interior Drainage? 
JES Foundation Repair is your expert ally in addressing the challenges posed by ineffective drainage solutions leading to damp basements. Our premium AquaStop BasementGutter™ is precisely installed along the internal perimeter of your basement to efficiently channel any infiltrating water to your sump pump, thus enabling effective water removal.
Deployed above the footing, this system avoids mud clogs, ensuring seamless operation. Incorporating AquaStop BasementGutter™ into our extensive home waterproofing plan offers a robust defense mechanism, promising a healthier living environment and reassurance that your home is safe.
Signs You Need Interior Basement Drainage 
Timely identification and intervention are key to avoiding severe damage and repair costs. Signs to look out for include:
When you observe any of these indicators, it's crucial to connect with a reputable professional like JES Foundation Repair.
The Importance of Interior Drainage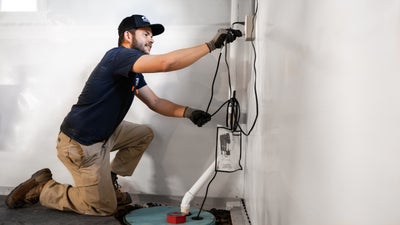 Proactively installing an effective interior drainage system is a defensive move that can save you the headache of dealing with water removal and escalating repair expenses every time it rains. DIY attempts often result in temporary solutions; therefore, trusting experienced professionals like JES Foundation Repair is recommended.
Incorporating the AquaStop BasementGutter™ system into our comprehensive waterproofing approach assures the durability and safety of your property.
Advantages of AquaStop BasementGutter™ by JES
Water Damage Prevention: Rapid water collection and redirection protect your belongings and prevent mold development.
Seamless Integration: The system pairs well with our array of basement waterproofing and foundation repair solutions.
Extends Life of Foundation: AquaStop BasementGutter™ safeguards your foundation from potential deterioration.
Provides Peace of Mind: Depend on our reliable drainage system to maintain a dry basement environment.
Installation of AquaStop BasementGutter™ by JES
Upon a meticulous inspection, our certified installation process involves:
Remove 6-12 inches of concrete around the interior perimeter.
Drill weep holes in the bottom courses of concrete block walls for water movement.
Place BasementGutter™ in the trench and backfill with stone.
Set a vapor barrier on top.
Connect the drainage channels to the sump pump.
Pour cement to replace the concrete floor.
To enhance protection, we also include a wall vapor barrier, a dehumidifier, and an anti-freeze exterior sump pump discharge line.
Why Choose JES for Your Interior Drainage Needs?
JES's AquaStop BasementGutter™ stands out with its anti-clog design, compatibility with other waterproofing solutions, inclusive warranty, and availability of annual maintenance service plans.
Contact JES for Superior Interior Drainage Solutions!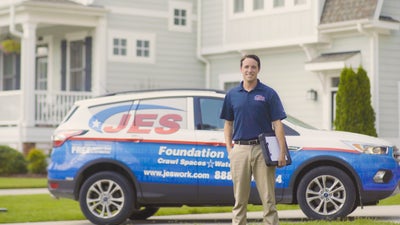 Don't let a water-prone basement diminish your home's value and safety. Choose JES Foundation Repair for reliable, enduring solutions. Reach out to us today for a free, no-obligation inspection.
Serving the Mid-Atlantic region for years, we have earned the trust of numerous homeowners. We're excited to bring our expertise to your doorstep!
FAQs
At JES Foundation Repair, we customize the AquaStop BasementGutter™ system to cater to the specific needs of homes in the Mid-Atlantic region. Our system is designed to withstand the unique climate and environmental challenges of areas including Virginia, Washington, DC, Maryland, Northeast NC, and West Virginia, ensuring long-lasting protection. 
The system is strategically designed to collect and redirect water away from the foundation, preventing it from causing damage to the walls and floors. This proactive approach helps in averting foundation deterioration, thereby enhancing the structural integrity of your home. 
The cost is influenced by the size of your basement and the materials involved. At JES, we provide free inspections, no-obligation estimates, transparent pricing, and financing options to suit your financial requirements. 
Publish Date:
Last Modified Date: