Wall Anchors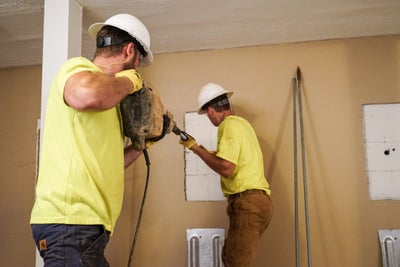 If your basement is showing signs of foundation damage like cracks in your walls, these issues may indicate your foundation walls need extra reinforcement. With a reliable wall anchor system, you can stabilize your foundation and prevent further deterioration.
JES provides long-lasting basement repair services with wall anchor installations that permanently brace weakened walls. Our wall anchors grip stable soil, halt foundation movement, and even straighten walls over time. Reinforce your home's basement now and avoid the high costs of full replacement down the road. 
What are Wall Anchors? 
Wall anchors are steel brackets that are embedded into the ground outside the foundation walls. A wall anchor system consists of two main components:
Anchor brackets secured to the inside of the basement wall with expansion bolts
Steel rods that connect the brackets to pins drilled deep into stable soil
The anchors extend into soil beyond disturbed ground near the foundation. This provides reinforcement by bracing the wall at its weakest points. Wall anchors also halt lateral movement and stabilize the foundation when tightened over time. 
Signs You Need Wall Anchors 
Typical signs your home's foundation needs wall anchors include:
Basement Wall Cracks: Horizontal cracks along walls or stair-step cracks in corners mean the walls are shifting inwards.
Bowing Walls: Walls that appear to be bowing or tilting in at the top or bottom need reinforcement.
Water in Your Basement: Water seepage or moisture coming through cracks can lead to mold, damage to your things, and structural damage.
Musty Odors: Musty odors are a sign that water has intruded into the basement and mold is growing inside.
By installing wall anchors at the first signs of damage, you can stop these problems from worsening.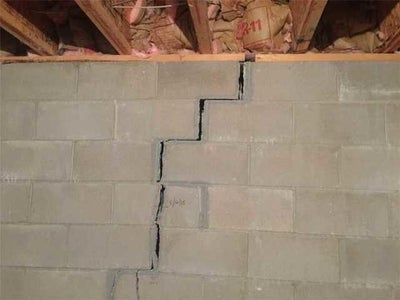 Is a Wall Anchor System Necessary? 
Stabilizing compromised foundation walls with a wall anchor system before they fail completely is vital. Further movement of the walls places your home at risk. Neglecting cracks or bowing walls leads to leaks, mold growth, unsafe living conditions, and in extreme cases, complete structural failure over time.
Integrating wall anchors as part of a comprehensive basement repair plan is highly recommended for strengthening concrete blocks or poured foundations showing signs of damage. Addressing underlying drainage or soil-related issues alongside wall anchors provides the best protection. 
Benefits of JES Wall Anchors 
JES Foundation Repair installs fully customized wall anchor systems with numerous advantages:
Stops lateral movement and stabilizes failing foundation walls
Raises and straightens bowing or cracking walls into structurally sound position
Transfers foundation pressure to stable soil outside the home
Prevents continued widening of existing cracks
Helps avoid costly full foundation replacement
Homeowners receive a transferable limited lifetime guarantee
Our proprietary wall anchors also integrate seamlessly with other solutions like drainage improvements or our IntelliBrace Carbon Fiber Wall Reinforcement. 
How We Install Wall Anchors 
Our certified wall anchor installation process includes:
Digging small pits outside the foundation to expose the walls
Drilling guide holes for the anchor rods into solid soil
Fastening steel brackets onto the foundation walls
Hydraulically driving anchor rods until resistance is met
Attaching the extending rods to the wall brackets
Backfilling the pits once brackets are secured in place
Making incremental tightening adjustments over time to straighten walls
Proper wall anchor installation is critical to stabilizing foundation walls and restoring structural integrity. As leading local experts, JES Foundation Repair follows exact specifications, so your wall anchor system provides maximum reinforcing strength. 
Why Our Wall Anchor Solution Is the Best Choice for Your Home 
JES offers customization, annual maintenance plans, financing, and a lifetime guarantee that's transferable to new owners. JES also offers other solutions like drainage improvements or crawl space encapsulation to aid foundation repair. Contact JES Foundation Repair today for a free inspection and more information about the benefits of wall anchors. 
Choose JES Wall Anchors for Your Foundation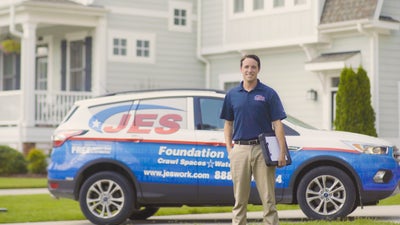 For permanent protection against foundation damage, trust the wall anchor system from JES Foundation Repair. Our locally manufactured wall anchors keep your home's foundation securely anchored for a lifetime.
Schedule a free inspection to learn how wall anchors can stabilize your compromised foundation. Reinforce your home's foundation today and stop damage in its tracks with JES wall anchors! 
FAQs
The installation time for wall anchors varies depending on the size of the project and the severity of the foundation damage. A typical installation takes one to three days. 
Our installation process is designed to minimize damage to your landscaping. We take care to protect your property and restore the landscaping as closely as possible to its original condition.
Yes, our wall anchor system can be installed on all types of foundation walls including concrete block and poured concrete. Our team will evaluate your specific situation and recommend the best solution for your needs. 
Publish Date:
Last Modified Date: