Helical Piers: The Ultimate Solution for Foundation Settlement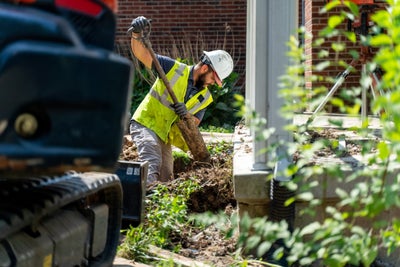 In the heart of the East Coast, soil variation and foundation settlement issues are far from rare. Homeowners often find themselves grappling with the worrying signs of a settling foundation, be it uneven floors, cracks in the walls, or doors that won't shut properly. Thankfully, with JES Foundation Repair, there exists a robust solution: helical piers.
Crafted to stop and reverse the symptoms of a settling foundation, these piers stand as a beacon of reliability and stability. Let's zoom in on helical piers and how they can be your foundation's saving grace.
Understanding Helical Piers
Helical piers, also known as screw piles or helical piles, are essentially deep foundation elements that look like giant screws. They function to transfer the weight of your structure from unstable soils to strong, stable soil layers deeper underground. Utilized in both new constructions and for repairing existing foundations, they offer a versatile solution for foundation issues.
With expertise in handling the distinct climatic and geological challenges of Virginia, Washington DC, Maryland, Northeast NC, and West Virginia, JES Foundation Repair ensures helical piers are installed correctly, offering your building the unyielding support it needs.
Signs that You Require Helical Piers
The initial signs of foundation settlement can be subtle but grow progressively worse over time. Watch out for the following indicators that suggest a need for helical piers: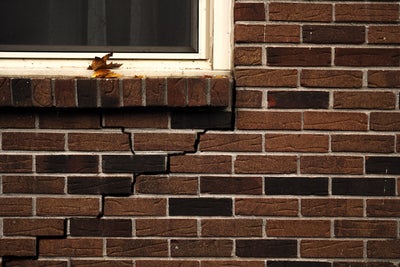 When you spot any of these signs, it's time to call in the experts at JES Foundation Repair for an assessment and appropriate action.
Benefits of Choosing Helical Piers
Helical piers come with an array of benefits that make them a preferred choice for many homeowners:
Quick Installation: Helical piers can be installed in a short time span, mitigating the inconvenience typically associated with foundation repairs.
Less Invasive: The installation process is less invasive compared to other foundation repair methods, preserving your landscape.
Environmentally Friendly: The piers are made from steel, a material that has a lesser environmental impact over time compared to concrete.
Cost-Effective: While offering a permanent solution, helical piers tend to be more cost-effective than other deep foundation solutions.
Versatility: Suitable for a wide variety of soil conditions and applicable to both new and existing structures, offering a flexible solution to foundation issues.
The JES Foundation Repair Installation Process
Our experienced team follows a systematic approach to installing helical piers, ensuring your home is safeguarded against further settlement issues:
1. Site Assessment: A meticulous assessment to pinpoint the exact issues and the optimal locations for installing the piers.
2. Excavation: The crew carefully excavates the necessary areas to prep for installation, ensuring minimal disruption to your property.
3. Installation of Piers: Using hydraulic equipment, the piers are installed to the appropriate depths to reach stable soil layers, guaranteeing a solid foundation.
4. Foundation Stabilization: Once the piers are in place, the weight of the structure is transferred onto them, bringing about immediate stabilization.
5. Site Restoration: Following installation, we restore the site to its initial state, leaving no traces of the work done.
Why Trust JES Foundation Repair with Your Helical Pier Installation
Our dedicated team at JES Foundation Repair has amassed years of experience servicing communities across Virginia, Washington DC, Maryland, Northeast NC, and West Virginia. We bring to every project: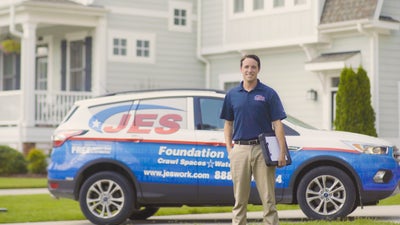 Experienced Professionals: Our team of seasoned professionals is trained to offer efficient and reliable installation services.
Customized Solutions: Understanding that every home is unique, we tailor our solutions to meet the individual needs of your structure.
Commitment to Satisfaction: Our prime goal is your satisfaction, and we go the extra mile to ensure the longevity and safety of your home.
Reach Out to JES Foundation Repair for Helical Piers Today!
If you are experiencing signs of foundation settlement in your home, it's essential to address the issues promptly to maintain the safety and value of your property. Helical piers are a proven solution to stabilize and potentially lift your home's foundation, providing a long-lasting solution to settlement issues.
The team at JES Foundation Repair is equipped with the expertise to effectively implement this solution, ensuring the stability and integrity of your home for years to come. Contact JES Foundation Repair today to schedule a free comprehensive evaluation and take a proactive step in preserving your home's foundation with our trusted helical pier system.
FAQs
Yes, helical piers can be adapted to suit a wide variety of soil types, offering a versatile solution to foundation issues. 
When installed correctly, helical piers offer a long-lasting solution, with a lifespan extending several decades. 
Helical piers offer a more cost-effective solution compared to many other foundation repair methods, providing a robust and economical choice for homeowners. 
Publish Date:
Last Modified Date: