Signs Your Home Has a Foundation Problem
When doors and windows around your home refuse to shut properly, it may be more than just an issue with the fixtures. This could be a symptom of a larger, more concerning issue related to your home's foundation. In time, your home's foundation could exhibit many signs of damage due to the impacts of detrimental soil and weather conditions.
Being aware of the early indicators of foundation problems is key to safeguarding your home and loved ones. Moreover, this knowledge ensures that the most suitable and cost-effective solutions can be implemented for enduring repairs. This article explores eight basic signs that you should be mindful of in your home, along with the steps you should take if you notice them.
8 Indicators of Foundation Problems
Cracks in the walls or floor: Cracks, whether horizontal, vertical, diagonal, or in a stair-step pattern, can appear on basement walls, drywall, slab floors, and around window and door frames. These are the most common signs of a foundation problem indicating movement within the foundation.
Misaligned or sticking doors and windows: If windows and doors are difficult to open or close, or have shifted within their frames, this could point to foundation settlement and often accompanies other problem signs.
Gaps between walls, windows, or doors: Any gaps, whether around doors, windows, walls, or floors, also indicate foundation settlement or movement. These gaps can allow water and pests in, leading to additional problems.
Sagging or slanting floors: Unstable floors that sag, slant, or are bouncy and uneven could indicate that the supports below are failing due to water, moisture, mold, rot, or unstable soil beneath.
Leaning chimney: If the chimney is cracking and pulling away from the rest of the home, it might be due to unstable, shifting soil underneath it.
Bowing basement walls: Basement walls can succumb to hydrostatic pressure, causing them to bow inward, which also results in cracking and water leakage.
Musty smell: The presence of a musty smell, often accompanied by mold growth, can signify a compromised foundation. This usually occurs when the foundation has developed cracks or shifted, thereby letting in moisture and water that foster mold, rot, and mildew in the basement or crawl space.
Damp walls, leaks, or water intrusion: Damaged foundations can cause walls to crack and bow, letting water in, and resulting in dampness, leaks, and flooding.
Understanding the Root Causes Behind Foundation Problems
Noticing these symptoms in your home might lead you to wonder about their causes. While some people might blame the original builders, the real culprits are typically environmental factors such as soil and weather conditions.
There are many different types of soil in the mid-Atlantic, with varying amounts of sand, silt, and clay. Soil conditions can cause foundation settlement or heave, leading to problems. Issues can also be triggered by hydrostatic pressure, water damage from flooding, leaky pipes, or poor exterior drainage.
Trust JES Foundation Repair for Professional Assistance
Once you've noticed evidence of foundation damage, the next step is to address it. Even minimal issues can worsen over time, leading to increased repair costs and potential hazards.
Addressing these foundation problems requires professional expertise. JES Foundation Repair can assist you with all your foundation repair needs.
Following a thorough, free inspection by our experienced experts, they will recommend repair solutions specifically tailored to your home's needs. Our services include:
Foundation Repair Costs with JES Foundation Repair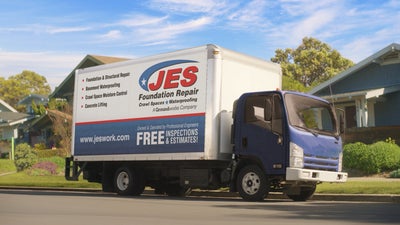 Understandably, homeowners often worry about the expense associated with foundation repair. Since costs can differ greatly depending on the severity of damage and chosen repair solutions, obtaining a precise estimate is essential. At JES Foundation Repair, we remove this uncertainty. Our professional inspectors will carry out a thorough examination of your home, providing you with a clear, personalized estimate for the necessary repairs on the very same day.
Remember, our commitment to you extends beyond the quality of our work. We also offer flexible payment plans, making the process manageable within your budget. With our professional and tailor-made services, you can rest assured that we prioritize the durability and safety of your home's foundation.
Make the First Step Towards Safeguarding Your Home Today
Your home is your largest investment and ensuring a lasting, stable foundation is crucial. If you've observed these foundation problems signs in your home, it's time to take action.
JES Foundation Repair is committed to offering expert solutions, specifically tailored to your home's needs. Don't let minor issues escalate into major problems, risking the safety and value of your property. Contact us today to schedule a free, no-obligation inspection.
Publish Date:
Last Modified Date: