Basement Wall Crack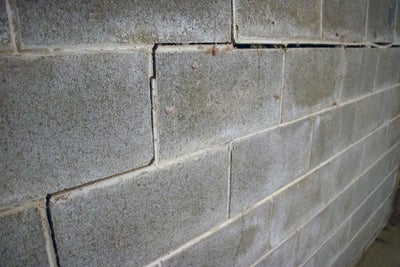 Have you noticed unsettling cracks weaving across your basement walls? Although foundation cracks are fairly common, they should still be examined rather than dismissed as minor concerns. 
When left unchecked, these cracks jeopardize your basement's structural health and can lead to unwanted water intrusion. Fortunately, JES Foundation Repair is here to assist.
Our team is equipped to evaluate basement wall cracks, investigate their origins, and suggest trusted, long-term solutions. After reviewing the details on this page, you'll gain insight into the causes of wall cracks and discover the most effective prevention measures.
What Is a Basement Wall Crack?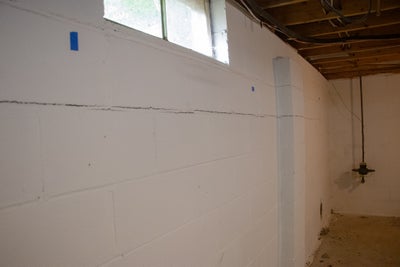 A basement wall crack signifies any break, split, or tear in the material of the basement's outer framework. These cracks typically emerge when the foundation faces stressors that exploit the weak tensile strength of concrete. 
Such cracks don't necessarily indicate a failing foundation. However, they demand timely attention to prevent worsening conditions like water leakage or structural issues.
Each crack has unique characteristics – varying in location, nature, pattern, and size, which help determine its severity and the ideal repair method. Our inspection process accurately gauges all visible cracks to offer suitable solutions. 
What Causes Basement Wall Cracks?  
Several factors lead to the emergence and progression of basement wall cracks. During an inspection, our team helps you to understand and identify these causes.
Soil Movement and Settling 
Over time, the soil surrounding the basement experiences changes. Sometimes, these shifts result from erosion due to rainfall or groundwater movement.
On other occasions, dry spells cause the soil to contract. In both scenarios, the ground fails to support the basement effectively, leading to cracks.
Improperly compacted soil can also result in uneven settling and added stress. Such cracks usually run vertically, mirroring the wall's mortar joints.
Hydrostatic Pressure 
After rain or snow, water accumulates underground, exerting significant lateral pressure. When this occurs adjacent to basement walls, they undergo pressure, leading them to bow or curve, a phenomenon known as hydrostatic pressure.
Persistent stress can cause horizontal cracks to form where the water makes contact with the walls.
Freeze-Thaw Dynamics 
Recurring freeze-thaw cycles cause the foundation to expand and contract. When water within the concrete freezes and thaws repeatedly, it results in stress, often leading to vertical cracks, especially at the external wall corners.
Improper Curing 
During its initial curing phase, concrete solidifies and becomes stronger. Problems such as inadequate mixing, premature freezing, excessive water, or improper troweling can result in fragile concrete. This makes it susceptible to cracking under various forces.
Poor curing also increases the concrete's vulnerability to freeze-thaw damage. While homeowners may have little control over this, the problem is solvable.
Expanding Tree Roots 
Growing tree roots can exert pressure on foundations, targeting weak spots in basement walls, especially closer to the perimeter.
Accurate diagnosis of the factors causing basement wall cracks will determine the most effective repair strategies. Rest assured, JES Foundation Repair possesses the expertise and tools to combat the forces behind these cracks. 
Can Cracked Basement Walls Be Repaired?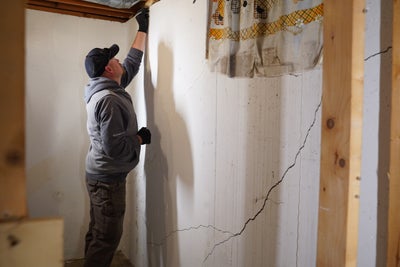 Definitely! With foundation repair technology advancements, replacing entire basement walls due to cracks is no longer necessary. Our experts will reinforce your walls, mend cracks, and ensure they remain robust for years. 
JES Foundation Repair uses various wall reinforcement techniques to prevent future cracking. Our warrantied solutions promise a safe, stable, and dry basement for years to come.
Our Approach to Repairing Cracked Basement Walls 
JES Foundation Repair's trusted process has secured countless homes throughout the mid-Atlantic. Our commitment to precision and efficiency sets us apart. Here's a glimpse of our process:
1. Detailed Evaluation 
Our team methodically maps all present cracks, marking their locations, dimensions, patterns, and openings. This helps identify if soil movement, hydrostatic pressure, tree roots, freeze-thaw cycles, or curing inconsistencies led to the cracks. We also assess the surrounding soil conditions and the foundation's overall health.
2. Setting up Reinforcement Measures 
JES Foundation Repair installs the ideal reinforcement solutions to strengthen vulnerable areas and prevent further cracks. Options include:
3. Integrating Waterproofing and Drainage Solutions 
We implement an interior drainage system, a dehumidifier, and a robust vapor barrier to combat hydrostatic pressure and prevent moisture seepage through cracks. Our sump pumps efficiently divert water away from the foundation. 
The Importance of Timely Crack Repairs 
Delaying repairs can turn minor cracks into major foundational issues. Here's why swift action is crucial:
Cracks intensify as external forces continue to act, often at an accelerating rate.
Growing cracks invite more water, leading to erosion, potential flooding, and possible mold growth.
Overlooking cracks can cause additional settling, sagging floors, and jeopardize supporting structures.
Repair expenses can surge as cracks spread, not to mention costs from secondary water damage.
For safety reasons, larger foundational cracks might need monitoring sensors in case of rapid expansion.
Don't jeopardize your home's foundation or your family's safety. JES Foundation Repair provides prompt, effective solutions to repair existing cracks and strengthen your foundation for enduring stability. We go deeper than surface-level repairs and holistically reinforce basement walls and floors. 
Choose JES Foundation Repair for Expert Crack Repairs in Virginia and Beyond 
Cracks in your basement walls or floor slab need attention to avert structural instability and expensive water-related damages.  At JES Foundation Repair, we deploy state-of-the-art solutions to mend existing cracks and fortify your basement.  
We extend free, thorough basement evaluations, so contact us today to schedule your free inspection! Opt for lasting, holistic solutions, not short-lived fixes – trust JES Foundation Repair to address the root of the issue. 
FAQs
Homeowner's insurance often does not cover basement wall crack repairs unless they result from a specific, covered peril, such as an earthquake or flood. Routine wear and tear or ground movement, which often causes these cracks, is generally not covered.
Yes, there is a correlation between the age of a home and the likelihood of basement wall cracks. Older homes are generally more susceptible to settling, soil movement, and the cumulative effects of environmental factors, increasing the potential for cracks over time. 
Differentiating between harmless and potentially dangerous cracks often involves examining their size, direction, and location. Harmless cracks tend to be thin, hairline fractures. In contrast, dangerous cracks can be wider, run horizontally or diagonally, and may be accompanied by wall bowing or other structural changes, indicating deeper foundational issues. 
Publish Date:
Last Modified Date:
Explore more problem signs