Cracks in Basement Floor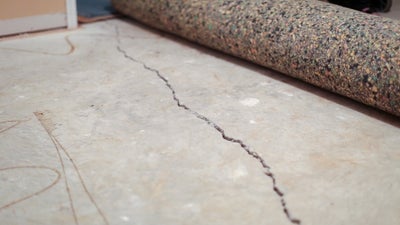 Do you see cracks in your basement floor? Although these lines may seem like a mere cosmetic problem, they can signify more severe underlying issues. Left unattended, these cracks can damage your home's foundation, leading to widespread problems.
At JES Foundation Repair, we understand the importance of identifying and rectifying the root causes of these cracks. Explore this detailed guide to understand the causes, implications, and solutions for basement floor cracks.
What Causes Cracks in Basement Floors?
Several factors, either individually or combined, lead to cracks in basement floors:
1. Settling Foundations
As the ground underneath the foundation settles over time, stress and downward forces cause cracks in the basement floor concrete. This settling is a common occurrence in many homes. Other typical signs of foundation problems include basement wall cracks, doors/windows that don't open smoothly, and tilting chimneys. An older home may have cracks due to years of settling. Rapid settling in a new home may indicate poor planning or corner-cutting during construction.
2. Hydrostatic Pressure
Excessive rainfall causes soil saturation around the foundation, increasing hydrostatic pressure and causing basement walls and floors to crack. Cracks that spread out across the entire basement floor or span both the wall and the floor can be especially concerning.
3. Freeze-Thaw Cycles
Cold climates cause the soil underneath homes to freeze and expand during winter. In the spring, it contracts again, leading to cracks in the basement floor. Regularly monitoring these cracks, especially those that continue to widen, is essential to prevent further damage.
4. Heavy Loads
Excessive weight on the basement floor, whether from heavy equipment, storage, or structural changes during renovations, can lead to stress fractures and cracks over time.
Can You Fix Basement Floor Cracks?
Yes, basement floor cracks can be fixed. However, not all DIY methods are effective. A simple sealant might only mask the problem (or even make it worse). It's crucial to understand the cause of the cracks to address them effectively.
Call a basement professional (like JES!) to inspect your basement and suggest permanent fixes.
Monitor moisture levels around the foundation and grade your yard so excess moisture flows away from your foundation.
Refrain from overloading the basement floor with weight.
How to Fix Cracks in the Basement Floor
At JES Foundation Repair, our approach to addressing basement floor cracks is holistic and comprehensive. We focus on repairing the visible cracks and tackling the underlying causes to ensure a long-lasting solution. Here's how our team takes on the challenge:
At JES Foundation Repair, we utilize top-of-the-line technology for repairing basement cracks and ensuring their long-term durability. Our commitment is to restore and reinforce the structural integrity of your basement.
Don't let cracks compromise your basement's safety and functionality. Trust in JES' proprietary solutions for a permanently dry and crack-free basement floor.
Why Repair Basement Floor Cracks Today?
Addressing cracks in your basement floor without delay is crucial:
Cracks signal a compromised foundation that deteriorates over time.
Gaps can lead to moisture issues, promoting basement mold, mildew growth, and potential flooding.
Widening cracks strain surrounding concrete.
Neglected cracks can result in severe foundation failure, necessitating a full replacement.
Superficial epoxy crack fillers offer a temporary fix and don't address the root causes.
Uneven slabs pose tripping hazards and impact furniture placement.
Don't wait for cracks to expand. JES Foundation Repair provides expert diagnosis and solutions to reinforce your home's structural integrity.
Contact JES Foundation Repair for Permanent Basement Floor Crack Repairs
Cracks in your basement floor disrupt daily life and hint at compromised foundation integrity. At JES Foundation Repair, we identify and treat the root causes of basement floor cracks with advanced diagnostics and top-tier repair technologies. Our systems permanently stabilize cracked floors, ensuring your home's structural stability. Don't compromise with superficial crack fillers or temporary supports.
Contact JES Foundation Repair for robust solutions to address basement floor cracks at their core. Schedule a free inspection today!
FAQs
Examine the width, depth, and location of the crack. Hairline cracks are generally less concerning, but any basement crack widening over time needs attention.
Hairline cracks are narrower than an eighth of an inch, often due to concrete shrinkage. Structural cracks are more significant and may indicate foundation issues. 
DIY foundation repair methods like concrete patching and caulking might only mask the problem and can be risky without expert consultation.
Publish Date:
Last Modified Date:
Explore more problem signs