Understanding Foundation Wall Cracks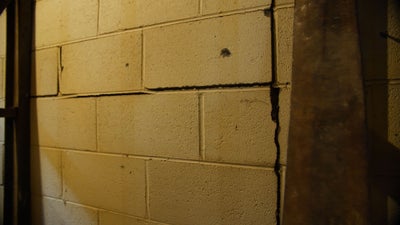 Foundation wall cracks often signal more than just superficial issues. While some settling is normal, wide cracks that seem to grow are not. At JES Foundation Repair, we've built a reputation as Virginia and the surrounding areas' most reliable foundation repair specialists.
What Exactly Are Foundation Wall Cracks? 
These cracks appear on the concrete walls that support and provide stability to your home. From thin hairline splits to broad openings, these cracks can hint at deeper foundation problems. The size, direction, and width of the crack all tell a story about where the foundation issues are stemming from. Addressing them early with an inspection and tailored repair solutions can save homeowners from more severe issues in the future.
Why Do Foundation Wall Cracks Appear? 
Several factors can lead to the formation of foundation wall cracks:
Settlement: Movement or compression of soil underneath your home can cause the foundation to descend unevenly, resulting in cracks.
Expansive Soils: As they expand or shrink with moisture levels, these soils exert pressure on foundation walls, leading to cracks.
Hydrostatic Pressure: Excessive groundwater can exert force on the foundation walls, causing them to develop cracks or bow inward.
Is It Possible to Repair These Cracks? 
Absolutely! Depending on the nature and extent of the damage, there are various effective methods to restore the foundation's integrity. At JES, we provide:
Foundation Piers – Installed underneath the foundation and anchored to the foundation footing, piers transfer the weight of the home to stable soils. They stabilize settling foundations and provide support.
Wall Anchors – Steel anchors are embedded into the foundation wall and extended into undisturbed soil. They counteract the inward pressure causing cracks and bowing.
Carbon Fiber Reinforcement – Carbon fiber straps that are up to 10 times stronger than steel are applied to the wall surface to strengthen concrete and prevent cracks from worsening.
IntelliBrace™ Wall Repair System – A network of steel beams is installed inside the wall, providing reinforcement without excavating outdoors.
Steps to Mend Foundation Wall Cracks: 
Our method for repairing your foundation will depend on what we learn in our initial inspection. Through the knowledge we've gained over years in the industry, we've developed a variety of solutions that we will tailor to your home's specific needs.
1. Professional Evaluation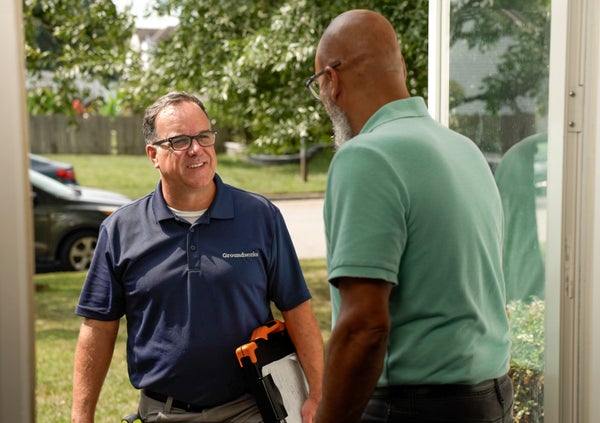 We'll begin with a comprehensive inspection conducted by a foundation expert who will identify the primary cause and suggest a suitable repair technique as well as a quote and timeline for the repair.
2. Install the Foundation Repair System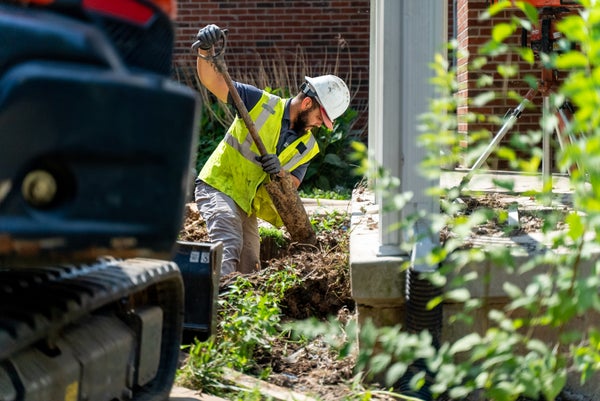 Once we've settled on the solution, we'll implement the tailored foundation repair to target the specific damage encountered in your home.
3. Waterproof Walls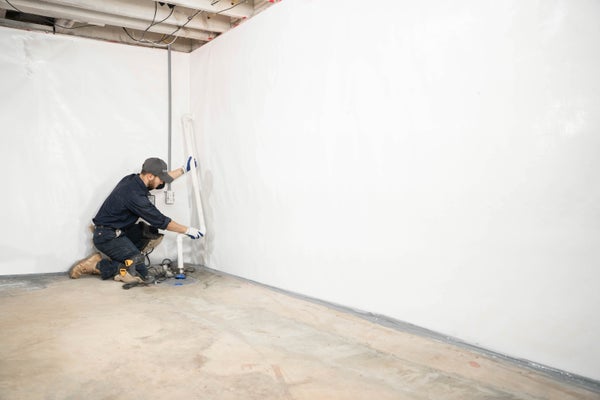 After strengthening your foundation, it's essential to make foundation walls water-resistant, preventing future moisture infiltration.
4. Regular Checks and Upkeep  
Our solutions are tailored to be permanent for the issues your foundation experiences. However, periodic evaluations ensure the foundation remains stable. Keep an eye out for new cracks and potential water ingress.
Why Address Foundation Wall Cracks Now? 
Acting promptly on foundation wall cracks is vital:
Ignoring them might lead to bigger, more costly issues.
Water intrusion through cracks can result in mold and impact indoor air quality.
An unsettled foundation can make doors and windows stick or jam.
Significant cracks can jeopardize your home's structural safety.
Don't delay! Connect with JES Foundation Repair now. Our specialized solutions reinforce your foundation, mitigating further concerns. We proudly offer free inspections and quotes.
Reach Out to JES for Lasting Foundation Wall Crack Solutions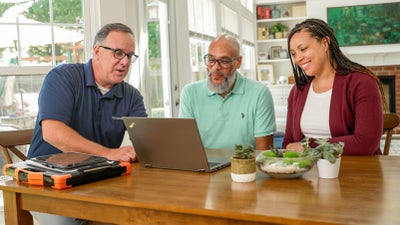 With nearly a quarter-century of experience, JES Foundation Repair has consistently assisted homeowners across Virginia and neighboring regions. Our skilled team is equipped to gauge your foundation's health and offer tailored solutions using advanced techniques and tools.
Contact us today for a no-commitment inspection and estimate for foundation repair. Secure your home's future and enjoy peace of mind with JES's unmatched expertise.
FAQs
Yearly maintenance is pivotal in ensuring the longevity and stability of the foundation repair work done. During the annual maintenance checks, professionals can spot potential issues early on before they escalate into more serious problems, saving homeowners time and money in the long run.  
At JES Foundation Repair, we understand your home may change hands several times over its lifetime. The warranty on our repair solution is transferable to a new homeowner. Give us a call and we'll walk you through the process of getting your warranty transferred when it's time to sell.  
Delaying the repair of foundation cracks can lead to a host of problems, including further structural damage, water intrusion leading to mold growth and poor indoor air quality, and even compromised safety of the home. Over time, what might have been a simpler, more cost-effective repair can evolve into a complex, expensive undertaking.  
Publish Date:
Last Modified Date:
Explore more problem signs