Bowing Basement Walls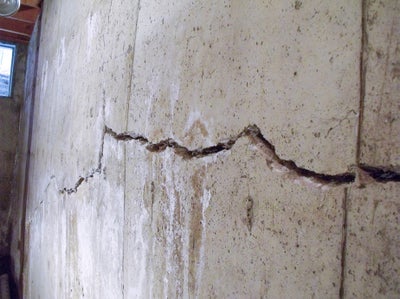 Ideally, basement walls should stand firm and upright without any signs of bending or warping.
Bowing basement walls can be a source of concern and potential risk that demand prompt action. JES knows just how to deal with them.
This extensive guide aims to arm homeowners with the knowledge to address bowing basement walls, safeguarding your home's integrity and value.
What is a Bowing Basement Wall?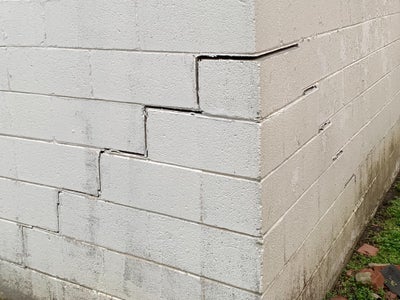 Basement walls, being mostly underground, are vulnerable to various types of damage, including bowing.
Bowing refers to the wall curving and leaning inward, often most noticeable in the middle.
You might also observe:
Horizontal wall cracks
Stair-step patterns in block walls
Diagonal cracks at the corners of poured concrete walls
Why Do Basement Walls Bow? 
Several factors contribute to basement walls bending or bowing over time, such as:
Inadequate Drainage and Water Management 
Given the frequent rain and wet conditions in regions like Virginia and Maryland, homes should be equipped to handle the water. Essential features like gutters, downspouts, and extensions are crucial to maintaining this drainage system.
Poor drainage results in the soil around basement walls staying wet. This added weight and pressure from the soaked ground pushes against the walls. Furthermore, leaks and insufficient basement waterproofing can cause moisture to accumulate around walls.
Soil Conditions and Hydrostatic Pressure 
Areas like Northeast NC, and many parts of Virginia and Maryland, experience significant rainfall. Some soils, especially clay-rich ones, undergo expansion and contraction with moisture variations.
This expansion exerts tremendous stress on basement walls. This stress, known as hydrostatic pressure, can lead to bowing and subsequent cracking.
Freeze-Thaw Cycles 
The changing seasons bring about freezing and thawing patterns which adversely affect basement walls. The expansion and shrinkage, particularly when water undergoes phase transitions within walls, can cause the walls to bow and develop cracks.
Foundation Shifting 
While a shifting foundation is technically a different issue, it's sometimes intertwined with bowing basement walls. As the foundation settles or moves, it can cause basement walls to bow in response to the uneven force.
Subpar Wall Construction 
Occasionally, the cause might be rooted in the construction phase. Maybe inferior materials were used, perhaps there was a lack of adequate steel reinforcement, or construction processes were overlooked, rendering basement walls more susceptible to bowing. 
Are Bowing Basement Walls Repairable? 
While the sight can be unsettling, most bowing basement walls can be effectively repaired.
Because no two homes are the same, a thorough investigation into the root problem is the key to rectifying and preventing further damage. Often, bowed walls may also hint at other structural problems.
Trust the expertise of JES Foundation Repair to identify the underlying issue with your bowing walls and offer the optimal repair solutions tailored for you.
Repairing Bowing Basement Walls 
Restoring these walls to their original state often demands reinforcements like:
Carbon Fiber Reinforcement
Walls showing minimal damage like minor cracks or less than two inches of inward movement may not need extensive repairs, but it's crucial to address these issues before they worsen. Heavy-duty, low-profile carbon fiber straps can effectively stabilize such walls and maintain their current positions. Once installed, these carbon fiber straps offer strength that is 10 times greater than steel, ensuring long-term stability. 
Steel Beams
Wall anchor installation require a good amount of digging outside, which might not be viable for homes with moderate to severely damaged walls. This is where I-Beams, such as our IntelliBrace™ system, come in. The beams are secured to the floor and floor joist, and bolster walls and mitigate bowing by gradually restoring the walls to their original position.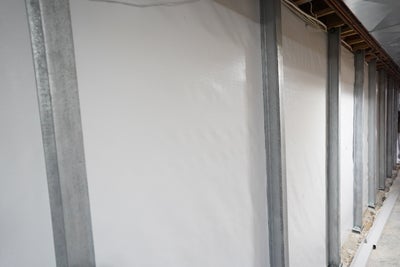 Wall Anchors
Walls that exhibit significant cracking and movement, especially if they measure more than two inches, usually require a different repair method, like steel wall anchors. These earth anchors are installed in stable soil at least 10 feet from the affected basement wall. A galvanized steel rod is driven through the basement wall to connect the earth anchor and an interior wall plate. After the rod is securely fastened, the interior section can be tightened to counteract the hydrostatic pressure, gradually restoring the wall to its original position. 
In addition, managing moisture is key. This includes:
Improved Drainage: Efficient exterior drainage systems significantly reduce soil moisture, alleviating the pressure on walls.
Basement Waterproofing: Our basement waterproofing solutions include interior drains, sump pumps, vapor barriers, and other measures to ensure your walls are shielded from moisture damage.
JES Foundation Repair uses top-tier methods and materials to address bowing walls and related moisture issues, providing solutions that last. 
Why Address Bowing Walls Now? 
Delaying the repair of bowing walls can be detrimental for several reasons:
Bowing often worsens with time.
Cracks expand, allowing more water to seep in.
Bowing walls can't adequately support the house's structure.
Intense bowing can result in wall collapse.
As walls deform more, repairs become pricier and more complex.
JES Foundation Repair provides in-depth evaluations and specific reinforcement solutions for homeowners grappling with bowing walls. We not only treat but prevent future issues. 
Choose JES Foundation Repair for Durable Bowing Wall Solutions 
Don't compromise on the safety and structural integrity of your home. At JES Foundation Repair, we utilize state-of-the-art diagnostics and wall reinforcement techniques to guarantee long-term stability and safety.
Opt for more than just a quick fix. Reach out to JES Foundation Repair for trusted solutions that address the root causes of bowing basement walls. Schedule a free inspection today! 
Publish Date:
Last Modified Date:
Explore more problem signs