Carbon Fiber Basement Wall Reinforcement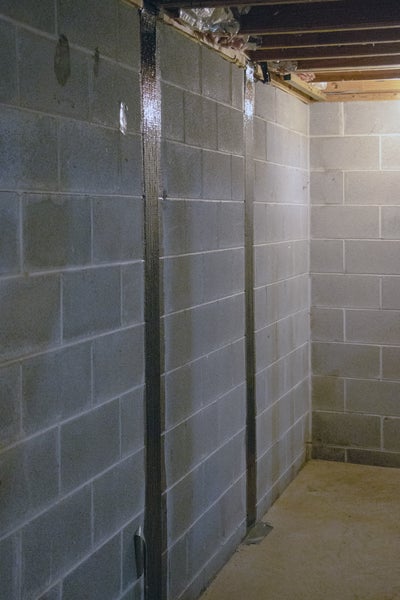 Discovering cracks or bowing in your basement walls can be disconcerting. These warning signs can jeopardize your home's safety, structural strength, and its value across Virginia and neighboring regions. 
While this can be worrisome, we at JES have the expertise and solutions to address these concerns. Introducing: Carbon Fiber wall reinforcement.
In this article, you'll learn about an efficient, cost-friendly solution that fortifies the basement walls of your dwelling without requiring a complete overhaul. 
What Is Carbon Fiber Basement Wall Reinforcement? 
This modern remedy aims to stabilize foundation walls that display stress signals, like cracks and bowing.
The unparalleled strength of carbon fiber — approximately 10 times stronger than steel once installed — ensures that the carbon fiber keeps walls intact and free from damage. These low-profile straps are especially effective at stabilizing walls that have moved inward less than two inches
Unlike other reinforcement means, carbon fiber straps occupy minimal space and aren't invasive.
Signs Your Home Needs Carbon Fiber Basement Wall Reinforcement 
Take immediate action if your basement walls exhibit:
Horizontal, vertical, or stair-step cracks
The top or bottom of the wall shows shearing
Movement inward of under two inches 
Different homes will have different challenges. Other solutions like our wall repair system or anchors may be more appropriate for walls with extreme damage. Schedule a free inspection with us to determine the best solution for your home. 
Why Choose Carbon Fiber Basement Wall Reinforcement? 
Postponing reinforcement can skyrocket repair expenses by allowing minor issues to snowball. Act now with our carbon fiber solution, an integral part of our comprehensive home care strategy, ensuring a fortified home for the long haul. 
The Advantages of Carbon Fiber Basement Wall Reinforcement by JES 
Amplified Structural Strength 
Carbon Fiber not only solidifies walls but also prevents any further damage caused by bowing or cracking walls. This makes your home safer and may even increase its resale value in the long term.
Subtle Design 
Our carbon fiber straps, though not exactly a design element, can be concealed effortlessly with paint or drywall. This ensures that the look and feel of your basement remain largely unchanged, allowing you to maintain your preferred aesthetic.
Longevity Assured 
With its resistance to corrosion, carbon fiber lasts longer than traditional methods do.
For optimized benefits, trust in the diverse solutions of JES Foundation Repair. Our homeowner-centric products promise endurance and superior performance. 
The JES Approach to Installing Carbon Fiber Basement Wall Reinforcement 
Every home tells a different story. But typically, our Carbon Fiber installation involves:
Wall condition evaluation
Designating strap installation points
Prepping the wall surface for maximum adhesion
Attaching a bracket to the sill plate
Applying robust epoxy on the wall
Affixing the carbon fiber strap
Securing the strap via the sill plate bracket
A final epoxy layer for the strap and wall
With JES, you can rest assured that our experts will provide a meticulous installation process and enduring home protection. 
Why Our Carbon Fiber System Is the Optimal Choice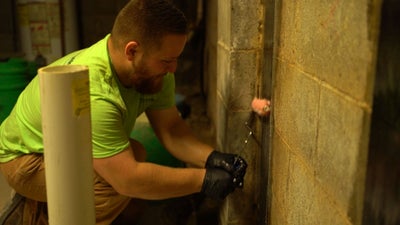 Matchless strength
Minimal aesthetic disturbance
Counters wall cracks and bowing
Synchronizes with diverse home solutions
Comprehensive yearly maintenance plans
Get in Touch with JES for Carbon Fiber Wall Reinforcement Now! 
Noticing damage doesn't spell doom for your house. Early intervention and expert repairs from JES will enhance your home's safety and worth.
With years of unparalleled service across the Mid-Atlantic, JES Foundation Repair is your prime choice. Connect now for your obligation-free inspection. 
FAQs: Carbon Fiber Basement Wall Reinforcement
The time it takes to complete Carbon Fiber installation at JES can vary based on a few factors, such as the size of the area that needs treatment and the specific conditions of your basement walls. However, most installations are generally completed within a single day. For a more accurate and personalized timeline, it's best to contact JES directly for a consultation. 
The carbon fiber straps used in our installations are designed to be as discreet as possible. They come in a dark shade that easily blends in with the color of your basement walls. If you're concerned about their visibility, these straps can also be covered further with paint or drywall to make them even less noticeable. Rest assured, we consider aesthetics during our installation process. 
Carbon Fiber is most effective when used on specific wall types, mainly concrete blocks or poured concrete walls that are showing signs of minor to moderate damage or bowing. It may not be the best option for walls made of other materials or those that have severe structural issues. If you're unsure about whether Carbon Fiber is the right solution for your specific situation, a consultation with JES is recommended to evaluate your needs and provide tailored advice.
Publish Date:
Last Modified Date: