Slab Piers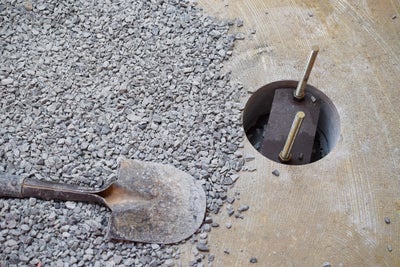 Settlement of slab foundations harbors significant risks of damage, mirroring the threats to basement and crawl space foundations.
Neglecting early signs like pronounced cracks or uneven floors can compromise your home's safety and structural integrity.
JES Foundation Repair steps in with the ideal solution: slab piers are designed specifically to provide a permanent and warrantied fix to stabilize your home.
Navigate through this page to understand why slab piers are crucial and effective for resolving your foundation problems.
What Are Slab Piers?
Slab piers are foundation repair products specifically constructed to stabilize settling slab foundations permanently. These are not just another generic repair choice but are devices engineered with slab foundations in mind.
Slab piers operate as stable pillars that transfer the weight of your home to firmer ground, protecting it from future settlement and the perils of fluctuating soil conditions. They not only confer stability but can potentially elevate the house back to its initial state.
They are indispensable in a larger strategy for securing your home's structural health, contributing to other endeavors like basement waterproofing and crawl space repair, thereby guaranteeing the longevity of your home.
Signs You Need Slab Piers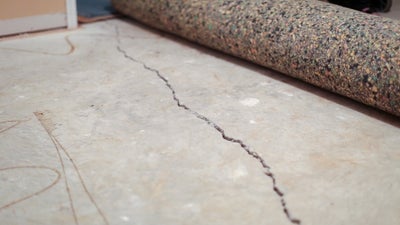 The need for slab pier stabilization arises when your home manifests signs such as:
Though these symptoms may initially seem like mere cosmetic issues, they are actually early warnings of a deteriorating foundation that demands attention.
Should you observe any of these signs, it's time to call the professionals at JES Foundation Repair.
Are Slab Piers Necessary?
Absolutely. Disregarding signs of foundation settlement is a pathway to escalating problems and more expensive repairs in the future.
Proactive slab pier repairs can avoid more severe damage and offer reassurance that your home's foundation is built to last. This should be seen as an essential preventive measure that not only saves money but also preserves your home's value in the long term.
JES Foundation Repair recognizes that every home is different, necessitating individualized repair plans. That's why we offer a range of solutions to ensure your home stays safe and secure for the years to come, even if slab piers are not the right option for you.
What Are the Benefits of Slab Piers?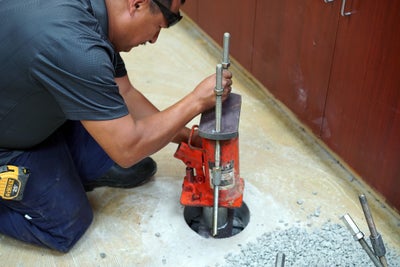 JES Foundation Repair is proud to present slab piers that stand unmatched in terms of strength and durability. By opting for our custom installation, you avail benefits such as:
Preventing further settlement: Our slab piers transfer the structure's weight onto stable soil or bedrock, halting and preventing future settlement.
Possible elevation of settled sections: Strategic installation can potentially lift settled areas back into their original position.
Long-lasting stability: Experience a permanent solution for a stable home.
Enhanced property value: Secure a foundation that appeals to prospective buyers.
Comprehensive warranty: Rest easy with our transferrable lifetime warranty.
Turn to JES Foundation Repair for solutions that promise optimal benefits for foundation repairs.
How We Install Slab Piers
At JES Foundation Repair, we adopt a distinctive approach for slab pier installations, involving:
Expert inspections for a comprehensive view of the issue
Removal of affected flooring
Drilling a hole to expose the slab footing
Placing a bracket under the footing
Inserting pier sections into the ground
Regular monitoring of pier depths and capacities
Capping the pier
Attaching a bracket to the slab
Transferring the home's load onto the pier
Cementing the hole and smoothing out the finish
As a front-runner in foundation repair across various regions, we pride ourselves on our expertise in slab pier installations.
Why Our Slab Piers Are the Best Choice for Your Home
Opting for JES Slab Piers is a wise decision because they:
Are tailored for slab foundations
Can be customized to meet individual needs
Possess a unique design for optimal stability and lifting power
Come with a comprehensive lifetime warranty
Are supplemented with annual service and maintenance plans
Contact JES Foundation Repair for Slab Piers Today!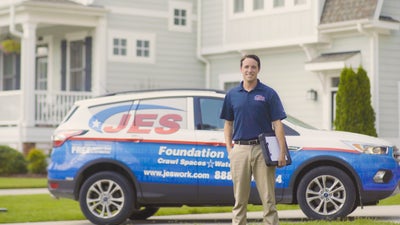 Don't let foundation issues escalate. Ensure your home's stability and your family's safety by reaching out to JES Foundation Repair today for a free, no-commitment inspection, and regain your peace of mind.
With our exclusive piers, professional installation, and lifetime warranty, you can entrust JES Foundation Repair with your foundation repair needs.
Slab Pier FAQs
Absolutely. Addressing and rectifying foundation issues not only safeguards the structural integrity of your home but can also enhance its market value. A stable and secure foundation is a significant selling point, reassuring potential buyers of the quality and safety of the property. 
Our adept teams usually finish the installation in 1-2 days, although the exact duration can vary based on the project requirements. 
If you have a slab foundation and notice signs such as uneven floors, cracks in your walls or floors, or doors and windows that stick or don't close properly, it might indicate foundation issues requiring intervention. We recommend scheduling a free inspection with JES Foundation Repair where our experts will assess your foundation and determine the most effective solution, which may involve the installation of slab piers.