Water in your basement is more than annoying; it can spell disaster for your home's health and structural integrity. Luckily there are proven solutions. JES Foundation Repair has spent nearly three decades developing and perfecting products and procedures to permanently solve your unique waterproofing problem. Explore the solutions your local JES inspector may recommend.
Our Basement Waterproofing Solutions
From cutting-edge sump pumps to self-draining, energy-efficient dehumidifiers, our fully customized waterproofing plans ensure a dry basement—permanently. Read below to learn about just a few of the options available at your home.
Basement Dehumidifier
When it comes to dehumidification, the first thing to note is all dehumidifiers are not created equal. It's important to choose a unit powerful enough to work in the space you need it and one that won't leave you with high energy bills. Our self-draining unit can remove up to 100 pints per day and filters more than 280 cubic feet of air per minute.
Basement Interior Drain
The best solution to guarantee your basement stays dry is installing a BasementGutterTM Interior Drain System. Running along the perimeter of your basement, the system collects both groundwater and any water leaks from exterior walls. Water is then pumped out and away from your home, ensuring your basement stays dry and healthy.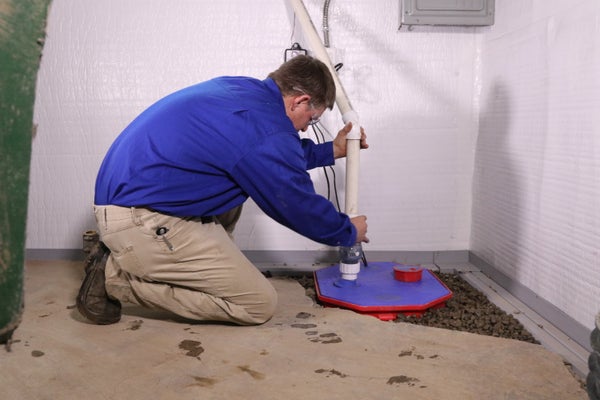 Sump Pump
Although it shouldn't be used alone, a sump pump is an excellent solution to your basement flooding problems. However, a sump pump is a bane of their existence for many homeowners. Since many builder-grade or big box sump pumps are often poor quality and unreliable, sump pumps get a bad rap. JES installs only the highest quality sump pumps, customized to fit your home and your needs; a sump pump can have as many as three pumps to ensure a dry basement for years to come.
---
Basement Leaks Are in The Past With JES! Customizable, Proven Solutions.
If you're dealing with a wet, flooded basement, it may feel like there is nowhere to turn. The local experts at JES Foundation Repair understand. They have been keeping Baltimore, Danville, and Roanoke basements dry for nearly three decades. JES inspectors know the importance of finding the right solution for each unique home. This is why they have developed a line of customizable solutions to meet the needs of homes across Maryland, North Carolina, Virginia, and West Virginia. We offer a free, no-obligation inspection to create a plan to solve your water problem permanently. Our work comes with long-term warranties, so you can rest easy knowing you made the right decision. Contact us to schedule your inspection.
---
Publish Date:
Last Modified Date: