Foundation Piers
Encountering sinking floors & wall cracks? JES's foundation piers are the ultimate answer to permanent stabilization.
Schedule Free Inspection
The strength and lifespan of your home significantly depend on the foundation. A settling foundation not only undermines your home's structural integrity but also puts your safety on the line. Signs like uneven floors and stair-step cracks in the walls are indications of a foundation needing immediate attention.
Specializing in installation and foundation repair solutions for over two decades, JES Foundation Repair is your trusted partner in ensuring a safe and stable home through custom-designed foundation piers, including push, helical, and slab options. This page delves into why foundation piers are indispensable and why JES Foundation Repair is your reliable partner for this service.
What Are Foundation Piers?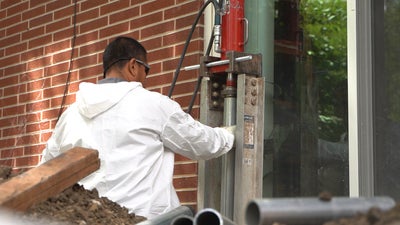 Foundation piers are critical structural components installed deep in the ground to access steady soil or rock layers, thus offering the support your foundation needs.
These piers serve as stable pillars, transferring the weight of the home down to more stable soil, averting future settling and, in some cases, offering the chance to elevate the house back to its original stance. Engaging in a detailed strategy for holistic solutions is instrumental in upholding your home's structural health.
Signs You Need Foundation Piers
Identifying the warning signs of a settling foundation is your first step towards a solution. Be on the lookout for these common indications around your house:
Should you notice any of these signs, reach out to the professionals at JES Foundation Repair for a complimentary foundation inspection and tailored repair recommendation.
Are Foundation Piers Necessary?
Absolutely, foundation piers are vital in ensuring permanent stability to settling foundations and averting further deterioration.
Adopting a proactive approach by addressing foundation settlement signs early on can save you from escalating costs in the future. As your community basement experts, we advocate swift action at the outset of any issue.
We present a variety of fitting basement repair solutions considering all the relevant factors, including the type and extent of damage caused by settling.
What Are the Different Types of Foundation Piers?
JES Foundation Repair employs three prime pier systems — helical, push, and slab — each serving a unique purpose while functioning in a similar manner.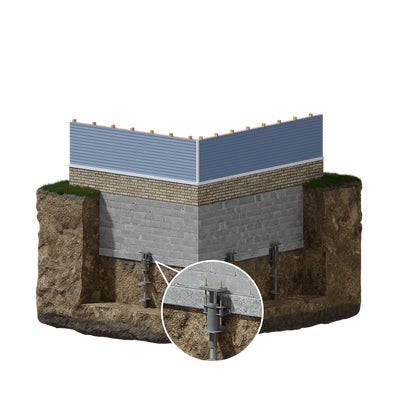 Our helical pier system includes the use of steel piers with helical plates to anchor your home securely into the stable soil layers beneath. This approach is apt for supporting lighter structures in varied circumstances, sometimes with the potential to elevate a sinking foundation. 
The installation comprises:
Soil excavation to reveal the footing
Utilizing hydraulic tools to drive the piers into the soil
Continually checking the progress until reaching desired depths and holding capacities
Affixing the footing with a steel bracket
Setting up benchmarks with small rivets in external walls
Backfilling the excavated soil 
Our push piers are utilized in a similar fashion to helical piers but with a distinct design and installation process, leveraging the home's resistance for stability.
The setup involves:
Soil excavation to unveil the foundation footing
Fixing a footing bracket
Inserting piers through the bracket deep into the ground
Supervising depths and holding capacities
Placing benchmarks on external walls
Replacing the removed soil
Slab piers provide dedicated support for homes with slab foundations.
The installation procedure incorporates:
Removing any obstructing flooring
Drilling a hole through the slab to expose the footing
Bracket placement beneath the footing
Advancing pier sections into the ground
Monitoring the progress in depths and capacities
Fixing a bracket to the slab
Filling the hole with concrete for a polished finish
We offer a distinctive line of each pier type, individually tailored to cater to your needs and foundation type.
What Are the Benefits of Foundation Piers?
Our pier systems assure unrivaled strength and endurance. As we customize each solution to suit your home's specifics, you can expect:
Lasting Stability
Prevention of Further Settling
Shield Against Additional Damage
Enhanced Foundation Protection
Possibility of Foundation Elevation
Comprehensive Warranty
Choose JES Foundation Repair's foundation pier solutions to maximize these benefits. Reach out today to understand how our unique piers can be the solution your home needs.
Why Our Foundation Piers Are the Best Choice for Your Home
Our foundation pier systems stand out due to:
Superiority over standard piers and piles
Customized designs attuned to local soil conditions
Ensured long-lasting performance and durability
Comprehensive warranty protection
Inclusion in our yearly maintenance service program
Contact JES Foundation Repair for Foundation Piers Today!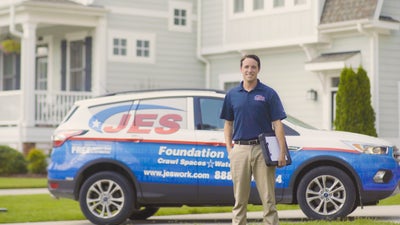 The foundation of your home is too crucial to overlook. Settling foundations require professional attention, and delaying repairs is not a strategic option. Partner with JES Foundation Repair to address your foundation issues accurately and efficiently from the start.
With our experience spanning over two decades, we have long been rectifying settling homes across Virginia, Washington DC, Maryland, Northeast NC, and West Virginia. Schedule your complimentary inspection and estimate today. Entrust us with the task of fostering a safe and stable habitat for your home.
Foundation Piers FAQs
Subtitle
Foundation piers remain the top choice for remedying settling and sinking issues. The appropriate pier choice depends on your home's foundation type and the damage extent. Consult with JES Foundation Repair for a free inspection and a tailored repair plan.
Slab piers cater to specific foundation repair needs, especially for homes with a concrete slab foundation. Connect with JES Foundation Repair for a no-obligation inspection to ascertain if your home necessitates slab piers or other repair solutions.
Foundation pier installation is a specialized task requiring expert knowledge, skills, and equipment. It is not advisable to undertake this task independently. Rely on JES Foundation Repair's expertise for assured quality installation of foundation piers.
Footnotes: * The ICC does not have standards for every foundation system currently available. FSI tests in accordance with ICC standards when available. If testing standards are not available, FSI conducts extensive internal tests with their team of Professional Engineers to ensure strength, accuracy, load-bearing, and safety meet or exceed other comparable ICC and industry standards.
Publish Date:
Last Modified Date: