Wet Basement Walls
Numerous homes across the Mid-Atlantic feature basements. Unfortunately, wet basement walls are a frequent issue troubling homeowners in these regions.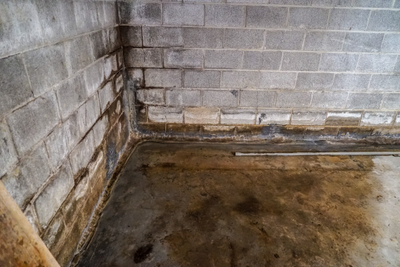 Discovering wet walls in your basement isn't merely inconvenient—it's an indication of deeper issues that could endanger your home's foundation and your family's health. Recognizing the primary reasons behind wet basement walls and understanding the remedies is crucial.
JES Foundation Repair's expert team is equipped to pinpoint and rectify wet basement wall complications and associated damage. Boasting nearly 15 years of expertise and a commitment to delivering enduring basement waterproofing solutions, we help morph your damp, troubled basement into a dry, healthy environment.
Journey through this page to grasp the intricacies of wet basement wall remedies, including the causes, indicators, and solutions.
What Are Wet Basement Walls? 
Wet basement walls arise when water permeates or trickles into the concrete walls of your basement. This dampness is typically most evident in the middle and lower parts of the walls.
Over time, these wet walls can result in a host of problems, including:
Mold growth
Rotting wood and supports
Pest infestations
Damaged belongings
Addressing wet basement walls is crucial for upholding a healthy, safe, and valuable home environment.
What Causes Wet Basement Walls? 
While several reasons could be behind your wet basement walls, some prime culprits include:
Intense Rainfall or Snowmelt 
Some areas of our region witness varied weather, which sometimes includes bouts of heavy precipitation. This could lead to an accumulation of water around your basement, which, in turn, leads to hydrostatic pressure. As a result, water can seep through the walls.
Inefficient Drainage Systems 
It's vital to assess your home's gutters and downspouts, as these are key in warding off water accumulation. Damaged or faulty gutters and downspouts can cause water to pool around your home and potentially leak inside.
Damaged Footing Drains 
The drains situated around your basement's exterior might be malfunctioning. Over time, these drains can get choked with dirt and debris and might even get crushed due to the surrounding earth.
Hydrostatic Pressure and Wall Cracks 
When heavy rainfall or melted snow soaks into the earth, the soil adjoining your foundation walls swells. This results in a significant force, termed hydrostatic pressure, pressing on the walls. If this hydrostatic pressure intensifies beyond a limit, the walls start to develop cracks and lean inwards. Such cracks and shifts not only jeopardize your home's structural integrity but also lead to water seepage.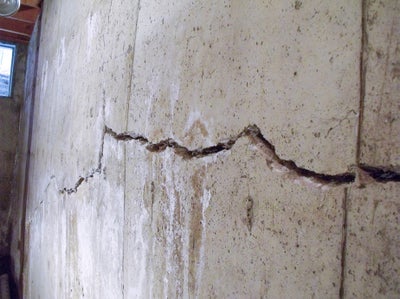 Porous Concrete Walls 
Concrete is widely known for its durable characteristics, but it is also porous. This porosity implies that water infiltrates through tiny openings created by the capillary holes or pores that develop as cement solidifies.
As calcium in the concrete dissolves when exposed to moisture, these pathways expand, causing further damage behind walls and eventually leading to unwanted leakage.
Additionally, subpar construction techniques and aging materials can further compromise the ability of your basement walls to resist water intrusion. Understanding the root causes is critical for implementing effective, long-lasting solutions.
Can You Fix Wet Basement Walls? 
Certainly, fixing wet basement walls is possible. But diagnosing and mending these issues independently can be quite difficult.
Homeowners often attempt different DIY solutions like re-coating with damp proofing, replacing footing drains, using caulking, or painting with purported waterproof paints and sealants. Unfortunately, such approaches frequently don't work and might even exacerbate the issue.
To truly address and resolve the problem, a holistic approach to the home is essential. JES Foundation Repair provides customized basement waterproofing systems designed to cater to your distinct requirements.
How to Fix Wet Basement Walls 
Here's how JES Foundation Repair addresses wet basement wall repair:
Diagnosis: First, we identify the source of the leak or moisture during a free, thorough inspection.
Install Interior Drainage: A drainage system installed along the interior perimeter catches leaking water and diverts it to a sump pump.
Connect a Sump Pump: A sump pump system, placed in the lowest part of the basement, collects water from the interior drainage system and actively removes it from your basement.
Add a Wall Vapor Barrier: A 12-mil thick, mold and water-resistant vapor barrier ensures a complete seal, preventing unwanted vapors from passing through basement walls and into your home. Any leaking water flows behind it and down into a waterproofing system.
Dehumidify the Basement: An energy-efficient dehumidifier ensures humidity control, improved air quality, and a dry and healthy atmosphere.
Reinforce Basement Walls: Cracking or bowing basement walls are permanently reinforced with carbon fiber straps, steel I-beams, or wall anchors. These systems are compatible with our basement waterproofing solutions.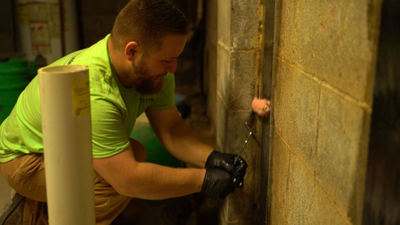 Rather than temporary fixes, our professional waterproofing corrects underlying issues. We offer exclusive products to address water damage and prevent further leakage.
Why Address Wet Basement Walls Now 
Addressing wet basement walls promptly is crucial for various reasons, such as:
Enhance Structural Integrity: Halt the spread of moisture that leads to rot, decay, and compromised walls.
Avert Expensive Fixes: Acting immediately can prevent larger and pricier repairs in the future.
Minimize Health Threats: Mold and mildew pose potential health and safety concerns.
Deter Pests: Ward off insect and pest invasions resulting from moist environments.
Contact JES Foundation Repair for Dependable Basement Waterproofing Solutions!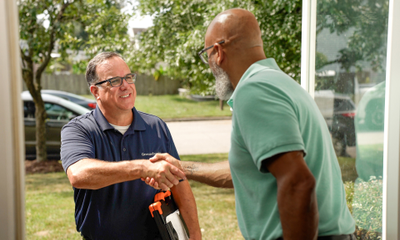 Don't allow minor setbacks to evolve into sizable concerns. Wet basement walls can spiral out of control if not addressed promptly. Reach out to JES Foundation Repair today for a complimentary, no-commitment inspection.
With a robust history spanning almost 15 years, we possess the know-how to diagnose and rectify wet basement walls for good. Our exhaustive remedies are preferred by homeowners in Maryland, Virginia, and beyond, who demand reliable and lasting relief from wet basement walls. 
Publish Date:
Last Modified Date:
Explore more problem signs