WallSeal™ Basement Wall Vapor Barrier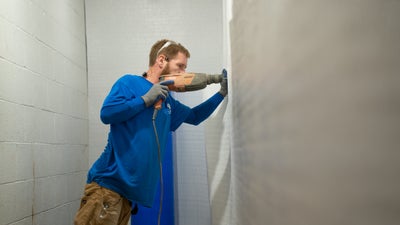 Damp, humid basements are a homeowner's nightmare, posing potential threats to both the structure and the occupants' health. Thankfully, lasting remedies are available. JES Foundation Repair, with its unparalleled expertise in mitigating moisture, introduces our cutting-edge Vapor Barrier system as an essential step to securing your home against water damage. Delve into the nuances of resolving your basement moisture concerns for good with our specialized approach.
Unveiling JES Foundation Repair's Vapor Barrier 
JES Foundation Repair's Vapor Barrier is a high-performance, durable solution designed to prevent moisture from infiltrating basement walls. Our method ensures that any water intrusion is directed into a specialized interior drainage system, immediately addressing damp wall issues.
This advanced Vapor Barrier, when coupled with our diverse range of basement waterproofing solutions such as sump pumps and dehumidifiers, forms an integrated system that not only safeguards your home but also enhances its overall worth.
Recognizing the Need for a Basement Wall Vapor Barrier 
Common indicators that your home may benefit from a Vapor Barrier include:
Ignoring these signs or postponing necessary repairs can escalate structural complications and health hazards. It's crucial to seek the expertise of a regional basement waterproofing specialist like JES Foundation Repair at the earliest sign of moisture problems in your basement.
The Significance of a Basement Wall Vapor Barrier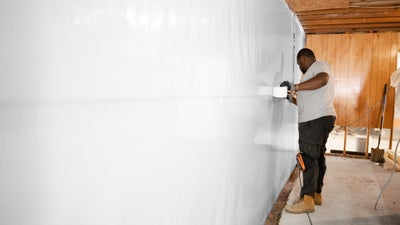 Incorporating a Vapor Barrier is a vital component in a comprehensive basement waterproofing plan.
Even without visible leaks or cracks, concrete's porous nature allows moisture to permeate, causing unseen dampness. Overlooking such conditions fosters further water damage, complicating and escalating the cost of future repairs.
Proactive implementation of our Vapor Barrier acts as a cornerstone in JES Foundation Repair's holistic solution, ensuring every corner of your home remains dry and healthy.
Advantages of Choosing JES Foundation Repair's Vapor Barrier 
Opting for our advanced Vapor Barrier brings forth several benefits, such as:
Durable Protection: Made with premium materials, it offers sustained, reliable protection.
Improved Living Conditions: By reducing humidity and preventing mold, it creates a healthier living environment.
Eliminate Musty Odors: Our Vapor Barrier addresses the core of damp, unpleasant odors, significantly enhancing air quality when combined with a dehumidifier.
Guarding Valuables: Consistent moisture can ruin possessions, tarnish valuables, and warp wood. Our Vapor Barrier maintains a dry atmosphere, protecting your assets.
Increased Property Value: A well-preserved, dry basement significantly augments your property's market value.
To optimize the benefits, it is pivotal that the Vapor Barrier is installed correctly. The adept technicians at JES Foundation Repair employ proprietary methods and products to ensure your basement remains as dry and healthy as possible.
Implementation of JES Foundation Repair's Vapor Barrier 
Our specialists meticulously install the Vapor Barrier alongside other innovative waterproofing solutions after a comprehensive evaluation of your basement. The procedure includes:
Preparing and cleaning the walls.
Affixing the Vapor Barrier sheets securely to the walls.
Installing interior drainage and other components.
Positioning a sump pump at the basement's lowest point.
Connecting the interior drainage to the sump pump.
Incorporating a basement dehumidifier.
Here's a simplified explanation of how the system works:
Water penetrating the basement walls is rerouted behind the Vapor Barrier.
The Barrier guides the water to the interior drainage system.
The drainage system channels the water to the sump pump.
The sump pump evacuates the collected water.
The dehumidifier tackles any remaining moisture in the basement.
Trust JES Foundation Repair for a professional and reliable installation of these essential water management components.
Why Choose JES Foundation Repair's Vapor Barrier? 
Our Vapor Barrier is distinct from the competition due to its:
Robust material for optimal moisture prevention.
Mold-resistant and waterproof properties.
Permanent installation to prevent leaks.
Integration with our full waterproofing system.
Extensive warranty protection.
Optional yearly maintenance plans.
Off-the-shelf vapor barriers often fall short in effectively tackling the root causes of basement moisture. Our Vapor Barrier, exclusive to JES Foundation Repair, guarantees a dry basement, reinforcing your home's defenses.
Reach Out to JES Foundation Repair for Top-Notch Vapor Barrier Solutions!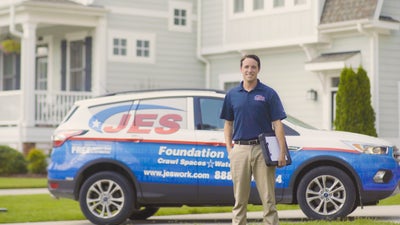 Say goodbye to damp, unhealthy basements with our Vapor Barrier and comprehensive waterproofing system from JES Foundation Repair. Contact us today for a free, no-obligation inspection and quote.
Serving the Mid-Atlantic region, including Virginia, Washington, DC, Maryland, Northeast NC, and West Virginia, we have a longstanding tradition of helping homeowners maintain and enhance their basements. Our dedication to customer satisfaction and innovative products set us apart. Rely on us to revitalize your home's foundation and bring peace of mind. 
Publish Date:
Last Modified Date: