Water in Your Basement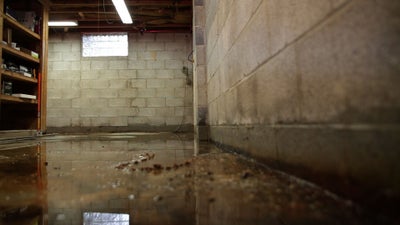 Regardless of how often you visit your basement, discovering water, whether a small puddle or a flood, is unsettling. Water in your basement is more than an inconvenience; it often heralds significant damage and potentially expensive repairs.
At JES Foundation Repair, we understand the distress and damage water in the basement can cause. As the region's leading basement waterproofing experts, we possess specialized solutions to address and prevent future water issues. On this page, you'll learn how water enters basements, why prompt repair is vital, and how JES Foundation Repair can assist you.
What Is Water in Your Basement? 
Water in the basement varies in appearance, from tiny puddles to large-scale flooding.
You might have water in your basement if you observe:
Mold growth
White, powdery residue (efflorescence)
High humidity
Ruined items stored in basement
But it's not just about visible water. Other issues affecting your home's stability, value, and the health of your loved ones can emerge. Recognizing water in your basement is crucial, as it usually indicates deeper issues that need professional intervention.
What Causes Water in Your Basement? 
Several reasons can cause water buildup in basements:
Weather Conditions: Excessive rain or melting snow can strain your drainage. Groundwater levels might also increase and reach your basement during wet periods.
Drainage Issues: Faulty systems—like broken gutters or drains—fail to direct water away from your house.
Poor Landscape Sloping: If the ground slopes towards your house, water can be funneled to the foundation.
Hydrostatic Pressure: When saturated, expansive clay-based soils exert hydrostatic pressure on the walls, leading to cracking, inward bowing, and leaks.
Wall Construction: Porous walls might absorb and leak water. Poorly constructed walls can be more vulnerable.
Window Leaks: Old, damaged, leaking windows allow rainwater intrusion.
Internal Leaks: Plumbing leaks, leaking water heaters, and faulty sump pumps can contribute to water in your basement.
Pinpointing the root cause is essential—without this, you might face recurring issues. This is where JES steps in: our specialists determine and tackle the foundational problems, guaranteeing lasting solutions instead of mere short-term patches.
Can You Fix Water in Your Basement? 
Certainly, water issues in your basement can be resolved.
However, using DIY methods like towels, wet/dry vacuums, and so-called "waterproof" sealants isn't enough. Such temporary fixes can merely mask the underlying problem, potentially leading to even more damage over time.
What's needed is a holistic approach that addresses the entire home.
JES Foundation Repair provides customized solutions that consider the specific challenges your home faces. These strategies tackle not just the evident moisture but also the conditions that enable water to penetrate initially.
How to Fix Water in Your Basement 
The basement waterproofing process encompasses several crucial stages:
Inspection 
We offer a free inspection where our professionals identify the main issue and recommend customized repair solutions.
Interior Drainage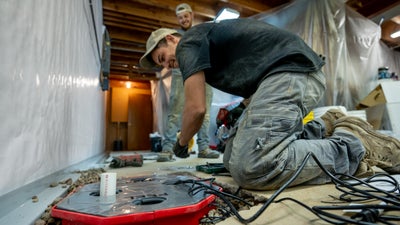 An interior drainage system, specifically crafted for this purpose, is installed along the perimeter and beneath your basement's floor. This system captures water leaks from the walls, floor, and the point where the wall meets the floor. The collected water is then channeled into a sump pump system.
Sump Pumps 
A powerful sump pump system is positioned at the basement's deepest point. It gathers water from the interior drainage and efficiently pushes it upward, redirecting it away from your basement.
Exterior Sump Pump Discharge 
Freezing discharge drainage lines are a concern in winter. Our specialized exterior sump pump discharge line attachment prevents freezing and allows water to drain as it should.
Dehumidifiers 
An energy-efficient dehumidifier controls humidity, eliminates odors, and reduces mold growth opportunity.
Wall Vapor Barriers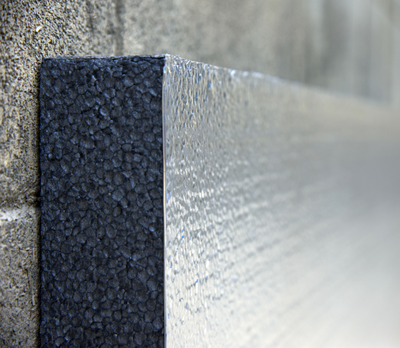 Our thick and durable vapor barriers prevent moisture entry. If water leaks, it's channeled to the drainage system.
Our basement fortification techniques, including carbon fiber straps, further solidify your basement walls, harmonizing with our waterproofing methods.
At JES Foundation Repair, we offer specialized waterproofing products, ensuring a comprehensive approach to rid your basement of water issues.
Why Address Water in Your Basement Now 
Addressing basement water promptly is essential due to:
Health Concerns: Mold and mildew can deteriorate indoor air quality.
Structural Concerns: Water can weaken the foundation.
Personal Property: Stored items can be ruined by moisture.
Property Value: Lingering water issues can lower your home's worth.
Increasing Repair Costs: Delays can lead to more costly future repairs.
If untreated, basement water issues can intensify. JES Foundation Repair provides proven methods to permanently eliminate basement water concerns.
Contact JES Foundation Repair for Trustworthy Basement Waterproofing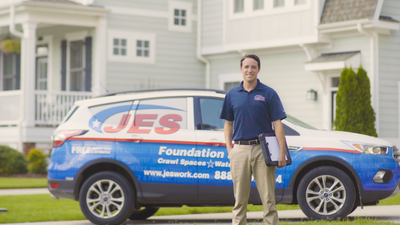 Don't let water in your basement escalate into a massive problem. For the safety of your home and family, reach out to JES Foundation Repair to schedule your free inspection. Restore your peace of mind.
Proudly serving the Mid-Atlantic, we excel in customer service and comprehensive solutions. Rely on our expertise to permanently rid your basement of water issues.
FAQs
It's recommended to regularly check your basement, especially after heavy rainfalls or during seasons with increased precipitation. Monthly checks can help you spot early signs of water intrusion, allowing for timely intervention. 
Basements can be susceptible to water intrusion during any season. However, periods of heavy rain or melting snow, such as in spring or after severe weather events, can heighten the risk. It's also worth monitoring during prolonged rainy periods or rapid snowmelt. 
Yes, ensuring the ground around your home slopes away from the foundation can help prevent water buildup. It's essential to keep gutters clean and ensure downspouts direct water at least five to ten feet away from the foundation. Proper landscaping can significantly reduce the risk of water intrusion. 
Publish Date:
Last Modified Date:
Explore more problem signs