Navigating the aftermath of a basement flood can be daunting. Many homeowners are uncertain if this task they can tackle independently or if hiring professional assistance is better. The reality is that your course of action often hinges on the severity of the flooding and the extent of the damage to your home.
If you're restoring a flooded basement, there may be aspects you can manage yourself, while other parts may require expert intervention. Here, we'll walk you through steps to address a flooded basement, highlighting along the way the efforts that may require the expertise of a professional.
How to Safely Deal with a Flooded Basement
Navigating a flooded basement requires both caution and preparation. Here are some guidelines you should adhere to when dealing with a flooded basement.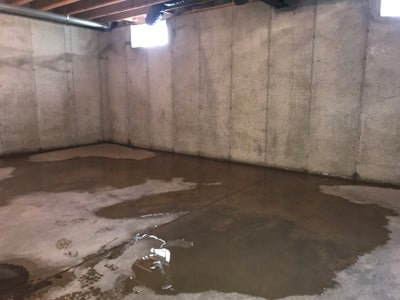 1. Exercise Caution
The importance of exercising caution cannot be overstated when dealing with a flooded basement. Here's why:
Hidden Dangers: Flooded basements can harbor various hazards such as exposed electrical wires, pests, and harmful mold and mildew spores.
Risk Management: By being careful, you're more likely to think before you act, reducing the chance of making potentially harmful decisions.
2. Verify Safety Before Proceeding
Before diving into the task of cleaning your flooded basement, you need to ensure your safety.
Don't Assume: Even if you believe it's safe, never make assumptions. Many people have suffered severe accidents due to overlooked risks.
Home Inspection: Start by inspecting the exterior of your home. Look for foundation cracks, loose or broken gas lines, exposed electrical wires, or any signs of damage. If you notice any, call in a professional.
3. Invest in Appropriate Equipment
Having the right equipment is key for safe and efficient cleanup.
Suit Up: It's not sufficient to don a pair of jeans and expect to be safe. Depending on the water level, you might need hip waders or rubber boots.
Safety Gear: Investing in high-quality rubber gloves and goggles is essential to minimize the risk of injury.
Remember, investing in safety equipment significantly reduces your chances of encountering accidents and ensures a safer cleanup process.
Steps for Cleaning Your Flooded or Leaking Basement
Now that you've equipped yourself with appropriate safety gear and confirmed that the basement is safe to enter, you're ready to begin the cleaning process. Here's a step-by-step guide to ensure you handle the task effectively.
1. Prepare for Entry
Preparation is key before stepping into your flooded basement.
Air Circulation: If your basement has windows, open them. This will let fresh air in and drives out the stale, humid air, creating a healthier working environment.
Safety First: Ensure all fuel sources, including electricity, gas, and propane, are turned off before entering the basement. If you're unsure how to do this, seek professional help.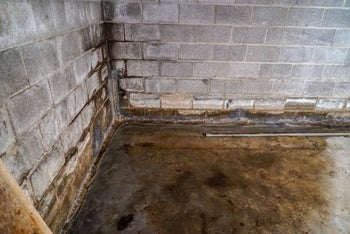 2. Drain the Standing Water
Draining the accumulated water in your flooded basement is the next crucial step. However, it's important to consider the volume of water and the implications of its removal.
Professional Help: If the volume of water is significant, consider consulting waterproofing experts. Incorrect or hasty water removal can lead to basement foundation cracks or even collapsed walls.
3. Clear Out Damaged Items and Debris
With the water gone, you'll likely face a mess, especially if your basement was used for storage or had poor insulation.
Start Cleaning: Shovel out any dirt and debris on the basement floor. Proceed to remove both damaged and undamaged items to facilitate thorough cleaning and drying.
4. Dry Out the Area
It's crucial to remove any residual moisture, as it can lead to mold and mildew and worsen respiratory issues.
Invest in Drying Equipment: Using blowers, dehumidifiers, and other drying equipment can effectively dry out your space. A basement dehumidifier might be necessary for regular use, depending on the moisture levels.
5. Disinfect All Surfaces
The final step is disinfecting every surface that came in contact with water, as bacteria and other harmful organisms can thrive in these conditions.
Kill the Germs: Disinfecting surfaces ensures that all pre-existing and water-transported bacteria are eliminated. A diluted bleach mixture is often effective for this purpose.
How to Prevent Future Basement Flooding
While cleaning up after a flood is essential, the best strategy is to prevent flooding from occurring in the first place. Here are some popular measures you can adopt to help prevent future flooding incidents in your basement.
1. Install a Sump Pump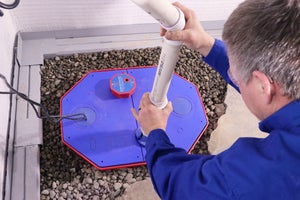 A sump pump can be a game-changer when it comes to preventing basement flooding.
Why It's Useful: While basement sump pumps are often installed in homes with recurring basement flooding or drainage issues, they can also be a preventative measure for homes that rarely experience floods.
Be Prepared: Basement flooding can happen to anyone. Having a sump pump can ensure you're prepared for such an eventuality. Once water enters your basement, the pump can immediately start pumping it out, reducing the likelihood of substantial property damage.
2. Seal Crawl Space Vents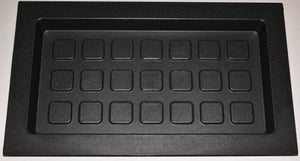 Crawl space or basement vents, once thought to help air out and dry the area, can in fact invite more harm than good.
The Problem: Vents can let in not only humidity but also flood water, leading to a damp or flooded basement.
The Solution: Vents should be permanently closed, the space fully sealed, and a dehumidifier added to fight moisture accumulation due to humidity.
3. Boost Your Basement Waterproofing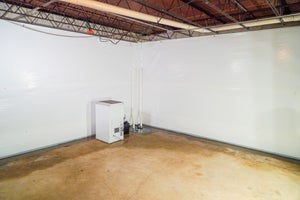 Evaluating and enhancing your basement's waterproofing is another crucial step in flood prevention
Regular Check: Do you know when you last checked your basement's waterproofing? Are you certain your basement can withstand heavy rains or flooding? Are there any hidden cracks allowing water seepage?
Seek Expertise: If you're unsure about these aspects, contact JES to schedule a free inspection.
The Experts at JES can Help!
Don't leave your home's safety to chance. Basements can be vulnerable, but with the right help, they can be safeguarded against flooding. At JES, we specialize in identifying potential risks and providing customized, effective solutions to keep your basement dry, safe, and comfortable.
Contact JES Foundation Repair to schedule your free inspection, and let's secure your basement together! Embrace the peace of mind that comes with knowing your basement is in expert hands.