AquaStop™ Basement Sump Pumps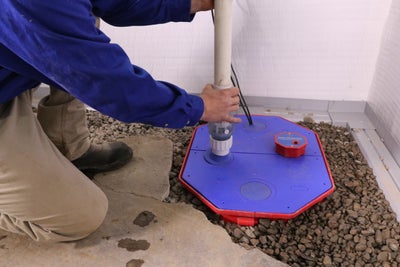 A wet basement is a homeowner's nightmare – it not only damages valuable possessions but can also lead to expensive repairs and a decline in property value. JES is here to turn the tide with our dependable AquaStop™ Sump Pumps, ensuring your basement stays dry and contributes to a healthier home.
With years of experience serving a broad array of homes in the Mid-Atlantic, we pride ourselves on our unmatched customer service and superior basement waterproofing solutions throughout Virginia, Maryland, and beyond.
This article will guide you on the vital role of a reliable sump pump system and how AquaStop™ can be the ultimate answer to your damp basement woes.
What is an AquaStop™ Sump Pump System? 
The AquaStop™ Basement Sump Pump System is an innovative appliance positioned at your basement's lowest point. It is meticulously designed to gather water from an interior drainage system and channel it away from your home's foundation, playing a crucial role in preventing basement flooding and potential structural damage.
AquaStop™ Sump Pumps feature state-of-the-art elements like a water alarm, sump liner, airtight lid, and robust cast iron pumps, promising reliability and top-notch performance. With regular maintenance, a AquaStop™ sump pump guarantees a perpetually dry basement.
Identifying the Need for a Basement Sump Pump 
Recognizing the signs indicating a sump pump necessity is crucial:
Observing any of these signs necessitates immediate action. Reach out to JES Foundation Repair promptly to prevent escalating damage and rising repair costs, and to ensure your home's safety.
The Necessity of a Sump Pump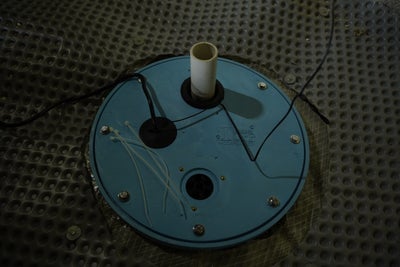 A sump pump is indispensable – it's the cornerstone of your basement waterproofing strategy. Without one, water accumulated by the drainage system would lead to mold, mildew, and structural decay.
Timely intervention can avoid the stress of dealing with more substantial future complications. AquaStop™ Sump Pumps can be flawlessly integrated into a comprehensive home solution, underscoring the importance of a safe and healthy living environment.
Diverse Options of AquaStop™ Sump Pumps 
Understanding that each home is unique, we proudly offer a range of sump pump systems tailored to your specific needs.
AquaStop™ Basement Single 
Equipped with a robust SafeDri™ cast iron pump, this single pump system is optimal for standard water removal. Choose between the SafeDri™ ⅓ hp or ½ hp pump, depending on your needs.
AquaStop™ Basement Single with Battery Backup 
This model includes a battery backup, ensuring functionality even during power outages and can discharge impressive volumes of water on battery power.
AquaStop™ Basement Triple 
This ultimate protection system features three pumps – the primary SafeDri™ 1/3 hp pump for regular use, a secondary SafeDri™ 1/2 hp pump for higher volumes, and a third battery backup pump for power outage scenarios.
Our expert technicians will evaluate your specific situation and recommend the most suitable AquaStop™ system for your home.
Advantages of AquaStop™ Sump Pump System 
Installing a trustworthy sump pump system like AquaStop™ brings multiple benefits:
Guaranteed Basement Dryness: Swift water removal prevents flooding and dampness.
All-encompassing Protection: Compatibility with other waterproofing solutions like interior drainage and dehumidifiers.
Dependable Pumping Capability: Multiple redundancy levels and battery backup options ensure reliability.
Prolonged Defense: Engineered for long-lasting operation, with available annual maintenance plans.
JES Foundation Repair stand as your reliable partner for all basement waterproofing needs, offering custom solutions and unparalleled expertise. Schedule your free inspection today!
The Working Mechanism of AquaStop™ Sump Pumps 
Once our experts at JES Foundation Repair have determined that a AquaStop™ sump pump system is your best option, our installation process involves:
Identifying the basement's lowest point
Preparing the floor for the sump liner
Installing the interior drainage system
Connecting drains to the sump basin
Placing pumps and components in the sump liner
Setting up interior and exterior discharge pipes
Electrical hookup and battery backup installation, if needed
System testing and finalizing the installation
This meticulous process ensures your basement remains dry and safe.
Why Choose Our Sump Pumps for Your Home? 
AquaStop™ sump pumps are distinguished by:
Premium cast iron pumps
Water alarm and airtight lid
Multiple protection levels
Compatibility and integration with other solutions
Battery backup options
Comprehensive warranty
Annual maintenance service plan
Trust JES Foundation Repair for unparalleled sump pump systems and holistic home solutions.
Reach Out to JES Foundation Repair for Sump Pump Solutions!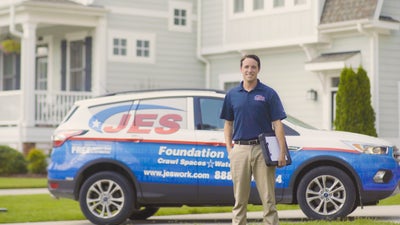 Don't let basement leaks dampen your spirits. JES Foundation Repair is here to help you navigate through storms with our dependable sump pumps and comprehensive basement waterproofing solutions. Contact us today for a free inspection and estimate.
We understand the challenges posed by varied weather conditions throughout the Mid-Atlantic region, and we are dedicated to helping you safeguard your home from water intrusion. Our AquaStop™ sump pumps are robust and reliable, promising to keep your home dry for years to come.
FAQs
We advise incorporating a battery backup to your sump pump system, particularly if you've experienced significant flooding and power outages. Our backup options ensure uninterrupted operation of your sump pump during power losses. Contact JES Foundation Repair for a tailored recommendation.
We discourage DIY repairs on sump pump systems as they are intricate units with sensitive components. If you encounter issues with your sump pump, reach out to JES Foundation Repair for professional assistance and a free inspection.
Annual maintenance is recommended to maintain optimal system performance. Our technicians will thoroughly assess the system and any additional installed solutions during the appointment. Get in touch to learn more about our maintenance plans.
Publish Date:
Last Modified Date: