Pool Deck Repair
A pool is a fantastic source of relaxation and recreation, but the charm can quickly fade if your pool deck becomes marred by cracks and uneven surfaces. Beyond the aesthetic concerns, these issues can pose serious safety risks.
JES Foundation Repair, a trusted name in home repair solutions across the Mid-Atlantic states, employs the cutting-edge SettleStop™ PolyRenewal™ concrete lifting system to efficiently and effectively restore your pool deck to its former glory.
This page is your gateway to a deeper understanding of the essence and benefits of concrete pool deck repair, emphasizing the importance of addressing these issues promptly to preserve your property's value and your family's well-being.
Understanding Concrete Pool Deck Repair 
Concrete pool deck repair is the solution for addressing cracks, sinking, and damage caused by factors like unstable soil and water oversaturation.
Traditional repair methods, including mudjacking or the complete demolition and repouring of the concrete pool deck, are invasive, expensive, time-consuming, and often ineffective.
In contrast, concrete lifting, a critical component of this repair process, involves injecting a specialized material beneath the concrete slabs to elevate and stabilize them, ensuring a safe surface for your pool area.
At JES Foundation Repair, we employ an advanced concrete lifting technique known as PolyRenewal™ to gently elevate settled portions of your pool deck and fill voids beneath it. This isn't just a stand-alone solution but an integral part of a comprehensive home repair strategy, fortifying your property against ongoing damage and enhancing its overall safety and value.
Signs Your Concrete Pool Deck Requires Attention 
Detecting the need for concrete pool deck repair early is paramount to preventing further deterioration. Here are some telltale signs:
Visible gaps or cracks
Extensive cracking
Uneven or sinking slabs
Trip hazards
Pooling water
Pits, flakes, and stains
Hollow sounds
Similar damage elsewhere: If you notice similar damage on nearby patios, porches, steps, sidewalks, or driveways, it's advisable to have a comprehensive inspection to determine the extent of the issue.
Addressing these issues promptly can prevent more extensive damage and help maintain a secure environment around your pool. If any of these indicators catch your attention, reach out to JES Foundation Repair without delay for a complimentary inspection and an estimate for necessary repairs.
The Necessity of Concrete Pool Deck Repair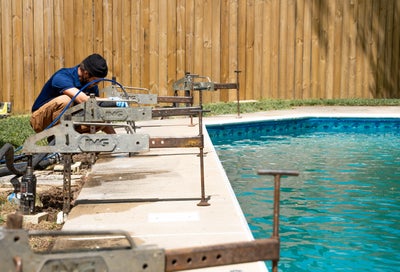 Yes, repairing issues with your concrete pool deck is absolutely essential.
Neglecting early warning signs such as minor cracks or sinking areas can lead to escalating damage, posing increased safety risks and inevitably incurring higher repair costs for limited repair options in the future.
Beware of temporary fixes and quick solutions that merely address surface problems. Opting for early repairs with JES Foundation Repair not only rectifies the immediate issue but also contributes to the overall well-being of your entire home.
The Benefits of Concrete Pool Deck Repair 
Investing in concrete pool deck repair yields numerous benefits for you and your property:
Enhanced Safety 
By repairing cracks and leveling uneven areas in your pool deck, you significantly reduce safety hazards, ensuring a worry-free environment for you and your family to enjoy.
Prevention of Further Damage 
Proper concrete repair not only nips minor problems in the bud but also puts an end to the possibility of them growing into major, more expensive issues. It acts as a protective shield for the rest of your home.
Improved Aesthetics 
Elevating settled sections and sealing cracks enhances the visual appeal of your pool deck and your home as a whole. You'll once again have the pleasure of an attractive outdoor living space.
Safeguarded Property Value 
A well-maintained pool deck adds value to your property, while a cracked and uneven one can diminish it. Protect your investment with timely repairs that enhance its overall worth.
Harness these benefits by choosing JES Foundation Repair's proprietary PolyRenewal™ system, developed with advanced technology to offer a more durable, efficient, and eco-friendly solution than typical market offerings.
Our Concrete Pool Deck Repair Process 
Our meticulous approach to renewing your concrete pool deck includes the following steps:
Comprehensive Evaluation: We start by conducting a thorough assessment and mapping out the affected areas.
Precise Drilling: Utilizing minimally invasive techniques, we drill small, non-intrusive holes into the designated areas.
Strategic Port Placement: Injection ports are strategically placed within these drilled spaces, setting the stage for restoration.
Advanced Polyurethane Foam: We prepare a powerful two-part, closed-cell polyurethane foam blend, poised to breathe new life into your pool deck.
Foam Injection: The foam is expertly injected beneath the slabs, expanding to fill voids and ensure stable lifting.
Swift Curing: Thanks to its rapid 15-minute cure time, you'll be back to enjoying your pool deck in no time.
Seamless Finishing: We remove the injection ports and seamlessly fill the drilled spaces.
Protective Sealant: To safeguard against future damage, we apply a protective crack and joint sealant.
Maintenance Plans: We offer maintenance plans to ensure the longevity of your pool deck's quality and appearance.
As the premier concrete repair company serving communities across the Mid-Atlantic states, including Virginia, Washington, DC, Maryland, Northeast NC, and West Virginia, you can trust JES Foundation Repair to provide safe, effective concrete pool deck repair. Our professional team leverages our extensive expertise and advanced solutions to ensure optimal installation and long-lasting results.
Why Choose JES Foundation Repair for Pool Deck Repair? 
JES Foundation Repair's PolyRenewal™ concrete lifting system stands head and shoulders above the rest for concrete pool deck repair, and here's why:
Precision: PolyRenewal™ offers unparalleled accuracy in lifting and stabilizing your pool deck.
Non-invasive: Our process avoids the need for heavy machinery or extensive excavation, preserving the integrity of your property.
Lightweight: The foam we use is notably lighter than alternative materials employed in concrete or mudjacking.
Fast Acting: In just 15 minutes, PolyRenewal™ cures, minimizing any disruption to your daily life during the restoration process.
Durability: PolyRenewal™ stands resilient against environmental pressures, promising long-lasting results.
Versatility: Our foam can be artfully applied to a variety of concrete surfaces, demonstrating its versatility.
Eco-conscious: We prioritize the use of environmentally friendly and enduring resources, making our restoration process sustainable.
Subtle Mastery: Our repairs are virtually invisible, seamlessly blending with the surrounding area for a harmonious finish.
Maintenance Assurance: Our commitment extends well beyond the initial restoration. We offer maintenance plans to guarantee enduring quality.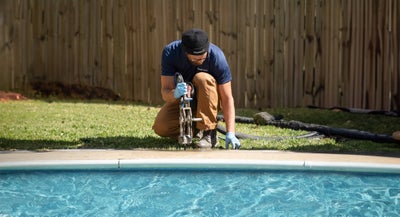 Contact JES Foundation Repair for Concrete Pool Deck Repair Today!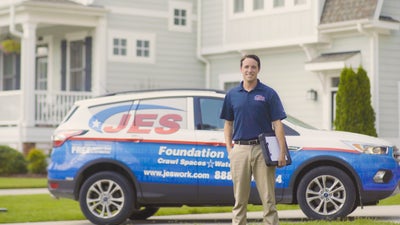 If your concrete pool deck is marred by cracks, settling, or unevenness, procrastination is not an option. JES Foundation Repair's time-tested concrete pool deck repair services can swiftly revive your pool deck, restoring its beauty and safety.
Don't delay – get in touch with JES Foundation Repair today to schedule a complimentary inspection and receive an estimate for necessary repairs. We proudly serve communities across the Mid-Atlantic states, including Virginia, Washington, DC, Maryland, Northeast NC, and West Virginia. With years of experience, we are the region's leading authority on foundation repair solutions.
Publish Date:
Last Modified Date: