Concrete Porch Repair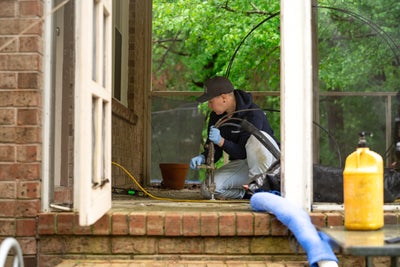 Your concrete porch should be a welcoming space that lasts the life of your home but cracking and sinking can create an eyesore that detracts from curb-appeal and a safety hazard. Upkeep is an important element in maintaining the health of your concrete porch. When it begins to crack or sink, it's a good time to call in the experts.
At JES Foundation Repair, our innovative PolyRenewal™ concrete lifting process addresses this problem at its root. As your trusted experts in concrete lifting and whole-home solutions, we help homeowners restore safety, stability, and curb appeal to their exterior concrete.
This page equips you with knowledge about concrete porch repairs and the unique benefits of our approach.
What is Concrete Porch Repair? 
Concrete porch repair involves restoring damaged, cracked, or sunken concrete on your porch. This process is crucial not only for aesthetics but also for safety.
Conventional repairs like concrete repouring or mudjacking cannot stand the test of time. These methods are invasive, expensive, time-consuming, and temporary bandages that do not address the cause of the problem.
JES Foundation Repair believes your home deserves better, so we offer a cutting-edge solution: PolyRenewal™ polyurethane injections that gently lift concrete slabs and stabilize the underlying soil.
Our method utilizes concrete lifting as part of a comprehensive whole-home solution. Instead of merely addressing the surface issue, we target the underlying causes, like unstable soil and oversaturation. This holistic approach ensures a long-lasting repair that balances with your home's overall structural health.
While this particular solution targets problematic concrete, we can also implement foundation repairs, such as foundation piers, if we determine the cause of the issue is structural.
Signs You Need to Repair Your Concrete Porch 
Your porch may need repair if you notice:
Visible cracks on the porch surface
Pitting, flaking, or staining along the concrete
Noticeable sinking slabs or uneven areas
Pooling water after rain
Gaps between the porch and the main structure
Loose, wobbly, or sinking steps
Leaning porch posts or railings
By resolving these issues promptly, you can avoid further damage and ensure a secure environment near your porch. When you notice these signs of trouble, contact JES Foundation Repair for a free inspection and repair estimate.
Is Concrete Porch Repair Necessary? 
Yes, repairing your concrete porch now saves you future headaches. Delaying repairs can lead to more extensive damage and higher repair costs associated with limited repair options.
As the porch is an extension of your home, its condition impacts the overall structure. By investing in timely repairs, you're also ensuring the longevity of your entire home.
Avoid the temptation of quick fixes from big-box stores or settling for traditional techniques like mudjacking and complete replacement. These temporary solutions don't tackle the root of the problem, and lead to additional issues and expenses.
JES Foundation Repair's solutions go beyond mere patchwork. They are part of our robust whole-home solution designed for lasting results. Our concrete lifting techniques can also stop porch problems before they escalate. Having your porch evaluated and repaired as soon as issues arise is vital.
What Are the Benefits of Concrete Porch Repair? 
Repairing your concrete porch offers numerous advantages:
Safer Environment: Lifting and stabilizing sunken concrete on your porch eliminates trip hazards. You'll have peace of mind knowing your porch is safe for your family and guests.
Improved Appearance: A smooth, even porch improves your home's aesthetics. Our concrete renewal restores the appearance of your property.
Enhanced Home Value: Repairing your concrete porch protects your investment. Damaged porches decrease a home's property value, while renovated porches enhance it.
Long-term Peace of Mind: With the proprietary PolyRenewal™ system, homeowners receive long-lasting results. Unlike generic solutions from big-box stores, our products are designed for durability and effectiveness.
To experience the full benefits, rely on our expert services and advanced solutions over basic DIY fixes.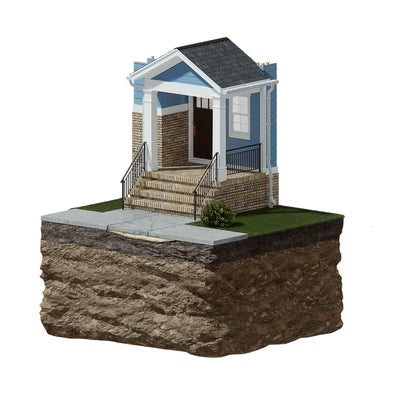 How Our Concrete Porch Repair System Works 
JES Foundation Repair crews follow these crucial steps when installing PolyRenewal™:
Fully inspect and measure the sunken or unstable areas of your porch.
Drill small, penny-sized holes into the affected porch areas.
Insert injection ports into the holes.
Mix a two-part, closed-cell polyurethane foam.
Inject foam beneath porch slabs for lifting and stabilization.
Allow foam to expand, fill the voids, lift concrete, and cure.
Remove injection ports and fill drilled holes.
Apply sealant to joints and cracks to prevent future damage.
Conduct regular maintenance and monitoring to keep your porch in optimal shape.
As the leading local experts, we ensure your concrete porch repair is done correctly for long-lasting results.
Why Our Porch Repair is the Best Choice for Your Home 
JES Foundation Repair's PolyRenewal™ concrete lifting system stands unmatched in concrete porch remediation due to its many advantages, including:
Accuracy: The PolyRenewal™ technique boasts exceptional precision in lifting and securing concrete porches.
Minimalist Approach: Eliminates the need for bulky equipment or extensive excavation.
Lightweight: The foam is considerably lighter than other materials commonly used in mudjacking or concrete repouring.
Quick Results: Solidifies in just 15 minutes, reducing inconvenience.
Robust: It braces against environmental challenges and ensures longevity.
Adaptability: Suitable for a wide range of concrete surfaces.
Eco-Friendly: Made from non-toxic, sustainable, and long-lasting materials.
Discreet: Repairs integrate effortlessly with the existing environment.
Commitment to Quality: Our annual maintenance schedules affirm prolonged excellence. 
Contact JES Foundation Repair for Concrete Porch Repair Today!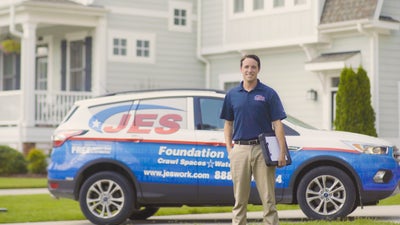 Restore your porch's beauty and safety with our expert solutions. Don't wait for minor issues to become major problems. Contact JES Foundation Repair today for a free inspection and no-obligation estimate.
As Central and Southern Ohio's trusted concrete repair provider, homeowners have relied on us to restore their concrete porches for 15 years. Our state-of-the-art concrete lifting solutions completely renew your porch for enhanced safety, curb appeal, and resale value.
FAQs
Concrete porch damage is often caused by unstable soil, erosion, freeze-thaw cycles, inadequate drainage, tree roots, or normal wear and tear over time. JES Foundation Repair's proprietary PolyRenewal™ concrete lifting solutions consider these factors and tackle the problem at the source by stabilizing the porch and underlying soil. Contact us to learn more and to schedule a free inspection. 
JES Foundation Repair's PolyRenewal™ system is a two-part polymer foam that weighs significantly less than traditional repair materials, yet it will not wash out or erode from under the concrete. Our system does not leach chemicals into the soil. It is a quick-curing solution superior to traditional methods like mudjacking. Learn more during a free inspection with one of our professionals. 
Publish Date:
Last Modified Date: