Driveway Repair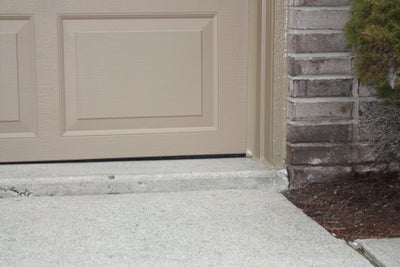 A deteriorating driveway isn't just an eyesore. It can reduce property value and present safety concerns for homeowners and visitors alike.
Thankfully, JES Foundation Repair, harnessing our premier concrete lifting method, is here to rejuvenate both the safety and aesthetics of your driveway. We employ a special lightweight foam injected beneath the driveway to efficiently lift and stabilize the concrete slabs.
For years, residents across the mid-Atlantic region have trusted our expertise in concrete lifting, knowing we deliver top-notch service and enduring solutions.
Read on to discover our innovative approach to concrete driveway repair and why it stands as the paramount choice for homes in the mid-Atlantic.
Understanding Concrete Driveway Repair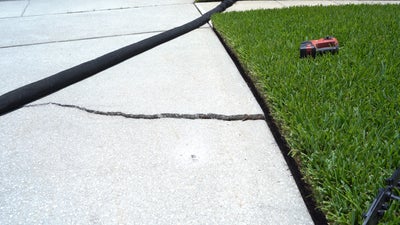 Concrete driveway repair encompasses addressing the damaged, cracked, or sunken areas to bring back its original stability and beauty.
Traditional methods like mudjacking might be familiar but often come with higher costs, invasive procedures, and are not always long-lasting. They might also neglect the core issues causing the damage.
JES Foundation Repair champions an innovative approach: concrete lifting with foam injections. This method targets problems related to unstable subsoil and excessive moisture, offering a durable solution. By investing in the health of your driveway, you can enhance your home's visual appeal and increase its market value.
Recognizing the Need for Driveway Repair
Addressing problems early on can save you from larger, more expensive repairs down the road. Signs that your driveway needs attention:
Visible Cracks: Noticeable cracks or splits wider than ¼".
Uneven Surfaces: Areas of the driveway that have settled or risen.
Water Accumulation: Regular pooling of water in specific driveway sections.
Deteriorating Edges: Edges that are crumbling or breaking apart.
Surface Issues: Problems such as pitting, flaking, or discoloration on the concrete.
For swift and dependable driveway repair solutions, contact JES Foundation Repair.
The Importance of Timely Concrete Driveway Repair
It's crucial to address driveway issues promptly. Issues like unstable soil and frequent freeze-thaw cycles can cause driveways to deteriorate over time.
Ignoring these signs means allowing more moisture to erode the foundation of your driveway, exacerbating the problem. Addressing these concerns swiftly ensures not just a cost-effective solution but also provides our experts with a chance to check for foundational problems that might be causing the driveway to deteriorate.
Benefits of Concrete Driveway Repair
Choosing to repair your driveway through concrete lifting comes with numerous advantages:
Preventing Further Damage: Act now to stop ongoing deterioration.
Safety Assurance: A smooth, even surface means fewer tripping hazards.
Elevated Aesthetics: A refurbished driveway enhances your home's overall visual appeal.
Tailored Fixes: JES experts design solutions based on each home's unique needs, ensuring long-lasting results.
To maximize these benefits, ensure you choose a reputable service like JES Foundation Repair.
JES' Concrete Driveway Repair Process 
JES Foundation Repair's concrete lifting method involves:
Comprehensive evaluation to determine the root cause and appropriate solution.
Drilling small, strategically placed holes.
Inserting injection ports.
Preparing a specialized polymer foam.
Injecting this foam beneath the driveway slabs.
Foam hardens within roughly 15 minutes.
Stabilizing the lifted slab and the underlying soil.
Applying sealants to prevent future damage.
With JES Foundation Repair, each step is executed with precision, guaranteeing a long-lasting repair.
Why Choose JES for Your Driveway Repair?
Our concrete lifting method boasts unmatched advantages:
Precision: Detailed and effective lifting and stabilization.
Less Intrusion: No heavy machinery or extensive excavations.
Rapid Results: The method is efficient with minimal wait time post-repair.
Durability: Resistant to external stressors, ensuring longevity.
Eco-friendly: Our materials are sustainable and long-lasting.
Contact JES Foundation Repair Today!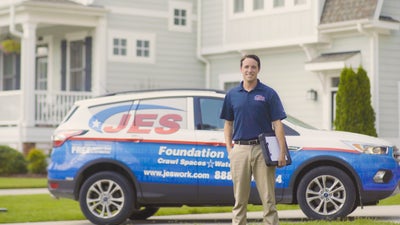 Don't let a deteriorating driveway diminish your home's value or safety. Across the mid-Atlantic, from Virginia to West Virginia, JES Foundation Repair offers state-of-the-art concrete lifting services to restore your driveway's beauty and function.
Contact us now for a free inspection and estimate. With years of experience, countless satisfied customers, and unparalleled customer service, we're the go-to experts in the region. Let us help you elevate your home.
FAQs
Various factors, from shifting soils to water intrusion, extreme weather events, and the weight of parked vehicles, can damage driveways. Contact JES Foundation Repair for a comprehensive evaluation and solution. 
Our advanced method ensures rapid curing, usually within 15 minutes, allowing almost immediate use post-repair. This efficiency sets us apart from traditional methods that might require days of waiting. 
Repair costs depend on the damage extent, repair area size, and the chosen repair technique. JES Foundation Repair's method is both cost-effective and lasting. We offer transparent pricing, free assessments, and flexible payment options tailored to your needs. 
Publish Date:
Last Modified Date: