Cracked Driveway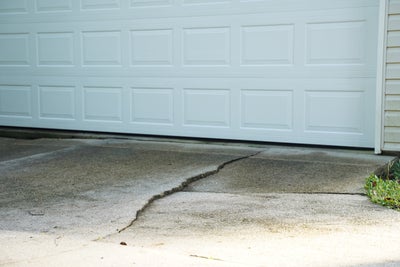 While it's a common sight, a cracked driveway is an issue that shouldn't be overlooked by homeowners. Not only does it diminish your home's visual appeal, but it also poses potential dangers to your property and the safety of your residence.
Guests and residents, especially those with mobility challenges, might trip on the uneven and cracked portions of the driveway. Such cracks can also damage vehicles and compromise the foundation's integrity.
JES Foundation Repair stands as a dependable ally in tackling this widespread problem, offering cutting-edge, robust concrete lifting methods that ensure lasting outcomes. Our dedication to quality grants homeowners with reassurance, reviving the safety and appearance of their residence.
This page enlightens you about the reasons behind driveway cracks and how our concrete lifting techniques can proficiently mend your driveway.
What Exactly is a Cracked Driveway? 
A cracked driveway is just what it sounds like, a concrete surface that has manifested splits, lines, or breaks over the years. The extent of these defects can vary from nearly imperceptible hairline fractures to broad, conspicuous splits.
A driveway might showcase a singular crack or multiple fissures scattered on its surface. Beyond being an eyesore, these defects can become safety hazards, potentially causing trips and falls.
If you observe cracks on your driveway, it might also indicate other damages like:
Cracked sidewalks
Cracked concrete patios
Sinking porches
Cracked pool decks
Concrete pitting, flaking, and discoloration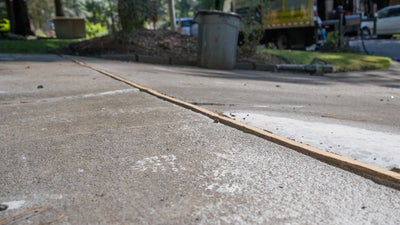 Concrete driveways are prone to cracking for several reasons, often necessitating professional evaluation and intervention. JES Foundation Repair provides premier concrete lifting services to circumvent potential risks and stop further degradation. Contact us as soon as you spot any issues.
What Triggers Driveway Cracks? 
Various underlying causes can result in concrete driveway fractures, including:
Soil Concerns: Soil that either settles or erodes beneath the driveway induces unequal stress, leading to cracks.
Trees: Tree roots expanding beneath or close to the driveway can exert pressure, causing fissures.
Weather Patterns: Extended periods of rain or flooding can erode the foundational soil. Also, the freeze-thaw cycles allow water infiltration into cracks, which then expands upon freezing. Concrete naturally expands and contracts with changing temperatures.
Installation Shortcomings: Inferior concrete pouring or setting during the foundational construction phase renders concrete driveways vulnerable to damage.
Vehicular Weight: Vehicles, ranging from small cars to large trucks, exert significant weight on the concrete and the soil beneath, potentially causing cracks and depressions.
These same influences on concrete driveways might also jeopardize your home's foundational stability, underlining the need for timely intervention by a specialist like JES Foundation Repair, equipped to offer the most suitable remedies.
Is Repairing a Cracked Driveway Possible? 
Absolutely, cracked concrete driveways can be rejuvenated and brought back to a pristine condition. But as cracks evolve and widen, they can limit the alternatives if left untreated for too long. This is why seeking professional assessment to perform a thorough inspection is crucial.
Merely sealing the cracks with fillers or traditional techniques like mudjacking, or re-pouring the concrete, offers temporary relief at best.
For a long-term solution, underlying issues such as unstable soil must be tackled. Concrete lifting, which elevates sunken sections and stabilizes the surface, is the preferred approach. JES Foundation Repair delivers tailored solutions guaranteeing sustained results, ensuring every mend is executed flawlessly.
Approaching Cracked Driveways 
The certified driveway protocol at JES Foundation Repair incorporates several crucial stages:
Complete an initial inspection, identify the cause, and determine appropriate repair solutions like SettleStop™ PolyRenewal™.
Drill small, penny-sized holes into the affected driveway segments.
Place injection ports in the holes.
Mix together a two-part, closed-cell polymer foam.
Inject foam under driveway slabs.
The foam expands, filling any voids, and cures within 15 minutes.
The slab lifts and the soil is stabilized.
Remove injection ports and fill and smooth the drilled holes.
Apply sealant to cracks and joints to prevent further damage.
Regularly maintain and monitor your concrete driveway.
At JES Foundation Repair, we employ a range of innovative products like PolyRenewal™, curated to address specific concerns more efficiently than competitor solutions. Our unique polyurethane foam is engineered for swift and accurate concrete elevation. PolyRenewal™ mends outshine traditional mudjacking and are less invasive than complete slab replacement.
The Need to Address Driveway Cracks Promptly 
Addressing cracked driveways at the earliest provides homeowners with a list of benefits, including:
Avoiding Further Damage: Addressing cracks early can prevent more severe structural issues.
Improved Safety: Ignored cracks can become significant safety threats, resulting in accidents and injury. Large cracks are safety hazards when it comes to walking or driving. Slim cracks can catch heels or bicycle tires.
Protected Property Value: Maintaining a well-kept driveway enhances curb appeal and property value.
Reasonable Repair Costs: The longer you wait, the more work and expense significant repairs entail.
Don't compromise with quick fixes. Our PolyRenewal™ system can restore your driveway to its original state. Our concrete lifting methods are crafted to stabilize and mend cracking and uneven concrete. Connect with JES Foundation Repair to book your complimentary inspection.
Contact JES Foundation Repair for Dependable Concrete Lifting Solutions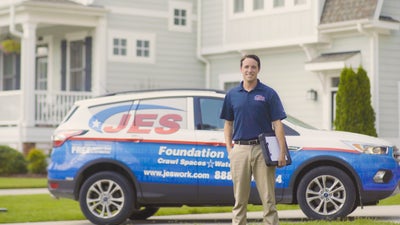 A compromised driveway shouldn't undermine your home's safety and charm. If you're dealing with a cracked, sunken, or uneven driveway, the concrete experts at JES Foundation Repair are here for you. Contact us now for a free assessment and estimate.
We recognize the irritations caused by a faulty driveway. That's why we proudly present proficient, dependable concrete lifting remedies that endure the test of time. With our PolyRenewal™ innovation, we can swiftly and accurately elevate and stabilize sunken concrete sections correctly in the initial attempt. 
FAQs
The cost of repairing a cracked driveway varies based on the extent of damage, the size of the driveway, and the specific solution required. JES Foundation Repair provides complimentary inspections and estimates to give homeowners an accurate understanding of the potential costs involved. It's always best to contact us directly for a tailored quote. 
The duration of the repair process depends on the severity of the damage and the chosen repair method. For instance, our PolyRenewal™ concrete lifting method involves injecting a two-part, closed-cell polymer foam under driveway slabs, which cures within 15 minutes. The entire procedure, including inspection, foam injection, and sealing, can be completed within a day for most residential driveways. However, larger or more complex jobs may take longer. 
Replacement isn't always necessary. Many driveways with cracks can be rejuvenated and restored to a pristine condition with the right repair techniques. JES Foundation Repair specializes in concrete lifting, which elevates sunken sections and stabilizes the surface, offering a long-lasting solution. Before considering a full replacement, it's advisable to get a professional assessment, as many issues can be addressed effectively with targeted repairs. 
Publish Date:
Last Modified Date:
Explore more problem signs