Cracked Concrete Patio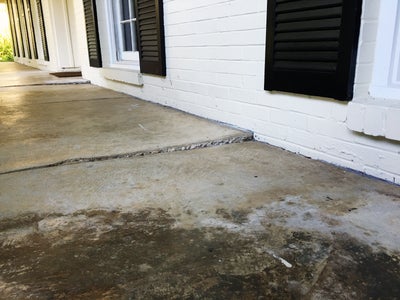 A patio serves as a tranquil outdoor retreat, but without proper care, it can turn into an unsightly safety concern. A cracked concrete patio poses tripping threats and may indicate broader damage throughout your property.
JES Foundation Repair understands the importance of addressing these issues and brings you specialized, effective solutions. Our goal is to restore the safety and aesthetics of your home using our pioneering concrete lifting solutions like SettleStop PolyRenewal™. These solutions will ensure your patio remains a haven for you and your loved ones.
This page delves into the reasons behind and challenges posed by cracked concrete patios and how professional interventions can restore tranquility to your home.
What Is a Cracked Concrete Patio? 
A cracked concrete patio is often found in backyards, showcasing fractures or breaks that mar its appearance and compromise its structural integrity.
The extent of these cracks can vary, from minor superficial lines to deep gashes that become major tripping concerns. Cracked patios become gateways for pests, plants, and debris. They can also trap water, accelerating their decay.
You might also spot similar concrete challenges around your residence, such as:
Cracked pool decks
Sunken porches
Sinking steps
Damaged sidewalks
Cracked driveways
Neglecting these issues only intensifies the problem. At the first sign of trouble, reach out to a local expert for repairs. JES Foundation Repair adopts a holistic approach to ascertain the damage's cause and extent, promising a thorough and lasting fix.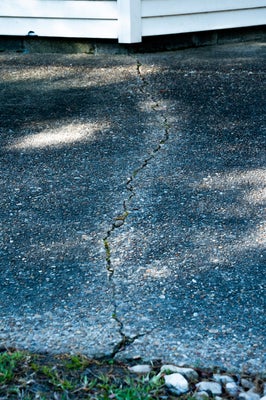 What Causes a Cracked Concrete Patio? 
Several factors contribute to concrete patio cracks:
Soil Settling and Erosion: Shifting or eroding soil underneath can cause the concrete to sink and become unstable, leading to cracks. Unsupported dry soil can be particularly problematic.
Weather Conditions: Torrential rains or floods can magnify soil erosion, particularly with clay-heavy soils. Water trapped in concrete during freeze-thaw cycles can also crack it.
Tree Roots: Expanding roots can push against concrete, inducing cracks and bulges.
Installation Problems: Faults during concrete pouring or curing can introduce weaknesses, leading to cracks over time.
Issues that harm patios can also jeopardize a home's foundation. Addressing them promptly is essential. Identifying these underlying problems is vital to choose the right repair, focusing on the root cause to avoid recurring damages.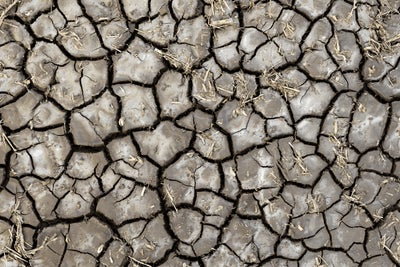 Can You Fix a Cracked Concrete Patio? 
Absolutely! Addressing cracks at their onset is crucial as prolonged neglect narrows down repair options.
Merely filling cracks or other makeshift solutions won't suffice. They overlook the root cause.
Durable concrete repair demands specialized tools and methods. A comprehensive solution that targets the fundamental issues is pivotal for long-lasting outcomes.
JES Foundation Repair brings holistic solutions, including our revolutionary PolyRenewal™ concrete lifting system, to repair visible damages while tackling root causes to prevent future ones.
How to Fix a Cracked Concrete Patio 
JES Foundation Repair employs state-of-the-art techniques to repair cracked patios. Our procedure entails:
Thorough inspection to assess full extent of damage
Drilling tiny holes in the affected patio sections
Setting up injection ports
Combining a two-part polyurethane foam
Foam injection beneath the patio
Foam expansion to elevate the concrete
Foam solidifies in about 15 minutes
Refining drilled holes
Sealing cracks to ward off further damage
Ongoing concrete patio maintenance and surveillance
Recognizing every home is unique, our specialized solutions, including PolyRenewal™, cater to your distinct issues, delivering superior results compared to traditional methods.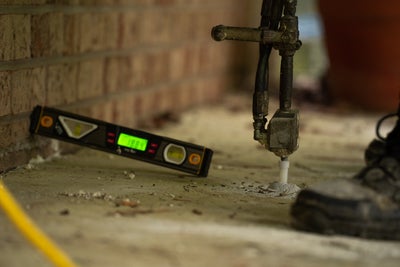 Why Address a Cracked Concrete Patio Now 
Immediate repairs to a cracking patio are paramount for:
Worsening Safety Hazards: Uneven slabs and cracks create tripping risks. These safety issues increase as the patio's concrete continues to drop and split.
Additional Damage: Without fixing the soil issues, erosion and ground movement will continue to fracture and sink the patio further over time.
Water Risks: Cracks allow water under the patio, accelerating erosion. This water penetration can also seep toward the foundation.
Pest Access: Cracks let insects and weeds take root under the concrete. Rodents may even follow the openings into your home.
Aesthetic Issues: A cracking, uneven, and damaged patio makes your property look bad.
Diminished Property Value: Damage and an unkempt appearance decrease your home's value and deter potential buyers.
Quick professional interventions guarantee lasting remedies. JES Foundation Repair's groundbreaking solutions effectively tackle your cracked patio issues, using top-tier technology for unparalleled results.
Contact JES Foundation Repair for Trustworthy Concrete Lifting Solutions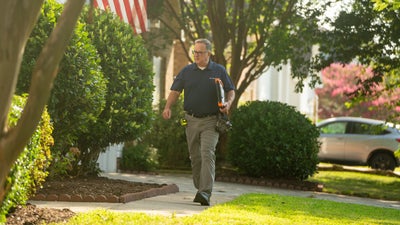 Your home is your sanctuary. You deserve a picturesque, safe patio to cherish for years. Depend on JES Foundation Repair to restore your patio's splendor and strength. We provide tailored concrete lifting solutions for enduring outcomes.
Residents across Virginia, Washington, DC, Maryland, Northeast NC, and West Virginia have placed their trust in us for our inventive solutions, meticulousness, and exceptional customer service. Contact us today to schedule your complimentary, no-commitment inspection. Let our specialists devise the best remedies to reinstate your patio's charm and utility.
FAQs
Typically, the polyurethane foam injection takes a few hours. Once injected, the foam sets in roughly 15 minutes, enabling you to use the patio the same day. However, project duration might vary based on the scale of the damage. JES Foundation Repair offers complimentary inspections and quotes. Reach out today to book a session with our specialists. 
With professional intervention, a repaired concrete patio can last decades, ensuring longevity and stability. JES Foundation Repair's advanced PolyRenewal™ polyurethane injections offer more resilience and longer life than mudjacking or total replacements. Contact us to schedule your free inspection and discover more about our acclaimed concrete lifting services. 
Publish Date:
Last Modified Date:
Explore more problem signs