Cracked Sidewalks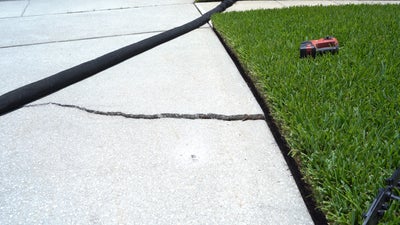 Smooth, level concrete areas are vital for ensuring safety and enhancing the aesthetics of your property. Conversely, sinking and cracking of concrete sidewalk slabs pose multiple risks.
Cracks can emerge due to a range of reasons, including changing weather patterns and faulty installation. A compromised sidewalk not only diminishes your home's curb appeal but also introduces hazards for pedestrians.
JES Foundation Repair recognizes the issues posed by cracked concrete sidewalks. We utilize our advanced SettleStop™ PolyRenewal™ technology to address and repair damaged and sunken portions of concrete sidewalks, guaranteeing a secure and visually appealing pathway for your residence.
By navigating through this page, you'll get insights into what instigates sidewalk cracks and the significance of resolving these issues swiftly with our expert concrete lifting techniques.
What is a Cracked Sidewalk?
A cracked sidewalk manifests as noticeable splits or breaks in the concrete pathway, often close to a residential or commercial building.
These fissures can differ in their dimensions and can affect the overall stability of the sidewalk. More than mere aesthetic blemishes, these cracked sidewalks hint at deeper issues and create significant tripping risks, complications for vehicles, and potential foundation issues, underscoring the necessity for immediate rectification.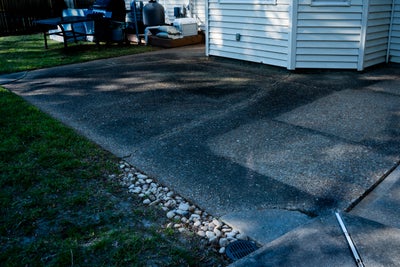 Cracked sidewalks often coexist with other damages, such as:
Sinking concrete steps
Fractured concrete patio
Sinking porch
Cracked pool deck
When neglected, sidewalk cracks can exacerbate, leading to more complex structural problems and potential owner liabilities. Unaddressed cracks can intensify over periods, causing the concrete segments to become unstable and uneven, resulting in potential tripping dangers and reducing property curb appeal.
Engaging professionals like JES Foundation Repair is crucial to ensure the safety and integrity of your property.
What Are the Roots of Sidewalk Cracks?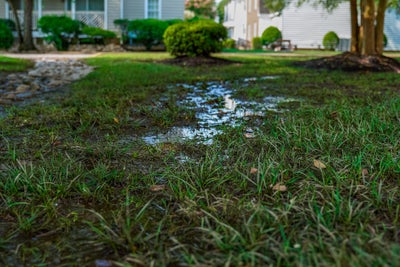 Multiple factors contribute to sidewalk cracks:
Underlying Soil: A significant reason is the settling or erosion of the supporting soil. When the foundational soil erodes or compacts, the sidewalk is jeopardized.
Expansive Tree Roots: Tree roots can push on the concrete from below. As roots displace the soil and grow, they exert pressure on the concrete, causing cracking and lifting.
Climate Extremes: Harsh weather events can erode the foundational soil. The cycle of freezing and thawing exacerbates tiny cracks, leading to more extensive damage.
Improper Installation: Improper curing time, lack of reinforcement, or an unstable base layer can result in cracks.
The same elements causing damage to the sidewalk can simultaneously harm your home's foundation. It's essential to discern the underlying cause of the crack to render a long-lasting solution effectively, thus preventing recurrent damage.
Can You Fix a Cracked Sidewalk?
Yes, cracked sidewalks are repairable, but a comprehensive approach is the only way to permanently solve the problem from returning.
With worsening cracks, repair options become limited, emphasizing the need for timely intervention.
Be aware that DIY fixes available at big-box stores rarely suffice. Simply patching cracks with cement or mudjacking only camouflages the symptoms. The factors causing the underlying cracks still need to be addressed.
For dependable, long-lasting sidewalk repairs, reach out to JES Foundation Repair's concrete repair and lifting experts.
We offer whole-home solutions that go beyond superficial repairs, tackling the root cause of the issue to prevent future recurrences. Our proprietary SettleStop™ PolyRenewal™ process can lift, stabilize, and restore sunken, cracked concrete sidewalk slabs.
How to Fix a Cracked Sidewalk
JES Foundation Repair employs the PolyRenewal™ technique to amend cracked and unlevel sidewalks. Here's a brief overview of our team's method:
Perform a thorough evaluation, pinpointing the factors causing the cracks and determining the ideal solutions like PolyRenewal™.
Drill small, penny-sized openings into the affected areas.
Insert injection ports into the holes.
Blend together our proprietary two-part polymer foam.
Pump the foam underneath the sunken slabs through the ports.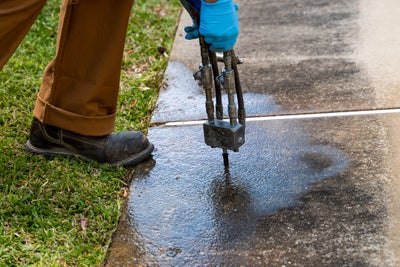 The foam expands rapidly, filling voids, and hardens in 15 minutes.
The sidewalk slab is lifted and the soil underneath is stabilized.
Remove the injection ports and patch the drilled holes.
Seal all cracks and joints to prevent future water damage.
Check periodically and maintain the sidewalk to maximize durability.
Our custom polyurethane foam is designed for precise and swift sidewalk elevation. PolyRenewal™, being more effective than traditional mudjacking, is less invasive than full slab replacements and remains stable.
The Importance of Addressing Sidewalk Cracks Promptly
Addressing cracked sidewalks in a timely manner is essential for the following reasons:
Prevent Accidents: It's dangerous to leave raised sections that could cause someone to trip and fall.
Avoid Legal Liability: Cracking, dangerous sidewalks can result in liability issues.
Long-term Cost Efficiency: Issues causing the cracks can worsen over time, leading to expensive repairs, such as full sidewalk replacement, if left unaddressed. Early professional repairs prevent costly future damages.
Maintain Property Value: Cracked sidewalks drag down curb appeal, making it difficult to sell your home. Homebuyers want problem-free walkways.
To fully address these issues, work with JES Foundation Repair and our state-of-the-art solutions, offering benefits beyond traditional methods.
Connect with JES Foundation Repair for Dependable Concrete Lifting Services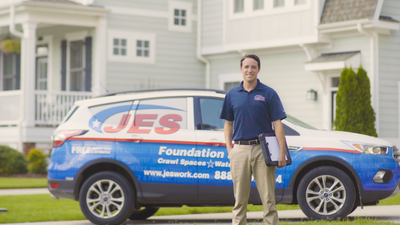 Avoid the hazards and visual detriments of cracked sidewalks. Partner with JES Foundation Repair to enhance the longevity and aesthetics of your pathways.
Our seasoned crew, with their years of experience, has been assisting homeowners throughout the region, revitalizing their concrete structures. As the trusted concrete lifting provider in the area, we're known for our exceptional customer service and pioneering repairs. Get in touch today for a complimentary inspection and let us help enhance the safety and allure of your property!
FAQs
Yes, even small cracks can escalate to significant issues if overlooked, potentially indicating deeper structural concerns. Such cracks can spread, destabilizing the entire slab. It's pivotal to ascertain the root cause and apply effective solutions. Instead of resorting to DIY methods, contact JES Foundation Repair for a free inspection and repair estimate. 
Absolutely, SettleStop™ PolyRenewal™ is environmentally responsible, ensuring no adverse effects on its surroundings. The material remains stable beneath the concrete and doesn't infiltrate the soil. Trust JES Foundation Repair's PolyRenewal™ foam for reliable and safe concrete lifting. Contact us to schedule a free evaluation. 
Costs differ based on the severity, project dimensions, and chosen solutions. JES Foundation Repair offers free evaluations, clear pricing, and financing alternatives. Contact us today for more information. 
Publish Date:
Last Modified Date:
Explore more problem signs