Cracked Pool Deck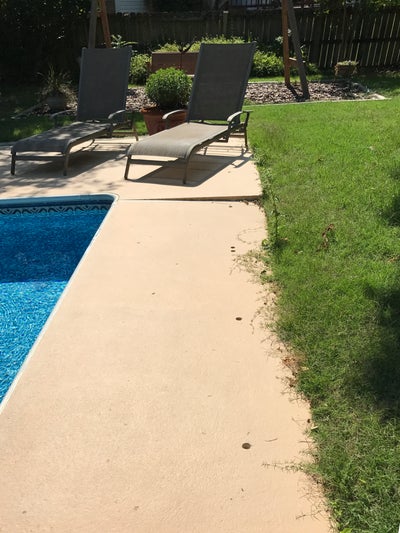 A swimming pool offers a refreshing escape and moments of fun with family. However, damaged surrounding concrete can quickly turn it into a danger zone.
Cracked pool decks not only reduce the beauty of your home but also present serious safety risks. JES Foundation Repair recognizes the need for immediate solutions.
Our extensive knowledge in concrete lifting equips us to offer lasting solutions, protecting your home from the adverse effects of fractured concrete and ensuring your property's safety and longevity.
This page delves into the reasons behind a cracked concrete pool deck and how JES Foundation Repair employs progressive techniques like SettleStop™ PolyRenewal™ to reinstate your pool deck's strength and reliability.
What Is a Cracked Pool Deck?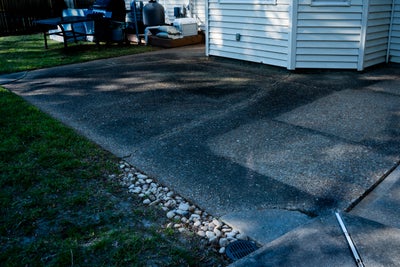 A cracked pool deck is identified by gaps or splits in the concrete areas around an in-ground swimming pool.
Ranging from minor superficial cracks to major breaks, these defects not only ruin the aesthetic appeal of your pool space but also pose dangers like trip hazards.
These cracks can invite water, resulting in further concrete damage, mold buildup, structural issues, and a marred look.
Signs accompanying a cracked pool deck might include:
Cracked sidewalk
Cracked concrete patio
Sinking porch
Sinking concrete steps
As time passes, these issues intensify, posing even bigger risks and steeper repair costs. It's crucial to call a regional concrete lifting expert like JES Foundation Repair at the earliest hint of these problems.
What Causes a Cracked Pool Deck?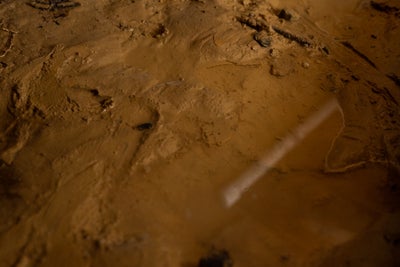 Multiple factors can lead to a cracked pool deck:
Settling Soil: Improper soil compaction before pouring the concrete can cause uneven settling, leading the concrete to crack and sink.
Soil Erosion: Water with chemicals from the pool can erode soil underneath, causing cracks and sinking.
Tree Roots: Expanding tree root systems can disturb soil, causing sections of concrete to heave.
Heavy Rain/Flooding: Intense rainfall or floods can destabilize the soil support beneath the deck.
Freezing and Thawing: The region's freeze-thaw cycles can place stress on the deck, initiating cracks.
Original Installation Issues: Initial concrete pouring errors or curing issues can later result in cracks and structural problems.
These factors can often work in tandem, compromising pool decks.
Can You Fix a Cracked Pool Deck? 
Absolutely! Addressing the problem correctly is vital.
Rather than just patching cracks or using overlays, a comprehensive solution for the whole home ensures the root causes are dealt with, preventing recurrence and preserving the property's structural integrity.
JES Foundation Repair uses specialized methods to stabilize and elevate cracked or settled pool deck sections. Our exclusive PolyRenewal™ foam injection process lifts the sunken concrete, offering enduring support.
How to Fix a Cracked Pool Deck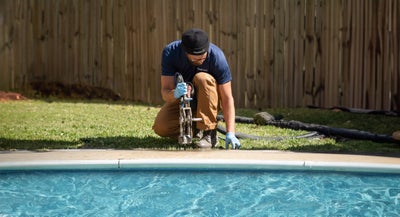 JES Foundation Repair's seasoned team takes the following steps for a thorough pool deck repair:
Inspection: We meticulously inspect your pool deck to pinpoint the root causes of concrete damage.
Drill Holes: Small, penny-sized openings are drilled into the affected areas of the sunken concrete.
Place Injection Ports: Custom injection ports are inserted into each hole to allow access underneath the slab.
Mix Foam: Our two-component high-density polyurethane foam is mixed.
Inject Foam: The foam is pumped under the concrete via the injection ports.
Foam Expansion and Slab Lifting: The foam rapidly expands underground, filling voids, and hardening within 15 minutes. This lifts the concrete slab gently back into place as the foam cures.
Remove Ports: We extract the ports and seal the holes.
Seal Cracks: All gaps are sealed to prevent future water seepage.
Ongoing Care: Regular maintenance ensures prolonged deck durability.
Why Address Pool Deck Cracks Now 
Addressing pool deck cracks immediately is crucial to experience the following benefits:
Prevent Further Damage: Early intervention stops small issues from becoming bigger, costlier problems.
Safety: Ensure the poolside remains safe from tripping hazards.
Avoid Expensive Repairs: Immediate repairs are more cost-effective than eventual replacements.
Enhance Property Value: Preserve your backyard's appeal and structure.
For comprehensive cracked pool deck solutions, trust JES Foundation Repair. Our advanced solutions ensure your home's safety and elegance.
Contact JES Foundation Repair for Dependable Concrete Pool Deck Repair Solutions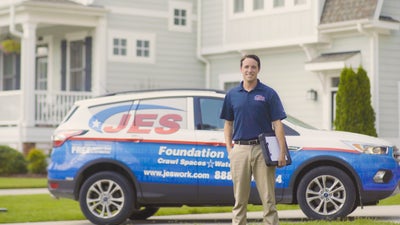 Keep your pool area safe and beautiful with JES Foundation Repair. Our experienced concrete lifting methods ensure lasting solutions to cracked pool deck challenges. Connect us to schedule your free inspection and let us restore your property's stability and allure.
For years homeowners across Virginia, Washington, DC, Maryland, Northeast NC, and West Virginia have depended on us for their pool deck needs. Experience our top-notch customer service and PolyRenewal™ solutions for enduring protection.
Publish Date:
Last Modified Date:
Explore more problem signs