Sidewalk Repair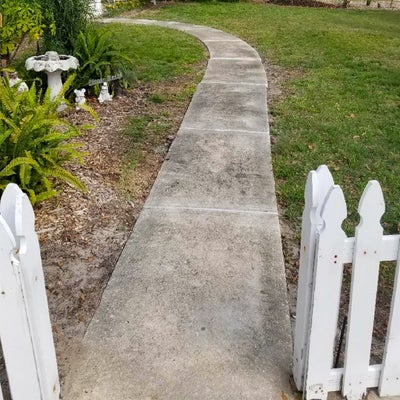 Cracking and sinking concrete sidewalks pose hazards and potential liabilities, making their repair and protection essential.
JES Foundation Repair offers a dependable concrete lifting solution that rejuvenates your sidewalks' safety and aesthetics. Our groundbreaking SettleStop™ PolyRenewal™ polyurethane injections quickly fill gaps beneath the sidewalks, efficiently elevating and stabilizing the panels.
Communities throughout the mid-Atlantic region, including Virginia, Washington, DC, Maryland, Northeast NC, and West Virginia, have trusted our expertise to maintain their concrete's stability for years. Count on our proficiency to provide a durable and secure answer for your walkways.
Discover the potential of your sidewalk's durability and safety with our detailed guide.
Understanding Concrete Sidewalk Repair 
Concrete sidewalk repair acts as a remedy to counter the risks and visual issues caused by cracked, sinking, and deteriorated sidewalks.
Traditional methods like mudjacking and repouring, although established, can be costly, invasive, short-lived, and fail to pinpoint the actual reasons behind sidewalk damage.
Issues such as unstable or expanding soils and waterlogging often result in concrete degradation. The concrete lifting technique, especially using the PolyRenewal™ system, is essential for guaranteeing a long-lasting, environmentally responsible, and swift solution for misaligned sidewalk panels.
Concrete lifting not only stands as a potent repair technique but also perfectly complements the other integrated solutions JES Foundation Repair offers, ensuring your home's overall structural stability.
Indicators That Your Concrete Sidewalk Needs Repair 
It's vital to identify the signs that your sidewalk requires repair to ensure a safe and attractive exterior environment. If your sidewalk exhibits any of these issues, it likely needs attention:
Pronounced cracks—broader than ¼"—and splintering
Misaligned, inclined, or sinking slabs
Noticeable level differences between panels
Slabs that wobble or move when weight is applied
Associated damage such as pitting, flaking, and discoloration
Accumulated water or mud on the walkway
Addressing these concerns promptly with JES Foundation Repair can halt their progression, avoiding safety risks, increased deterioration, and escalating costs for more complex solutions. Early intervention paves the way for less intrusive remedies.
Why is Concrete Sidewalk Repair Imperative? 
Repairing concrete sidewalks isn't just a suggestion—it's a matter of safety.
Procrastinating on sidewalk repairs can amplify the damage, leading to more extensive and pricier solutions. Tackling problems head-on halts the walkway's ongoing degradation, ensuring both financial savings and safety.
Integrating the repair within a holistic home improvement approach prevents potential structural and environmental challenges, ensuring a sturdy, safe, and visually appealing home.
Advantages of Concrete Sidewalk Repair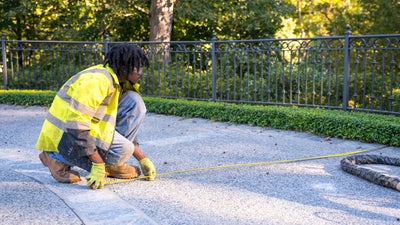 Mending your concrete sidewalk offers multiple advantages, such as:
Augmented Safety and Usability 
Lifting irregular sidewalks enhances safety by reducing trip hazards. Resolving cracks and sealing joints also provides a more uniform walking surface, making sidewalk repair crucial for overall accessibility.
Halting Additional Deterioration 
Issues like slab cracking and sinking aggravate if left untreated, as water infiltration erodes the underlying soil. Soil stabilization and concrete lifting halt further degradation. Our tailored solutions and upkeep ensure the prolonged effectiveness of repairs.
Boosted Aesthetic Value 
Revamping damaged sidewalks augments your property's look and worth. Our exclusive SettleStop™ PolyRenewal™ solution promises aesthetically superior results that endure.
Our Approach to Concrete Sidewalk Repair 
Our specialized technicians employ the following protocol for effective, enduring sidewalk repair:
Conduct a comprehensive inspection of the sidewalk to ascertain the damage's origin and confirm the required interventions.
Drill minimal, unobtrusive holes into the impacted sections.
Position injection ports within the drilled recesses.
Blend a custom two-component, closed-cell polymer foam.
Administer the foam, which proliferates, fills empty spaces, and sets within a quarter-hour.
Elevate the slab and solidify the soil beneath.
Excise the ports and polish the drilled recesses.
Coat cracks and joints with a protective sealant.
Conduct periodic maintenance and surveillance measures.
As industry pioneers in concrete sidewalk repair, you can place your faith in JES Foundation Repair's team to offer trustworthy solutions and premium services.
Why Choosing Our Sidewalk Repair Solution is Optimal for Your Residence 
Our SettleStop™ PolyRenewal™ concrete lifting technique comes packed with a myriad of distinctive features and advantages:
Precision: The SettleStop™ PolyRenewal™ system guarantees exceptionally meticulous lifting and stabilization.
Minimally Invasive: There's no need for bulky machinery or extensive excavation.
Lightweight: Our foam is significantly lighter than traditional concrete or mudjacking materials.
Swift Action: With a curing time of just 15 minutes, disruptions are kept to a minimum.
Resilience: Crafted to resist environmental stressors, ensuring durability.
Versatility: Suitable for a wide array of concrete surfaces.
Environmentally Considerate: Composed of eco-friendly components.
Subtle: Repairs are seamless and practically invisible.
Assured Maintenance: Our annual maintenance plan guarantees prolonged repair quality.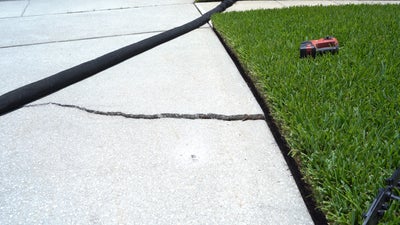 Reach Out to JES Foundation Repair for Concrete Sidewalk Repair Now!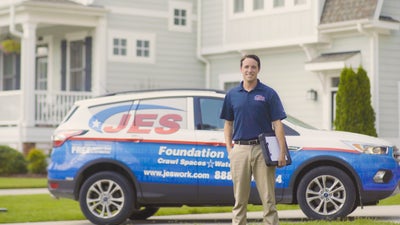 The integrity of your sidewalk is paramount. Fortify it with the unmatched dependability of JES Foundation Repair and our PolyRenewal™ technique. Connect with us today for a complimentary, non-committal inspection and estimate, and set forth on a path to a more secure sidewalk.
Being a frontrunner in concrete repair, our expertise ensures durable outcomes. Our professionals will meticulously assess your sidewalks, proposing tailored remedies to both mend current damages and ward off future complications. 
FAQs
Traditional approaches, like mudjacking and repouring, can take multiple days for the concrete to set and be ready for use. In contrast, JES Foundation Repair's concrete lifting process is often finalized within hours. Our polyurethane foam sets in merely 15 minutes, allowing you to utilize your sidewalk on the same day of installation. Reach out to us for more information and to schedule a free assessment. 
Absolutely not! Our SettleStop™ PolyRenewal™ technique revives existing concrete panels to their original position without the need for demolition. Minimal drilling is all that's required, a far cry from the extensive processes associated with methods like mudjacking or total replacements. Consult JES Foundation Repair for a complimentary assessment and to understand more about our state-of-the-art solution and installation procedures. 
Costs can vary based on numerous factors like the severity of damage, the dimensions of the affected zone, and the type of repair interventions necessary. JES Foundation Repair provides no-cost inspections, transparent pricing devoid of hidden obligations, and multiple financing and payment alternatives for your convenience. 
Publish Date:
Last Modified Date: