Basement Wall Crack Repair: What Works and What Does Not
Although some basement wall cracks don't point to the structural problem, it's important to know when they do.
Schedule Free Inspection
Basement problems, such as cracks in poured concrete walls, are
very common, and many homeowners may be surprised to learn just how often they occur. These cracks are typically caused by the natural curing process of the concrete, which can cause shrinkage and cracking as the material dries and hardens. While some foundation or basement cracks may be purely cosmetic and not pose any structural concerns, others can lead to serious problems such as water damage, mold growth, and even foundation failure if left unchecked.
Foundation Crack Size Information
One of the main concerns with basement wall cracks is their ability to let water into your home. As water seeps through these cracks, it can create a damp and humid environment that is ideal for mold and mildew growth. Additionally, the presence of water in your basement can cause damage to your possessions, flooring, and walls and can even lead to structural problems if the foundation is compromised. When it comes to basement wall crack repair there are many different solutions, but only a few make the cut in terms of their effectiveness.
What Does

NOT

Work
Patching wall cracks on the surface
Many homeowners assume that they can solve basement or foundation cracks by patching the wall cracks by simply applying plaster over the offending crack. However, this is only a temporary fix and does not solve the underlying issue. The soil around your home swells and shrinks as the weather changes, so the plaster will either crack to reopen in the middle or lose its bond with the concrete and leak again.
Epoxy
Another quick fix some homeowners attempt when addressing foundation or basement cracks is plaster or epoxy injections.
Epoxy injections are a popular solution for basement wall cracks because they can create a strong bond between the two sides of the crack, preventing further water intrusion. Epoxy is a synthetic polymer composed of two main components: the resin and the hardener. When these two components are mixed together, they form a highly adhesive and strong material that can bond with a wide range of surfaces.
However, there is a downside to using epoxy injections for basement wall crack repair. Epoxy is a rigid material and does not allow for any flexibility when the wall moves due to natural settling or changes in the soil around the foundation. This lack of flexibility can cause the epoxy to crack or detach from the concrete, creating even more cracks and allowing water to seep in, typically leading to even more cracks.
Urethane Liquid
Urethane liquid is a synthetic polymer designed to expand and fill the cracks in the wall, creating a water-resistant barrier. The material is injected into the crack using a specialized tool, and as it comes into contact with air, it begins to expand and harden. This expansion helps to create a stronger bond between the two sides of the crack and prevents further water intrusion.
However, while urethane injections can be effective in some instances, this solution has major limitations. Urethane may not stretch very far and, therefore, may not be able to accommodate the natural movement of the wall due to factors such as soil settling or temperature changes. If the wall continues to move, the urethane may crack or detach from the concrete, allowing water to seep in and potentially causing further damage.
Urethane injections are not suitable for larger or more complex cracks, as the expanding material may not fully penetrate the crack and create a strong bond. It is also important to note that urethane injections are typically only a temporary fix and may need to be reapplied periodically to maintain their effectiveness.
What

Does

Work for Foundation and Basement Cracks
Innovative Foundation and Basement Crack Repair Solution: Carbon Fiber® Wall Reinforcing System.
When it comes to basement wall cracks, finding a lasting solution to prevent further damage to your home is crucial. While plaster, epoxy, and urethane are popular quick-fix methods, they don't provide a permanent solution. However, the Carbon Fiber® Wall Reinforcing System is a proven and long-lasting solution.
Carbon fiber reinforcement is a modern technology that permanently repairs cracked and bowed basement walls. The product was developed by aerospace engineers and the U.S. Department of Defense. Its effectiveness is now being applied to the age-old problem of foundation walls that have sustained damage.
The Carbon Fiber® Wall Reinforcing System is stronger than steel and utilizes the same technology used to support bridges, skyscrapers, and bomb shelters. It stabilizes building foundations that have sustained damage, such as cracks and bowing, making it a reliable and long-term solution to your basement wall cracks.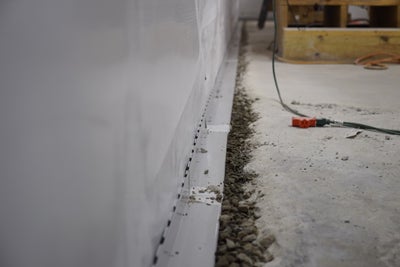 Additional Effective Solutions for Leaking Basement Wall Cracks
If you're dealing with many cracks in your basement wall, preventative action against further damage is key. Something to consider is to install a BasementGutter™ system and wall paneling over your leaking wall cracks without addressing them directly. The BasementGutter™ system is designed to collect water that seeps into the basement and direct it to a sump pump for safe removal, preventing any future headaches involving floor/wall joint leakage.
In addition to the BasementGutter™ system, wall paneling provides additional protection against moisture damage. It covers up any existing cracks and helps prevent new ones from forming. It can also improve your basement's appearance while helping to insulate the space and reduce energy costs.
Caution
Basement wall cracks can be a common issue for homeowners, but not all cracks are created equal. While some cracks may not pose a structural problem, others can cause serious concern. That's why it's important to understand the different types of cracks and their level of urgency. Our chart below can help you determine whether your cracks require immediate attention from a professional.
If you notice vertical or diagonal cracks, contact a professional right away using the form below. Cracks wider than 3/8 inch or with uneven ridges can indicate a more serious issue and should be examined by a trusted and licensed foundation repair company. Don't wait until it's too late – take action and protect your home today.
Publish Date:
Last Modified Date: