Crawl Space Water Problems
If you have crawl space water problems, you might not know where to turn. How can JES help you with removing water from your crawl space?
Schedule Free Inspection
Dealing With Water in Your Crawl Space
The true danger associated with crawl space water is the humidity it creates. Remember, when crawl space water becomes crawl space humidity, it doesn't just stay in your crawl space. It moves throughout the rest of your home, too.
When humidity circulates through your home, you'll quickly find that it weakens your home's structure, invites dust mites and mold into your home, and makes your living situation much more uncomfortable. This can cause long-lasting issues.
If you have water in your crawl space, read on to learn more. JES can help with a free crawl space inspection to identify the problems you'll need to fix in your crawl space.
Do You Have Water in your Crawl Space?
These images showcase some examples of water in crawl spaces. As you can see, crawl space water can be anything from standing water in your crawl space to just a sheen of dampness over the floor. Regardless of how much water you have, it's important to do your best to get rid of it.
Crawl Space Waterproofing FAQ
Crawl space water can seriously impact your home and your life. What does it mean for you?
There are many reasons you may end up finding standing water under your house. The crawl space can become flooded or wet because of flooding, plumbing leaks, rain, and more.
Different foundations lend themselves well to crawl space water for different reasons. These different types of foundations are more likely to create a wet crawl space.
Dirt Crawl Space
Dirt crawl spaces tend to have moisture issues because soil likes to soak up water, whether from rain on the outside or humidity on the inside. Then the water pools at the top of the dirt. When the soil dries, the water on top evaporates and creates humidity.
These dirt crawl spaces may require significant additions to avoid these moisture problems. However, if the problem is just that you have a dirt crawl space, it's easy for JES to identify the problem and help you find a solution.
Concrete Block Foundation
Concrete block foundations are the cheapest types of foundations, and they're easiest for builders to install. That makes them very popular. However, they're also very prone to cracks, breaks, and other problems, which create standing water underneath your house.
If your home rests on a concrete block foundation, JES will try to find the cracks and breaks that are letting in water. Once JES has identified these problem areas, it's easier to fix the problem and make sure you don't run into it again.
Stone Foundation
These used to be very common types of foundations, but that means they're typically very old. Their age makes them more likely to crack and let in water, which can lead to water and humidity problems in your crawl space and the rest of your home.
This is a common problem with any old foundation, but stone foundations especially tend to be prone to these cracking issues, which can let in more water and lead to other problems. With JES, you can discover these issues in your foundation before they develop into more severe problems.
Plenty of problems can arise with water seepage in your crawl space. From standing water in a crawl space after heavy rain to just general crawl space moisture, you need to know who to call for water in your crawl space.
JES can help you find wet crawl space solutions. These are a few of the solutions JES can help implement in your home.
Crawl Space Sump Pump Installation
If you're experiencing standing water in the crawl space after rain or a water leak in your crawl space, you're going to need to pump that standing water out before you do anything else. A sump pump can help pump that water out.
A sump pump won't be the only facet of a solution for water under your house foundation. However, it's an important part of making sure you're able to remove the water and start with the crawl space cleaning.
JES' SafeDri™ Sump Pump system helps make sure that you don't experience flooding you can't get rid of. It's an important part of keeping your crawl space nice and dry. Especially if you tend to experience a lot of flooding, talk to a JES professional today about how you can take advantage of it.
Open Vent Sealing
Many years ago, the prevailing wisdom was that open vents helped a crawl space breathe. Many experts and professionals at the time thought that open vents would make it easier to avoid crawl space moisture. Now, we know that it actually tends to create water in a crawl space after rain.
If you're always dealing with standing water in your crawl space after heavy rain, it may be because of your open vents. Sealing those vents is step number one when you're trying to avoid moisture in your crawl space for good.
Because open vents used to be so common with crawl spaces, JES professionals are experts at sealing them. If you currently have open vents, don't be afraid to get in contact and learn how a JES expert can help you seal them up.
Crawl Space Encapsulation
Especially if you have a dirt crawl space, crawl space encapsulation can help you avoid moisture in your crawl space. This process puts a crawl space vapor barrier between the exposed soil and the rest of your crawl space.
It's important that you invest in quality crawl space encapsulation if you have a dirt crawl space. Encapsulation can help you avoid a variety of foundation problems. It also helps you avoid mold and mildew, which can cause damage and even health problems.
With the right crawl space vapor barrier, effective vent sealing, and knowledge regarding crawl space moisture, you can tackle your crawl space problems. That's exactly what JES can help you with. Talk to a JES professional today about scheduling a free inspection.
It's essential that you fix your crawl space water problem now before it develops into an even worse problem. What can crawl space water do to your home in the long term?
Home Damage
The humidity that water under a house gives off can lead to serious home damage. It's a significant problem all throughout your house, not only in your crawl space.
Over time, humidity can cause home damage in all homes, even ones that don't use wood as a primary building material. Stone can start to crack and warp because of constant humidity, especially if the humidity causes changes in the foundation.
The longer you let a crawl space stay wet after rain or flooding, the more likely it is that you'll experience permanent home damage. If you tackle it now, you won't have to deal with those permanent problems.
Mold Growth
Mold can lead to serious health issues in your family, and you may not even know it. Because lots of mold growth happens inside the walls, humidity can cause health problems you won't notice for months and even years.
Mold growth can also seriously impact your home's structural integrity. Aside from just having health impacts in your family's life, mold growth may require you to spend lots of money and energy replacing parts of your home that mold growth has affected.
Plus, because mold spores can survive in places where mold can't grow, it's incredibly difficult to completely eradicate. It's best instead to avoid the conditions where mold would most likely grow. That means removing water from the crawl space entirely.
Higher Energy Bill
Do you have open vents in your crawl space? It may actually be warming your whole home. When you have air vents, the air in the crawl space rises through the house. That means the moisture caused by water in the crawl space under your house also moves upward.
When air is humid, it needs to be cooled more. You have to run your air conditioning more on humid days to get the same cooling effect. In fact, it could be increasing your electric bill by 15-25%.
Although this is only a small piece of the puzzle, it can help assuage your fears over the cost of fixing the water in your crawl space. With a lower energy bill, you may be able to recoup the costs of crawl space water fixing in the next few months.
Crawl Space Water: Your Next Steps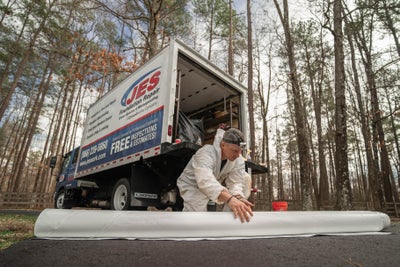 You can definitely run into a lot of problems when you have water under your crawl space. Whether you've looked and noticed water under the house in your crawl space or you're seeing some warning signs that could indicate crawl space water problems, you need to contact JES for more information.
With a free crawl space inspection, JES can give you more information about what's going on in your crawl space. That includes information about why it's so important to fix it, how JES can help you fix it, and the best steps to take next to make sure your home stays safe.
Crawl Space Water Solutions
After your inspection, we may recommend one of these products for your crawl space water problem: SafeDri Pro sump pump, SafeDri ProX sump pump, SafeDri Triple sump pump, or CrawlSeal.
Your wet crawl space problem may be caused by more than groundwater or plumbing leaks. So it's important to talk with an expert to find the best solution for your wet crawl space.
Publish Date:
Last Modified Date:
Explore more problem signs