Sagging Floors
A level and stable floor is fundamental to the integrity of your home. When floors begin to sag, it's a sign of deeper structural issues that need immediate attention.
Sagging floors are not merely cosmetic concerns; they are often symptoms of problems lurking in your crawl space, such as moisture, decay, or inadequate structural support.
At JES Foundation Repair, we specialize in identifying and correcting the root causes of sagging floors. Our SettleStop™ IntelliJack™ Crawl Space Jacks are engineered to provide a permanent fix, restoring the solidity and stability of your floors as a crawl space repair solution.
Our guide will walk you through the causes of sagging floors, the warning signs to watch for, why they should be fixed promptly, and how JES Foundation Repair can help restore your home's foundation.
What Are Sagging Floors?
Sagging floors are characterized by visible dips or slopes in the flooring between support walls or beams. These areas may feel unstable or spongy when walked upon, pointing to compromised structural integrity.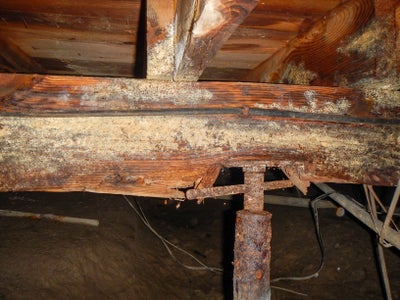 Signs of sagging floors include:
Uneven or moving furniture
Bouncy floors
Cracks forming in walls or ceilings
Sticking windows and doors
Increased indoor humidity levels
Musty odors signaling moisture problems
In severe cases, floors can become detached from walls or beams. Early detection and professional repair are essential to prevent the problem from worsening.
Causes Behind Sagging Floors
Several factors contribute to sagging floors, including: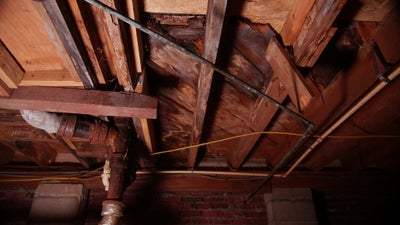 Water Damage: Excessive moisture in the crawl space causes wood rot and structural decay.
Pest Infestations: Termites and other pests weaken the support system by eating away at the wood.
Floor Joist Problems: Improperly spaced joists are not able to support the weight of the floor adequately.
Installation Errors: Incorrectly installed floor systems can lead to sagging.
Foundation Shifts: Changes in the foundation can misalign the structural supports.
Wear and Tear: Age and degradation of floor components over the years can contribute to floor issues.
Professional evaluation is key to determining the exact cause and appropriate remedy for sagging floors.
Can You Fix Sagging Floors?
Yes, it is possible to correct sagging floors, but it requires specialized knowledge and tools.
Do-it-yourself solutions often fall short, lacking the durability and precision needed to address the fundamental issues. Instead, the expertise of foundation repair specialists is crucial for a safe and effective resolution.
JES Foundation Repair employs a full-spectrum approach to ensure a lasting solution, from thorough assessment to installation of proven support systems.
JES Foundation Repair's Approach to Sagging Floors
Our process includes:
The IntelliJack™ system can support over 24,000 lbs. per jack, guaranteeing that your home's structural integrity meets the highest standards. Our team can adjust the jacks as necessary to attempt to bring your floors back to their original positioning.
Unlike generic post jacks from hardware stores, our solutions tackle the cause, not just the symptoms. This approach ensures your foundation is secure for years to come.
Why Act on Sagging Floors Immediately
Acting quickly to repair sagging floors is crucial to:
Prevent Further Damage: Timely intervention can halt the progression of floor sagging and prevent additional problems throughout your home, including wall or ceiling cracks and sticking windows and doors.
Avoid Costly Repairs: The issue becomes more complicated and expensive to fix if unaddressed. Complete floor and subfloor replacement may become necessary.
Improve Safety: Eliminate tripping hazards and ensure the safety of your family and visitors.
Enhance Property Value: A structurally sound home maintains its value and curb appeal, preserving your investment.
Contacting professionals like JES Foundation Repair at the first sign of trouble is the best way to protect your investment.
Choose JES Foundation Repair for Sagging Floor Repairs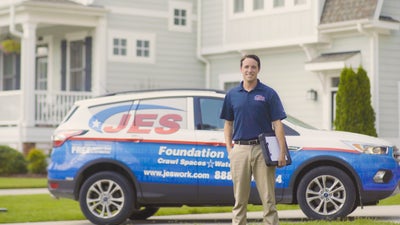 For expert solutions to sagging floors, turn to JES Foundation Repair. Our team delivers comprehensive support, starting from root cause analysis to installation of superior crawl space jacks, and guidance throughout the repair process. Contact us to schedule your free inspection and estimate with us today.
FAQs
Yes, with JES Foundation Repair's IntelliJack™ system, many sagging floors can be resolved effectively without the need for a full replacement. Our experts assess each situation to determine the most appropriate course of action. 
While the duration depends on the severity of the damage and the repairs needed, JES Foundation Repair strives for efficiency, often completing jobs within a few days. A precise timeline will be provided following a free inspection. 
Publish Date:
Last Modified Date:
Explore more problem signs