Open Crawl Space Vents
If you have a vented dirt crawl space below your home, you could be dealing with unhealthy conditions you may not know about.
Schedule Free Inspection
Venting your crawl space lets moisture into your home. When moisture enters your crawl space it creates problems. Crawl space humidity creates the perfect breeding ground for mold, mildew, and other problems. And as the humidity rises, it damages your home resulting in wet crawl space insulation, wood rot, and high electric bills.
Crawl Space Solutions in Virginia, Maryland, and DC
Identifying & Repairing Crawl Space Issues Related To Mold, Moisture, and Humidity
Do You Have Open Crawl Space Vents?
Crawl Space Vents
Frequently Asked Questions
In an ideal world, ventilating your home would have no downsides. After all, as the weather starts to warm up, it can be tempting to try and get cool air circulating through all levels of your home, even your crawl space. After all, if you leave the vents open, your home will cool down—right?
The temperatures in your home may drop, yes, but it may also become more difficult to control temperatures inside your home in the days to come. When you open the vents in your crawl space, you allow the space to fall victim to the stack effect.
What Is the Stack Effect? 
The stack effect describes a phenomenon during which the air in your home travels up from the crawl space into the other levels of your home. As such, if there's an excess of moisture in your crawl space, then the air circulating through the rest of your home will be uncomfortable and moist, as well.
That moisture—which does not always come in through the vents, but which can be made more prominent when your vents are open—has serious impacts on the health of your home. A home with high levels of humidity can see its structural supports start to fail. Mold can also take root in a damp crawl space. These mold clusters can appear both in your crawl space and in your HVAC unit, making it extremely difficult to remove in its entirety from your home.
What's more, trying to control the temperature of your home when there's excess moisture in the air is a near impossibility. Moisture cools the air in your home and will continue to do so no matter how you adjust the thermostat. In short, by leaving the air vents in your crawl space open, you will be losing money on an overly expensive energy bill and putting your home at serious risk for damage later down the line.
You can choose not to open the vents in your crawl space. For many homeowners, leaving these vents closed seems like a natural way to save money on an electric bill while also protecting their home.
However, vents in general can cause problems for homeowners if they go unattended. After all, most crawl space vents are not watertight. This means that even when they are not actively open, they can still allow moisture and crosswind into your home, generating that same stack effect noted earlier.
Reaching Out for Professional Guidance 
It is in your best interest to work with a local crawl space repair professional to determine whether or not it is safe to remove the vents from your crawl space. Alternatively, you can discuss what home waterproofing measures can help you mitigate the stack effect and prevent moisture from reaching the other corners of your home. Vapor barriers, interior drains, and other internal waterproofing measures may all serve you well in an attempt to eliminate unwanted moisture from a closed-vent crawl space.
When in doubt, you may also want to consider investing in external vent covers. These covers do not rust and help you seal off your crawl space year-round.
When you reach out to work with a professional team, you can work to get ahead of the kind of damage that open vents can cause while also keeping an eye on the state of your foundation. If you suspect something may have gone amiss in your home, or if you just want to get ahead of any potential damage, you can reach out to the local contractors in your area for a home inspection and a free quote on any services you might need to bring your home up to snuff.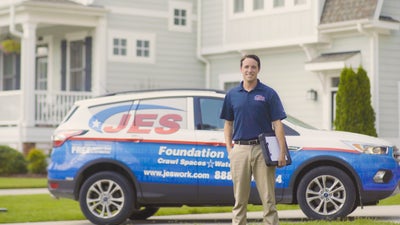 What Do I Do Now?
Your open crawl space vents may be the cause of your crawl space issues. Contact us to request your free crawl space inspection.
If our professional crawl space repair specialist finds that your home doesn't need repair, we'll let you know. We're here to help and don't believe in selling you a product that you don't need. We want to help you solve your crawl space problem, and will let you know if the open crawl space vents are creating more problems.
Solutions for Open Crawl Space Vents
We offer a solution for your open crawl space vents: crawl space vent covers. However, your crawl space problem may be caused by more than open crawl space vents. So it's important to have your crawl space evaluated by a certified professional. Feel free to email us if you would like us to help you.
Publish Date:
Last Modified Date:
Explore more damage causes