8 Crawl Space Encapsulation Tips to Increase Home Value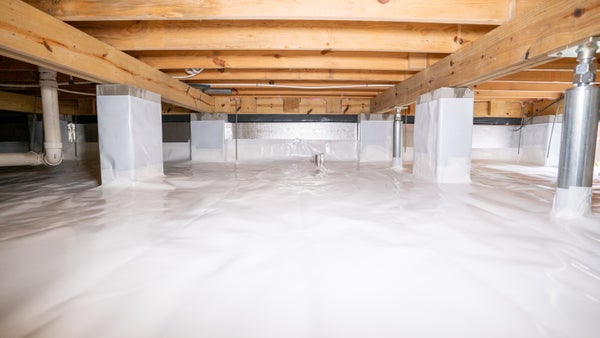 While a bathroom remodel or landscaping overhaul are arguably more flashy home renovations, encapsulating your crawl space can increase your home's value in a way new shrubs or an updated shower never will.
In addition to home buyers finding your property more appealing, encapsulation provides numerous benefits to the quality of life inside your home .
Let's look at some of the benefits.
1. Improves Air Quality
Experts estimate 50 percent of the air you breathe comes from your crawl space. As a result, your home's comfort depends largely on the condition of the space below your home.  
Musty, moldy, and dust-filled air from an untreated crawl space will end up in your lungs.  
Encapsulation controls the air quality of your home by mitigating moisture in your crawl space and making it impossible for mold to grow below your home.
2. Increased Energy Efficiency and Decreases Energy Bills
When the area below your home is open to the elements your furnace must work harder. Sealing the crawl space keeps the temperature consistent, meaning you will run your heater and AC less.  
Encapsulating your crawl space seals out outside air and helps your home feel cooler in the summer and warmer in the winter. 
3. Reduces Pests' Interest
An untreated crawl space is the perfect breeding ground for insects and rodents. Animals are often drawn to the humid environment for protection.  
Encapsulating your crawl space makes the area much drier and less attractive, sending bugs and vermin looking elsewhere.  
4. Creates Storage Space
When properly encapsulated, and depending on the size of your crawl space, you're able to use your crawl space for storage.  
Homeowners often store holiday décor, and seasonal recreation equipment like skis or water tubes in the space.
5. Warmer Floors & Pipes
By sealing your crawl space, there are fewer temperature fluctuations, meaning the space stays warmer during cold weather months.  
This not only keeps your floors more comfortable but also protects your pipes from freezing and possibly bursting.
6. Lowers Humidity & Protects Against Wood Rot
Humidity is the number one culprit in your crawl space. Left untreated, mold leads to wood rot, threatening the structural integrity of your home. 
Virginia's humid climate combined with natural moisture in the soil creates a perfect environment for mold to thrive.
7. Higher Resale Value
Like other home improvements, encapsulation will increase the value of your home.  
No one wants to buy a home with a nasty crawl space. Homeowners who have struggled with crawl space problems in the past will jump at the opportunity to buy a home with the problem permanently solved. 
8. Easier Repairs
It's common for your home's HVAC, water pipes, electrical, and cable line to reside below your floors.  
While it may not seem like a big deal, any repairs to these essential systems are much more enjoyable in a clean dry space, rather than a nasty, musty, wet area since you most likely will be crawling or crouching the entire time.
Crawl Space Encapsulation FAQs
While there isn't a hard dollar amount in terms of value, your home will certainly sell for more as compared to a home with standing water inside.
From cleaner indoor air and mold protection to warmer floors and lower energy bills, a conditioned crawl space is more appealing to potential home buyers.
Encapsulation is just the term used to seal the crawl space and circulate conditioned air throughout your home.
Without a complete encapsulation system, like drainage and a vapor barrier, you would be spending money and not experiencing the full benefits of the repair.
Encapsulation typically involves some type of drainage system, insulation, sealing of the walls and floors, and an air purification system.
Like a home, each crawl space is unique. A trained professional will assess the specifics needed to protect your home.
JES Can Help Encapsulate Your Crawl Space
Our team at JES Foundation Repair is proud to serve homeowners in locations throughout Virginia, including:
Charlottesville
Lynchburg
Norfolk
Richmond
Virginia Beach
Don't see your service area? Check here.