The Virginia Guide to Crawl Space Encapsulation
What's the first thing you think of when you hear "crawl space"?
Maybe images of a dark, humid, potentially creepy place come to mind, or maybe you have memories of getting in there and crawling through the dirt just to check something under your home.
Unfortunately, an unprotected crawl space isn't a very pleasant place, and without the proper protection, your crawl space could end up looking just like this: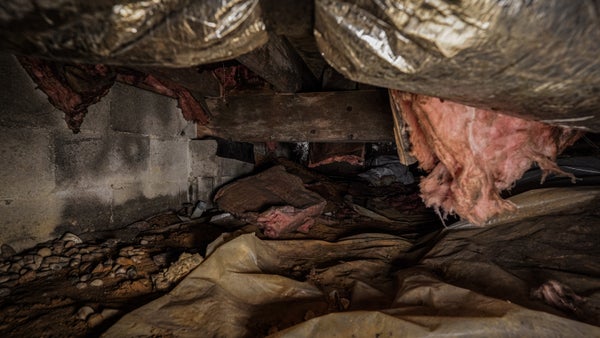 Understanding why encapsulation is important and how it works is beneficial for any homeowner, and JES would like to share some insider knowledge about the process with you. That way, you can make an informed decision regarding your crawl space.
---
Why Crawl Space Encapsulation is Needed
Many homeowners fall into an "out of sight, out of mind" mentality when it comes to their crawl space. This makes sense considering that many people don't want to, or physically can't, go below their home.
When ignored, a crawl space can quickly become oversaturated with moisture (both as humidity and standing water). As a result, tons of problem signs like mold and wood rot are bound to arise and cause damage.
Over time, your crawl space's structure will begin to degrade, pests will come looking for a warm, humid shelter under your floors, and air quality in your home will suffer as mold releases spores into the air.
The graphic below shows "the stack effect," when humid air in your crawl space rises through the floor, transferring muggy air and harmful particles from your crawl space straight into your living space.
The humid air makes your energy bills higher, and you will be breathing in particles from animal feces, mold spores, damaged fiberglass insulation, and/or decaying wood – not a very appealing living situation.
That's why crawl space encapsulation is necessary: it prevents a downward spiral of problems from damaging your health and destroying your home.
Simply, encapsulation makes your home a more comfortable place to live.
---
The Steps of Crawl Space Encapsulation
Proper crawl space encapsulation should make your crawl space dry, clean, and safe while following Virginia code. Here are the steps involved with the process.
Remove insulation and debris
Mold treatment (optional)
Install drainage systems
Wrap piers and cover walls
Lay down drainage matting and vapor barrier
Install air system
Let's dive into each of those further in this next section for a more detailed look at the entire encapsulation process.
1. Remove Insulation and Clear Debris
Most crawl spaces have fiberglass insulation which doesn't fare well when moisture gets below your home. Often, the insulation will begin to sag or fall down entirely, as you can see here. 
2. Mold Treatment (optional)
Since mold is a huge issue for unprotected crawl spaces, our team recommends having it treated with fungicides. This makes the crawl space cleaner and healthier even before encapsulation is installed. 
3. Install Drainage
Encapsulation is designed to keep all moisture out of your crawl space, and the first tool installed to do that is crawl space drainage. Our team digs trenches in your crawl space to properly fit any drainage materials.
Great options include perimeter drains and sump pumps. With these tools, groundwater won't seep into the dirt floors of your crawl space or cause the area to flood.  
4. Wrap Support Piers and Cover Walls
Next, support columns should be wrapped with a vapor barrier liner to make them resistant against moisture.  
Additionally, foam board insulation should be attached to the perimeter walls on the crawl space. This allows the space to stay temperature controlled throughout the year and prevent energy loss.  
5. Put Down Drainage Matting and Vapor Barrier
Next, drainage matting should be placed over the dirt floors of your crawl space. This provides further aid in moving groundwater away from the foundation.  
Once that is complete, a vapor barrier needs to be installed on top of the drainage matting. Best results are gained from using a 20-mil thick barrier.
As you can see, a vapor barrier will make your crawl space look much sleeker and inviting. 
6. Install Air System
Lastly, a high-powered dehumidifier needs to be installed below your crawl space to continuously clean the air of particles and prevent excessive humidity.
Professional options can remove up to 13 gallons of moisture a day and still stay quiet enough to be mostly unnoticeable. 
---
Hiring an Encapsulation Specialist
As you can see, crawl space encapsulation is a labor-intensive process. Finding a specialist to do the work for you makes a huge difference and making sure they will do a quality job is important.
When you work with JES, you receive unmatched quality and service. Our team goes through all the steps above, always with proper permitting, meeting code requirements (something many competitors don't do).
Your home is perhaps your most important asset, so you deserve the best encapsulation possible. JES has the team of encapsulation specialists you need to make that happen.
Avoid DIY Encapsulation
You might look at crawl space encapsulation and think you could do some of these steps on your own. Well, there is a reason we recommend you work with professional encapsulation specialists.
First, doing any work in a crawl space comes with inherent risk. You can easily come into contact with hazardous materials like fiberglass insulation, mold spores, or decaying animals.
Moreover, moving through the space could lead to more damage, especially if wood support beams are already rotting. One misstep could cause materials to collapse on you.
Even if you're able to clean out your crawl space with no issues, buying encapsulation materials at local hardware stores simply won't cut it.
Most store-bought vapor barriers are not thick enough or high quality enough to keep all moisture out. Dehumidifiers from big box stores run into the same issues and simply can't remove enough water.
DIY encapsulation doesn't work and puts your health, time, and money at risk.
Crawl Space Encapsulation
FAQs
Yes. Professional-grade dehumidifiers do more than just remove moisture below your home, they actually clean the air in your crawl space. This makes your entire home healthier.  
Not directly, but it does ensure the value of your home doesn't go down. Plus, if you're looking to sell your home, crawl space encapsulation makes your home more attractive to buyers.
Think about it this way: a home without encapsulation is likely to have a rotting and damaged crawl space. That home will always be worth less than the one with encapsulation, so it does make your home more valuable to buyers.
Unfortunately, no. Homeowners insurance does not cover crawl space encapsulation. 
Call JES for a Free Estimate!
Since 1993, it has been our goal to provide homeowners with quality service, knowledge, and customer care. When you work with JES, we'll provide you with a free estimate and crawl space inspection.
If you are looking for encapsulation services, and you're looking for a professional team to work with, don't hesitate to contact us today. We'll make sure your crawl space stays safe, healthy, and well protected from moisture issues for years.
---
Service Areas
JES serves homeowners across the Tidewater Region and the surrounding areas including:
Charlottesville 
Lynchburg 
Norfolk 
Richmond 
Virginia Beach 
Hampton
Roanoke
Don't see your service area? Check here.