The Tidewater Region's Guide to Crawl Space Mold
How many times have you opened the pantry only to find moldy bread or rotting fruit? Yep, it's gross every time.
Now, imagine if that same situation was happening right under your feet. That's exactly what happens in many homes with a crawl space foundation, and it has detrimental effects on the home's structure and the health of anyone inside.
But how can you tell if mold is growing below your home?
We at JES are the leading local experts in crawl space repair, and we want to share everything we know about why mold grows in your crawl space and why it's a really important problem to address quickly.
In this article, we'll give you our professional know-how so that you can make informed decisions about your home.
---
What Causes Mold to Form
Mold is a living organism that requires certain conditions to grow and reproduce. These conditions are abundant in most crawl spaces and are listed here:
Oxygen
Moisture
Organic Matter
Darkness
Temperatures above freezing
As you can see, your crawl space provides all of these conditions, and in places like Norfolk, Chesapeake, Virginia Beach, or other areas in the Tidewater Region like Maryland, humidity and warm temperatures are present nearly all year.
That's why mold becomes a huge issue for homeowners all over Virginia and Maryland.
Signs Your Crawl Space Has Mold
Right off the bat, we don't recommend going into your crawl space on your own to check for mold. Look at the picture below: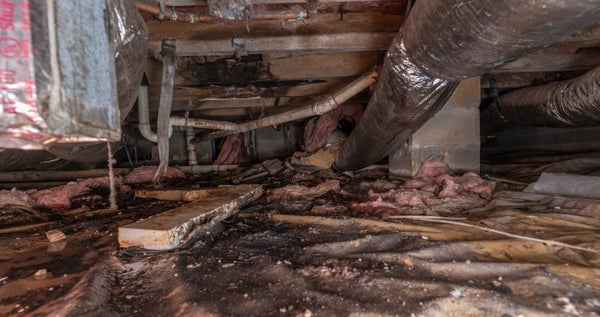 Not a very welcoming environment. Going below your home puts you at risk for injury and may expose you to fiberglass insulation, dead animals, or mold spores.
Thankfully, mold growth below your home can be identified in other ways. With simple observations around your home, you can easily determine if mold is affecting your crawl space in the following ways:
Musty odors
Sagging Floors
Worsening allergy symptoms
Now, let's dive further into each of these so you can better understand and identify the signs of mold in your crawl space.
Musty Odors
Perhaps the sign most associated with mold growth is musty odors.
According to the United States Environmental Protection Agency, certain compounds called microbial volatile organic compounds (mVOCs) are released by mold.
These compounds have strong and unpleasant smells that quickly travel up into your home. If you notice any new, musty, unpleasant smells in your home, it's likely because mold is in your crawl space.
Sagging Floors
Do certain sections of your floor seem to bend under your feet or dip unusually low?
Well, that has to do with an accumulation of moisture below your home. Water causes wooden structures in your crawl space to become spongy and perfect for mold to feed on.
See how the floor joists are bent. Cracked, and warped in these images?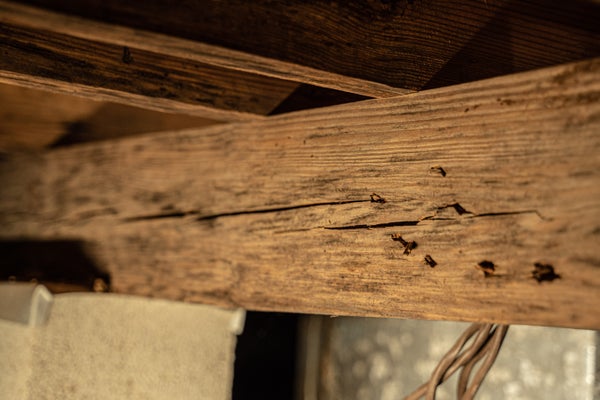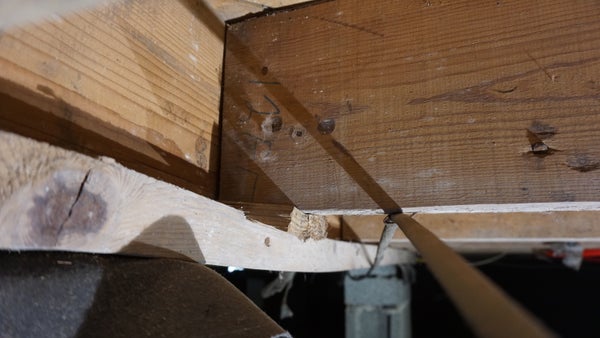 Over time, mold and moisture will break down the wooden beams and floor joists that are responsible for supporting your floor. As a result, floors around your home begin to sag; if you notice this issue, it's probably mold.
Worsening Allergy Symptoms
When inhaled by people with allergies, mold has been known to cause certain symptoms similar to asthma. According to the CDC, these symptoms include shortness of breath, wheezing, or coughing.
Even if you don't have allergies, mold can still cause irritation, and, in some cases, it could lead to lung inflammation, burning eyes, or a skin rash.
If you or anyone in your home seems to be experiencing these issues, mold is most likely the culprit.
The Different Types of Molds
Thousands of mold species exist in the world, so it isn't realistic to go through each one here. However, mold can be categorized based on the color of its spores.
We'll outline those differences here.
Yellow Mold
Yellow molds often arise in the dampest areas of a building. For that reason, this is the type of mold most common in crawl spaces.
Sometimes, yellow mold is called "house eating" mold because it literally feeds on wooden structures. That's why yellow mold is the main cause of sagging floors and wood rot in many crawl spaces.
Green Mold
Molds that fall under this category release green colored spores. Green mold is often associated with spoiled food. However, green mold can also grow on household surfaces – specifically, the mold species known as Cladosporium.
Like all other mold types, dark and damp environments are desirable to green mold, and your crawl space is the perfect match, especially in the Tidewater Region where rain and humidity are high.
White Mold
White mold often appears fuzzy and blueish white in color. Some homeowners may confuse efflorescence for white mold, but they are not the same.
Efflorescence is a powdery salt deposit that appears on stone walls – mold will spread to organic materials like wood or carpet instead.
Penicillium is a well-known type of white mold that often grows in crawl spaces in North Carolina. Like all other types of molds, white mold damages structures and may cause health problems.
Black Mold
Black mold has a reputation for causing serious health problems. Even though all mold types put your health at risk, black mold can be especially toxic.
Thankfully, black mold is very unlikely to grow in your crawl space unless your home experiences a huge flood or plumbing leak. However, due to the Tidewater Region's proximity to the coast, it's worth having your home inspected for black mold.
---
Why You Should Tackle Mold in Your Crawl Space
So, now you understand why mold grows in your crawl space, the different ways to spot it, and the various types of molds you could be dealing with.
Due to its icky nature, tackling mold in your crawl space is beneficial for a few reasons, namely:
Better air quality
Energy savings
Structural security
Higher home value
Protecting your crawl space from mold and experiencing these benefits is possible with help from professionals.
If you work with JES, you receive full crawl space encapsulation which includes crawl space cleaning and an industry-leading air system. Your crawl space will transform just like this one.
But ultimately, for whoever you choose to do the work, make sure they are well-rated and trustworthy. Keep the information from this article in mind the next time you look around your home!
While crawl space mold doesn't need to cause panic, it's still a good idea to address the issue quickly.  
There is no "acceptable" level of mold in a crawl space and ignoring it could lead to structural issues or health problems – both of which are cause for worry. 
While we can't know the exact number, the humid environment native to the Tidewater Region makes mold a common occurrence in crawl spaces throughout the area.  
Mold doesn't necessarily cause sickness, but it can cause other health problems like wheezing, coughing, or allergies. In rare cases, mold could cause lung inflammation in some individuals.  
Call JES for a Free Estimate!
Since 1993, it has been our goal to provide homeowners with quality service, knowledge, and customer care. When you work with JES, we'll provide you with a free estimate and crawl space inspection.
If you think mold is in your crawl space, and you're looking for a professional team to check for you, don't hesitate to contact us today. We'll make sure your home stays safe, healthy, and well protected from mold for years.
Service Areas
JES serves homeowners across the Tidewater Region and the surrounding areas including: