The Ultimate Guide to French Drain Installation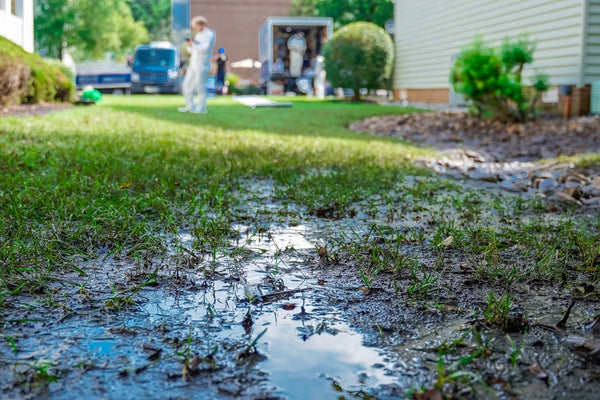 Water is the number one threat to your crawl space.
Unfortunately, certain cities in Virginia such as Chesapeake, Hampton, Portsmouth, and Virginia Beach usually receive an above-average amount of rainfall every year. This puts any home located in these areas at risk for crawl space damage.
Even if you don't live in one of these cities, precipitation of any kind has a chance to damage your crawl space. For that reason, French drain installation is incredibly valuable for homeowners.
In this guide, we'll outline how French drains work, the benefits of installing one, and indicators that your crawl space could use one. Read on to learn more!
---
How French Drains Work
In a crawl space, a dirt trench is dug along the perimeter next to the foundation walls. It is in this trench that the drain will be placed.  
You might hear French drains sometimes referred to as "perimeter drains" for this reason.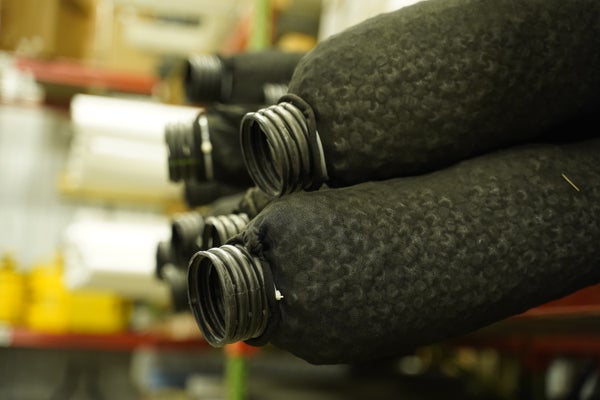 After rain or snow, water levels beneath the surface gradually build, and without protection, this leads to flooding. Essentially, French drains capture this rising groundwater and remove it before it has time to flood above the surface.
In many cases, French drains are made with perforated pipe or PVC material. While these options work for a time, they aren't the most durable and could eventually lead to clogging and flooding.
JES uses a perimeter drain system called CrawlDrain™, which is designed with a special anti-debris barrier placed overtop each section of piping. You can see it in the image to the left:
This flexible, protective screen keeps dirt, insects, and animals out of the drain. No matter what type of French drain you decide to use, any protection is better than none.
Why You Would Need a French Drain
What situations call for a French drain in your crawl space? Well, water from precipitation has the potential to cause a few issues for your crawl space and wider property. These include:
Pooling surface water
Foundation damage and flooding
Let's go further into these problem signs so you can understand exactly why you would need to install a French drain for your home.
Pooling Surface Water
When it rains or snows in Virginia, water is always absorbed into the soil. Some of this water can drain into your crawl space where it builds below the soil.
If precipitation levels are really high, the continuous flow of water becomes too much for the soil and the water will begin pooling inside the crawl space.
Without any protection, this ground water can sit for days – releasing water vapor into your crawl space which promotes mold growth and structural decay. These aren't fun issues to deal with.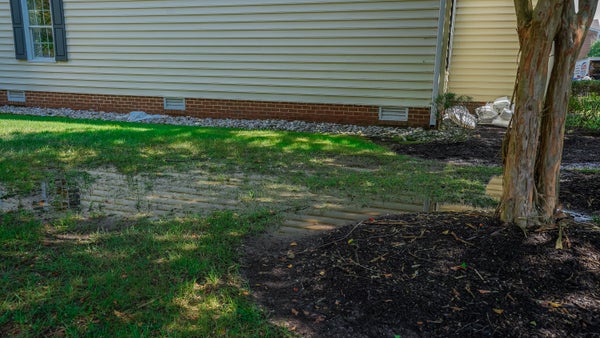 Foundation Damage and Flooding
As mentioned earlier, crawl space flooding becomes an issue after heavy rain or snow. Without any drainage solutions, flooding water will eventually cause foundation damage.
When water builds in your crawl space or just outside of it, the moisture and pressure break down supportive structures like wooden beams and stone walls.
When you have a French drain, foundation damage from flooding is much less likely to occur and your entire home benefits from increased protection.
Benefits of Installing a French Drain
We just looked at the various ways your home can become damaged without a French drain. As you can see, installing one protects your home from these issues.
However, French drains also provide a few other benefits for your home. Let's go over some of the best ones in this section. For a quick overview, these benefits include:
Lower energy bills
Healthy air quality
Restored home value
Lower Energy Bills
Think about it – when your crawl space isn't protected against moisture, humidity levels are bound to rise under your home.  
Eventually, due to a natural occurrence called "the stack effect", humid air rises into your living space.
In turn, your air conditioning system is forced to work in overdrive trying to cool down your home and contend with the rising moisture levels. Your energy bills will get higher as a result.
With a French drain, groundwater won't be allowed to evaporate into your home and you'll experience lower energy bills. That's a win for any homeowner.
Healthy Air Quality
When moisture levels increase in your crawl space, fungi like mold and wood rot are provided with a perfect feeding ground.
Unfortunately, thanks to our infamous friend "the stack effect", humid air rises into your living space, and it also pulls along spores from the fungus (and other unsanitary particles found below a home like decaying animals or waste products).
As a result, the air quality in your home becomes a bit unhealthy and musty odors may arise. With a French drain installed, humid air won't rise into your home and your air quality will stay consistent.
Restored Home Value
French drains, especially when used in conjunction with other crawl space solutions, have the potential to restore your home's value.
When your crawl space is damaged and unprotected, it has a negative impact on the value of your home. Potential buyers may turn away due to the unhealthy appearance of your crawl space.
However, when you install a French drain and protect your home from moisture damage, the value of your home is restored.
Interestingly, French drains aren't actually from France.
They are named after Henry French, a judge and farmer that lived in Massachusetts in the 19th century, who first wrote about them in 1859 and called them "cellar drains."
Many professional landscapers and foundation specialists can install a French drain. Obviously, their reputation is likely going to affect the quality of the French drain.
JES installs a crawl space perimeter drainage system called CrawlDrain™, our version of a French drain with an improved design.
t varies by location. In Virginia and surrounding areas, a French drain is usually installed between 8 inches to 1 foot deep for a crawl space.
Call JES for a Free Estimate!
Since 1993, it has been our goal to provide homeowners with quality service, knowledge, and customer care. When you work with JES, we'll provide you with a free estimate and crawl space inspection.
If you are looking for French drain installation services, and you're looking for a professional team to work with, don't hesitate to contact us today. We'll make sure your crawl space stays safe, healthy, and well protected from water damage for years.
JES Can Help Encapsulate
Your Crawl Space
JES serves homeowners across the Tidewater Region and the surrounding areas including:
Charlottesville 
Lynchburg 
Norfolk 
Richmond 
Virginia Beach 
Hampton
Roanoke
Don't see your service area? Check here.