Virginia's Ultimate Guide to Crawl Space Dehumidifiers
The humidity inside your Virginia crawl space is a major reason for the damage below your floors.
A dehumidifier, used in conjunction with an encapsulation system, prevents mold and moisture from accumulating inside the space from within or spreading into your home.
Benefits of a Crawl Space Dehumidifier
Dehumidifiers balance the humidity inside your crawl space, which reduces the moisture throughout your home.
This correction means you'll experience several benefits.
Improved Air Quality
Getting rid of mold spores that cause allergy flare-ups and upper raspatory infections is a major benefit.
Industry-grade crawl space dehumidifiers not only reduce moisture in the air but also filter harmful chemicals out of it. The dehumidifiers used at JES filter more than 280 cubic feet of air per minute.
Lowers Humidity
The main goal of a dehumidifier is to reduce the amount of moisture in the air. In an area like an unprotected crawl space, humidity is generally high, so choosing the right unit to do this is essential.
JES humidifiers remove 13 gallons of water per day. Water that can no longer cause mold, mildew, musty smells, and wood rot.
Reduces Energy Bills
It's not uncommon for homeowners to worry about increased energy bills when installing a dehumidifier.
However, the opposite is true if you choose to install the right unit. An energy-efficient dehumidifier can save you up to 23% in total savings.
Preserves Curb Appeal
The charm of your home is preserved by installing a dehumidifier. Items like wood trim that may have been damaged by warping, rotting, or pest damage are now protected.
More Efficient HVAC
Since a dehumidifier removes water in the air, your HVAC unit doesn't have to work as hard. Less humid air makes warmer temperatures feel cooler, allowing your AC unit to run less.
---
Why an Energy-Efficient Dehumidifier is a Plus
The biggest difference between an ordinary dehumidifier and the energy-efficient model is the amount of energy consumption and cost.
Obviously, energy-efficient units use less energy. It's estimated you'll spend 10%-20% less on your bills using an energy-efficient unit.
If you're attempting to reduce your carbon footprint, the energy-efficient model is also the best choice.
Conventional dehumidifiers can also be louder because they require more horsepower to run.
What Are the Components of a Dehumidifier
Like all mechanical appliances, a dehumidifier is made up of many parts.
Below we'll review some of the more important features to help you choose the right unit.
Energy Guide Label
While not technically a "part," we argue that it's one of the most important features for any dehumidifier.
When shopping for a dehumidifier, look for the bright yellow label. It's usually found somewhere on the front of the product.
This helps you easily identify products that minimize energy use without sacrificing performance.
Humidistat
A humidistat measures relative humidity levels in the home. Relative humidity is the amount of water vapor present in the air compared to how much it can hold at a specific temperature. It's shown as a percentage.
You should have a gauge on the dehumidifier and digital controls that allow you to set the perfect humidity levels for your home.
Drainage Feature
Older conventional dehumidifiers held water in a tank that needed to be emptied. When installing a dehumidifier inside a crawl space, this method is basically undoable.
Your dehumidifier should empty through a hose into a drain where it is pumped out and away from the house.
Filters
Even the best encapsulated crawl spaces can get dusty since air is being circulated throughout your home. Look for a high-quality filter that is easy to replace.
JES offers a service plan to take the guesswork out of dehumidifier maintenance. Technicians will inspect, clean, and replace filters so you're always running at peak capacity.
Crawl Space Dehumidifiers
FAQs
While there isn't a specific location necessary for the dehumidifier, it's typically installed near the sump pump to help with drainage.
Often the dehumidifier is installed in an area where it is visible from the opening of the crawl space. Making it easy to ensure it is functioning efficiently.
While you certainly can install a regular dehumidifier in your crawl space, the results will be less than successful, and it will involve a lot of work on your part to keep it in good condition.
A regular, big-box store dehumidifier is not designed for use in such a large humid area. This means it has to run constantly to keep up, sending your energy bills through the roof.
Dehumidifiers designed for use in a basement also commonly need to be emptied. While not impossible, climbing in and out of your crawl space to empty the dehumidifier, often daily, is a huge hassle.
Instead, choose a specifically designed crawl space dehumidifier to work in hard-to-reach areas with a large volume capacity.
A dehumidifier is mechanical, so estimating how long it will last is tricky. However, look for a dehumidifier with a manufacturer's warranty of at least 5 years.
A high-capacity unit able to remove a large volume of water per cycle is best. Fewer cycles result in a longer lasting product.
JES Can Help Encapsulate
Your Crawl Space
Our team at JES Foundation Repair is proud to serve homeowners in locations throughout Virginia, including:
Don't see your service area? Check here.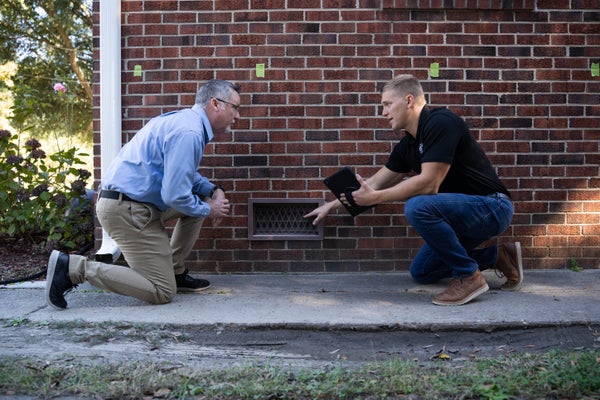 Publish Date:
Last Modified Date: