The Virginia Guide to Crawl Space Vapor Barriers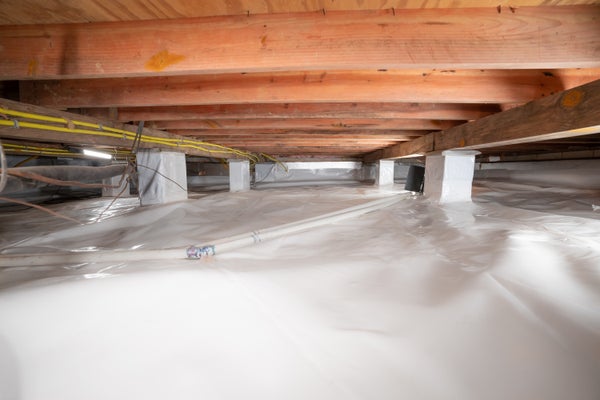 While you most likely don't spend time in your crawl space, you may be surprised to learn its condition is very important to the health of your home.
Experts estimate 50 percent of the air we breathe comes from your crawl space. Moisture and the summer's high humidity wreak havoc on the area below your floors.
Crawl space vapor barriers block moisture and outside air, sealing your crawl space from mold, mildew, and wood rot.
In this article, you'll learn how vapor barriers protect your home and what installation looks like.
---
How Vapor Barriers Protect Your Space
Vapor barriers are a simple way to block out water and vapor in your crawl space.
When installed properly, the plastic sheeting prevents moisture from entering the crawl space and causing issues like mold and wood rot.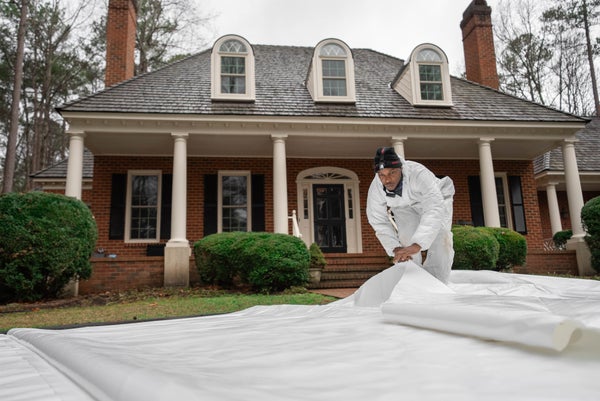 However, installing even a high-quality vapor barrier alone doesn't seal out all moisture. Encapsulating your crawl space completely depends on your home's needs and may include a drainage system or air system to provide a permanent solution.
The Advantages of Vapor Barriers
Deciding to install a vapor barrier not only increases the value of your home but also protects the health of your family.
Some of the advantages include:
Increases Energy Efficiency, Lowers Energy Bills
Sealing your crawl space using a vapor barrier keeps the area warmer in the winter and cooler in the summer.
This means your furnace doesn't have to work as hard, saving energy and cash. A fully encapsulated crawl space can save you up to 10 percent on your energy bills.
Decreases Pests
A wet, dark crawl space is the perfect breeding ground for pests. If you have pests below your floors, you know they're in your living area as well.
Installing a vapor barrier inside the crawl space makes the area less attractive to rodents and creepy crawlers.
Stops Mold Growth
Since mold is always an indicator of excess moisture, sealing out water and moisture will stop mold growth in its tracks.
Stopping mold means no more musty smells or mold spores in the air you breathe.
Protects Structural Integrity
Mold growth left untreated leads to wood rot. Since the structures that support the weight of your home are wood, your home is at risk if not addressed quickly.
Be sure to address mold problems with a certified mold removal company.
Increases Air Quality
Because of a process known as the stack effect, the air in your crawl space flows through your home into your living areas.
That means dust, mold spores, and even pest droppings can be in the air you breathe.
Installing Crawl Space Vapor Barriers
While installing a vapor barrier in your crawl space may sound easy, working in a tight space, often on your knees or stomach, gets old fast.
Not to mention getting in and out of the crawl space typically involves squeezing through a tight door or opening in the ground.
Avoid the hassle: have a professional with tools and experience transform your crawl space.
Since each crawl space is unique, so are the solutions. However, below are the general steps to installing a crawl space encapsulation system with a vapor barrier.
Step 1. Cleaning and Grading
Any debris, like old building materials or trash, is removed. Existing damaged insulation is bagged and pulled out. A rough grade is established.
Step 2. Drainage
If your crawl is wet, some sort of drainage will be recommended. Drainage matting, a crawl space drain, or a sump pump are installed next.
Step 3. Wall Insulation
Locking outside air out means sealing walls using a closed-cell foam board. This is attached to the walls using mechanical fasteners. This material is also used to block any open vents from inside the crawl space.
Step 4. Vapor Barrier
The high-quality 20-mil thick liner is installed on the ground and attaches to the wallboard. All seams are taped to ensure the crawl space remains as airtight as possible.
Step 5. Air System
Most Virginia crawl spaces need some type of air filtration system. A high-efficiency, self-draining dehumidification system is installed to circulate clean air throughout your home.
---
Why You Should Trust a Professional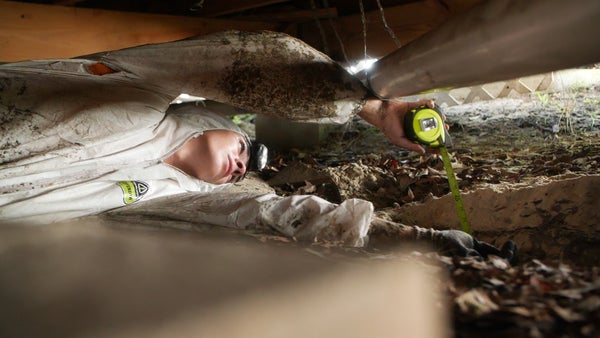 If avoiding the backbreaking crawl space work isn't enough reason to call the professionals, it's important to remember without the proper products and tools, your results will be limited.
You could invest a weekend or two of your time and hundreds of dollars only to see nominal results because a step was forgotten or a seam wasn't secured properly.
Expert installers do this type of work daily and can guarantee the work. A long-term warranty means any problems that may arise are taken care of quickly and professionally.
Crawl Space Vapor Barrier
FAQs
Securing the vapor barrier is one of the most important installation steps. If your vapor barrier isn't properly secured, meaning that gaps are left unsealed, outside air will continue to flow into the crawl space, making the system nearly pointless.
Creating a virtually airtight seal is the only way to experience the benefits of a vapor barrier. This is done with a combination of mechanical fasteners and specialty tape.
Yes. If you want to protect your family's health from mold and dust spores and the structural integrity of your home, investing in a vapor barrier in your crawl space is essential.  
A vapor barrier's job is to seal out moisture, so making sure it's thick enough to do just that is essential. Big box store liners are typically 6-mil thick. These liners aren't able to handle the area's conditions and often rip before installation is even completed.
We recommend a 20-mil, zero perm liner. Our liner is American-made and comes with a nationally backed, long-term warranty.
JES Can Help Encapsulate
Your Crawl Space
Our team at JES Foundation Repair is proud to serve homeowners in locations throughout Virginia, including:
Don't see your service area? Check here.
Publish Date:
Last Modified Date: