Are Crawl Space Sump Pumps Necessary?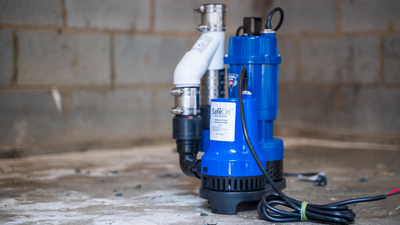 The short answer is, yes. A crawl space sump pump cannot be overstated when maintaining a dry and secure home. Whether your crawl space is prone to moisture intrusion or occasional flooding, installing a sump pump is crucial to safeguarding your property. Here, we'll explore why crawl space sump pumps are necessary and how they effectively mitigate water-related issues. 
Understanding the Purpose of Crawl Space Sump Pumps
Crawl spaces, located below ground level and often exposed to external moisture, can become vulnerable to water intrusion. The primary purpose of a crawl space sump pump is to prevent water accumulation and remove excess moisture from the crawl space, therefore maintaining a dry and healthy environment.
The Benefits and Necessity of Crawl Space Sump Pumps
Crawl space sump pumps play a crucial role in maintaining a dry and protected crawl space and offer several benefits in mitigating water-related issues:
Water Removal: Sump pumps effectively remove water from the crawl space, preventing it from accumulating and causing damage. By quickly pumping out excess water, they help keep the crawl space dry and prevent potential flooding.
Moisture Control: Excess moisture in the crawl space can lead to mold and mildew growth, compromising the structural integrity of your home and posing health risks. Sump pumps help control humidity levels by removing excess moisture and discouraging the growth of mold and mildew.
Structural Protection: Water intrusion can damage your home's foundation and structural components. By preventing water from seeping into the foundation and surrounding areas, sump pumps safeguard the structural integrity of your home, avoiding costly repairs.
Improved Indoor Air Quality: A dry crawl space helps maintain better indoor air quality. By reducing humidity and preventing the growth of mold and mildew, sump pumps minimize the presence of allergens and musty odors, promoting a healthier living environment.
The Consequences of Neglecting Crawl Space Water Issues
Failure to address water issues in crawl spaces can have severe consequences. Prolonged exposure to moisture can lead to mold and mildew growth, affecting the structural integrity of your home and posing health risks to you and your family. Additionally, water can cause wood rot, compromise the foundation, and attract pests, further diminishing the value and safety of your property.
What to Consider When Buying Sump Pumps
Sump pump motor power: An economical unit may have enough power to drain out water that's running slowly. But if your basement faces a flood with gushing water, you'll need a sump pump with a powerful motor. It will last longer and won't need to run for hours to pump out large volumes of water.
Clogging proof: When a sump pump takes in water, its ports can clog with silt or debris, slowing down or stopping the pump from working. To prevent the intake from clogging, you want a sump pump with a durable plastic sump liner and lid whose design will also not be troubled by pebbles or debris.
Float & switch design: Sump pumps usually rely on float-type switches to turn on the pump when water reaches a particular level in the sump pit. Get a pump with a column-type float and a solid float that can't sink. Other floats and switches are prone to malfunction.
Battery backup: Powerful storms can knock out power lines, causing outages. When the power goes off, you'll be unable to pump out water. A good sump pump system should include a battery backup for those stormy days when the power goes off for any reason.
Motor housing: Low-cost units come with plastic motor housings that don't respond well to heat when left running for long periods. When the housing gets hot, it creates tolerance that can burn out the motor's bearings. You want to purchase a unit with a cast iron casing, as it will dissipate heat and tolerate heating without affecting the sump pump's performance.
Partner with JES for Your Crawl Space Sump Pump Needs
At JES, we have the expertise and resources to guide you through the process of installing a sump pump that suits your needs. Our team is ready to help protect your home from moisture intrusion, mold growth, structural damage, and other water-related issues. Don't wait for water damage to strike — be proactive in safeguarding your property.
Start taking steps today to maintain a dry, healthy crawl space and a safer home. Contact us for a free consultation. Let's work together to mitigate potential water damage and preserve the value and safety of your home with a properly installed and functioning sump pump system from JES.
Publish Date:
Last Modified Date: