Should Dirt Floor Crawl Spaces Be Insulated?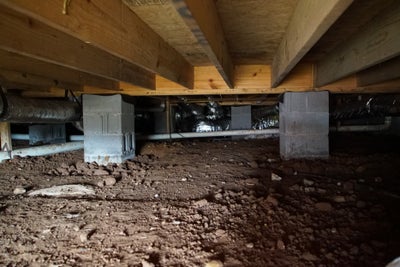 For many homeowners, the question "Should dirt floor crawl spaces be insulated?" is a valid one, especially when considering factors such as energy efficiency, home comfort, and moisture control.
Here at JES Foundation Repair, we understand the importance of proper crawl space repair and are happy to offer our professional insight. The answer to this question is a definitive yes—insulating a dirt floor crawl space provides numerous benefits for your home.
What is a Dirt Floor Crawl Space?
A dirt floor crawl space refers to a subterranean void beneath your home that is characterized by an uncovered, earthen floor. Unlike a basement, crawl spaces are typically shallow areas designed with just enough height for someone to crawl in, hence the name. The primary purpose of these spaces is to provide a buffer between your home and the ground, offering easy access to your home's utility systems such as plumbing, wiring, and HVAC components.
However, the issue with dirt floor crawl spaces lies in their impact on your home's climate control. The natural soil, full of moisture and organic matter, can lead to several issues. For one, it's a perfect environment for mold and mildew growth, which can infiltrate your home's air supply and pose health risks. Additionally, the natural coldness of the ground can leach into your home, especially during winter, making your heating systems work harder to maintain a comfortable temperature.
During the summer, the warmth and humidity from the outdoor air can cause condensation on the cooler surfaces in the crawl space, leading to a damp environment that encourages mold growth and wood rot, potentially damaging the structural integrity of your home. A dirt floor crawl space, if not properly maintained or encapsulated, can therefore lead to increased energy usage, reduced indoor air quality, and structural issues.
The Importance of Insulating Dirt Floor Crawl Spaces
Improved Energy Efficiency
One of the most significant benefits of insulating a dirt floor crawl space is increased energy efficiency. Without insulation, heat and cool air can seep through the crawl space, causing your HVAC system to work harder to maintain a comfortable temperature.
By insulating this area, you can prevent heat loss during the winter and cool air loss in the summer, thus reducing the burden on your HVAC system and reducing your energy costs.
Reduced Moisture and Humidity
Insulating your dirt floor crawl space can also help to control moisture levels. Without insulation, moisture from the ground can easily evaporate into your crawl space, leading to high humidity levels and possible mold and mildew growth.
Insulating your crawl space allows you to create a barrier that inhibits moisture permeation, thereby safeguarding your home's structure from potential damage.
Increased Home Comfort
Lastly, insulating your dirt floor crawl space can make your home more comfortable. Inadequate insulation can lead to drafts and cold spots in your home, particularly during the winter. Insulation can prevent these issues, providing you with a more evenly heated or cooled home.
Insulation Options for Dirt Floor Crawl Spaces
There are several options for insulating a dirt floor crawl space, including fiberglass insulation, spray foam insulation, and rigid foam board insulation. However, at JES Foundation Repair we use Terra Matting Floor Insulation as part of our greater crawl space repair system.
Consulting with a professional from JES Foundation Repair can ensure the best choice for your home.
Trust JES Foundation Repair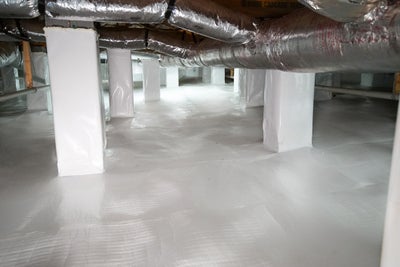 When it comes to insulating your dirt floor crawl space, the professionals at JES Foundation Repair have the expertise and experience to provide you with the best solution. Our team understands the unique needs of every home and is committed to providing high-quality service and solutions to enhance your home's comfort and energy efficiency.
Contact us today for a comprehensive and free inspection and start your journey towards a better-insulated, more efficient home. With JES Foundation Repair, you're in the best hands. Secure your home's comfort and efficiency today!