Concrete Lifting & Leveling in Northern Virginia
Have you noticed any cracked or uneven concrete near your Northern Virginia home? Your concrete might benefit from a cutting-edge lifting and stabilizing method that is only offered by JES.
Schedule Free Inspection
Services
Date & Time
Contact Info
Complete
Schedule Your Free Inspection
What do you need help with?
Northern Virginia Local Office
JES Foundation Repair
7940 Gainsford Ct.
Bristow, VA 20136
(703) 420-1887


Hours of Operation
Monday – Friday: 7 am – 9 pm
Saturday: 8 am – 6 pm
Sunday: 10 am – 7 pm
Concrete Lifting & Repair in Northern Virginia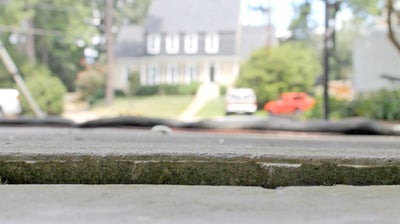 As a property owner in Northern Virginia, it's crucial to maintain the concrete surrounding your home and foundation. Despite being a robust material, concrete can easily suffer various types of damage over time, such as cracks, sinking, and unevenness caused by the region's harsh weather and soil conditions.
Fortunately, there's an effective method to repair broken concrete without replacing it entirely. Polyurethane injections can lift your concrete back into shape and restore its strength. At JES Foundation Repair, our team of specialists is skilled in identifying concrete issues, and we're well-versed in the silt loam, clay, and sandy loam soil commonly found in Northern Virginia. Trust us to inspect and repair the concrete around your property.
Concrete Problem Signs in Northern Virginia
Concrete damage can be easily identified through visible signs like pitting, flaking, and staining as well as cracks, sinking, or uneven slabs. These issues are common across Northern Virginia in areas including sidewalks, driveways, patios, and more. Ignoring these issues can lead to further damage over time, so it's important to take action. Contact JES for a free inspection and estimate to ensure your concrete is properly repaired by our experts.
What are the Causes of Concrete Damage in Northern Virginia?

Concrete damage can occur due to many factors, with exposure to environmental conditions being the most prevalent. Northern Virginia's soil is made up of a variety of silty, clay, and sandy loam soils that dry out in the heat and swell when they get oversaturated. Our rainfall is typically around 43 inches, more than the national average. This heavy rainfall leads to soil washout and erosion, leaving concrete unsupported. 
Concrete Lifting Solutions in Northern Virginia
JES provides a cutting-edge concrete lifting solution to help your Northern Virginia property instead of using old, intrusive methods like mudjacking. PolyRenewal™ polyurethane injections are lightweight, strong, simple to install, and multifunctional. This technique lifts and stabilizes exterior concrete steps, driveways, patios, pool decks, sidewalks, interior slab floors, and more. The exact lifting and stabilization of the slabs are made possible by the expansion of the polyurethane foam after it has been injected beneath the concrete to fill any voids.
Why Choose JES Foundation Repair
If you're a homeowner in Northern Virginia, you're probably no stranger to concrete issues. But you don't have to sit back and accept these unsightly dangers. JES has the perfect solution to lift and restore your concrete permanently. Our team is knowledgeable about the area's fragile, silty, clay, and sandy soils, as well as the frequent rainfall and high humidity. We're here to provide trustworthy repairs and top-notch customer service, so you can rest easy.
JES has been helping homeowners in Northern Virginia with concrete repair for almost 30 years, and we're ready to help you too. Don't let your cracked concrete damage your home's value and curb appeal. Contact us now to schedule your free concrete inspection and repair estimate. Our expert team is here to support you every step of the way.
Reviews from our Local Customers