Basement Waterproofing in Northern Virginia
Your basement might have issues like mold and moisture that impact the rest of your home. Learn how your Northern Virginia home can benefit from permanent solutions from JES.
Schedule Free Inspection
Services
Date & Time
Contact Info
Complete
Schedule Your Free Inspection
What do you need help with?
Northern Virginia Local Office
JES Foundation Repair
7940 Gainsford Ct.
Bristow, VA 20136
(703) 420-1887


Hours of Operation
Monday – Friday: 7 am – 9 pm
Saturday: 8 am – 6 pm
Sunday: 10 am – 7 pm
Basement Waterproofing Services in Northern Virginia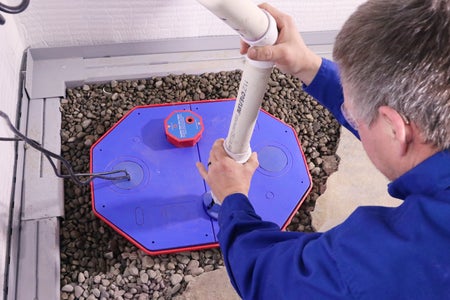 Maintaining a dry and mold-free basement in Northern Virginia can be challenging due to the area's cold winters and humid summers. Whether it's for storage or extra living space, keeping it healthy is crucial for your safety and home's structural integrity.
While DIY fixes may provide temporary relief, it's wise to have your home professionally inspected and repaired by experts such as JES Foundation Repair. Our experienced team has the solutions and expertise necessary to ensure your basement remains dry for good. Explore our services below.
Basement Problem Signs in Northern Virginia
Basement problems aren't just inconvenient — they can put your home and family at risk. It's important to recognize signs of trouble, and even harder to determine if there's damage to the foundation. Keep an eye out for leaks, efflorescence, mold, musty smells, and other issues like condensation, humidity, wet drywall, and flooding in your Northern Virginia home. Don't wait for a small problem to turn into a major hazard. Get the help you need, and contact our team for a free estimate today. We're here to help ensure your home is safe and sound.
Causes of Basement Damage in Northern Virginia
If you're experiencing basement problems in Northern Virginia, chances are the clay and silty soil around your home might be the main cause. When a home is built, the dirt that was removed is placed back around the foundation, creating a clay bowl effect that can lead to an artificial water table – causing cracks, leaks, and bowing walls. Faulty equipment like your sump pump, water heater, or plumbing could also be to blame. Let us help you diagnose and solve these issues for a safe and dry home.
Basement Waterproofing Solutions in Northern Virginia
Ensure your Northern Virginia basement, and consequently, your entire home, is safeguarded to the best of its ability by enlisting the expertise and equipment of a reliable basement waterproofing team. Following a thorough inspection by JES, viable solutions such as an interior drain, sump pump, dehumidifier, wall vapor barrier, or a combination of these options will be proposed. While each solution brings unique advantages, they collectively function as a comprehensive waterproofing system that guarantees your basement the ultimate protection it deserves. Trust in JES to shield your home from water damage.
Why Choose JES Foundation Repair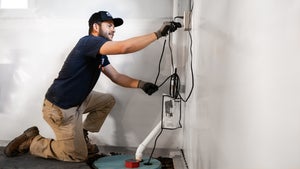 JES Foundation Repair has been Northern Virginia homeowners' go-to resource for basement waterproofing solutions for almost 30 years. We are keenly aware of the challenges residents face due to the area's variety of unstable silty, clay, and loam soils, as well as constant rainfall and excessive humidity. We have created specialized basement waterproofing solutions to solve these issues and keep your basement permanently dry and protected. In addition, thousands of homeowners like you have given us positive customer feedback, and we have also won numerous awards, like the Angi Super Service Award.
Nobody should have to put up with a wet, moldy, musty basement. Contact JES immediately to schedule a free basement inspection and repair estimate from our expert team. The process only takes a few minutes to start, and your basement and home will be secure for many years to come.
Our Customers Trust Us