AquaStop FreezeGuard™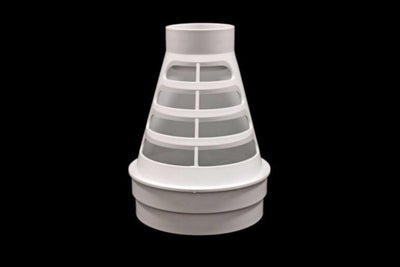 While basements can flood at any time of year, a winter's flood is especially sneaky as it can happen quietly, quickly causing damage to your home and belongings. When sump pump discharge lines freeze, the water will backflow into your home, resulting in flooding even if it's not raining or snowing outside.  
Once water has entered your basement via sump pump backflow, the result is a domino effect of problems including mold, efflorescence, musty smells, property, and structural damage. Your sump pump relies on clear, unblocked lines for efficient water removal. Frozen lines can present significant problems, especially in the mid-Atlantic region. Fortunately, JES Foundation Repair provides a solution with the AquaStop FreezeGuard™, an essential component of our comprehensive basement waterproofing solution.
What is the AquaStop FreezeGuard™? 
JES Foundation Repair is proud to introduce the AquaStop FreezeGuard™, a cutting-edge attachment that connects to your sump pump system's exterior discharge line, offering a secondary escape route for water and preventing backflow, basement flooding, and sump pump burnout. If the discharge line is blocked or frozen, the water is redirected to the FreezeGuard™, ensuring safety and prevention of flooding.
This innovative product is part of JES Foundation Repair's extensive whole-home solution, incorporating advanced basement water management systems across the mid-Atlantic region. When combined with a properly installed waterproofing system, the AquaStop FreezeGuard™ provides complete protection against water-related damage.
Signs You Need the FreezeGuard™ Attachment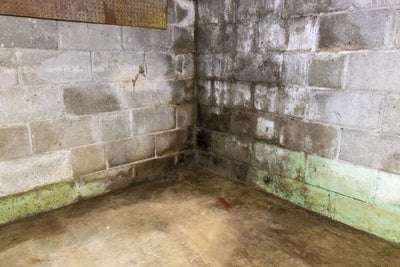 This specialized attachment proves beneficial when your basement exhibits signs such as:
Regular ice formation around the foundation or discharge area
Audible strain or noise from the sump pump
History of frozen discharge lines
Efflorescence on basement walls or floors
Addressing moisture in the basement is crucial as it can severely impact your home's structural integrity and your health. If you notice these issues, contact JES Foundation Repair immediately for a free inspection and repair estimate in the mid-Atlantic region.
Is an Anti-Freeze Exterior Sump Pump Discharge Line Attachment Necessary? 
For homes in the mid-Atlantic region prone to frozen discharge lines, an anti-freeze discharge line attachment like AquaStop FreezeGuard™ is essential. Without it, you risk recurring basement flooding, leading to mold, structural damage, and loss of valuables. Be proactive and secure your home with JES Foundation Repair's FreezeGuard™ attachment, a wise investment against future costly water damage.
What Are the Benefits of the AquaStop FreezeGuard™? 
The AquaStop FreezeGuard™, offered by JES Foundation Repair, presents numerous advantages:
Prevents Pipe Freezing: Ensures continuous water flow, avoiding backflow and keeping your basement dry throughout winter.
Protects Your Foundation: Safeguards your foundation from long-term water damage.
Long-term solution: Knowing that your basement is protected against the risks of frozen discharge line flooding can alleviate the constant effort of checking on your basement and worrying about recurring flooding. With the AquaStop FreezeGuard™, you can rest assured knowing your home is safe.
Installation by professionals from JES Foundation Repair, using proven techniques and high-quality materials, is essential for the effectiveness and longevity of the FreezeGuard™.
How the AquaStop FreezeGuard™ Attachment Works 
The FreezeGuard™ attachment is integral to the complete basement waterproofing system by JES Foundation Repair. The installation process involves:
Detailed inspection by a JES Foundation Repair expert
Application of a vapor barrier to the basement walls
Installation of an interior drainage system
Positioning a sump pump at the lowest point of the basement
Connecting the drains to the sump pump
Running internal discharge pipes to the sump pump
Leading pipes out through the basement wall
Adding exterior sump pump discharge pipes
Attaching the FreezeGuard™ to the exterior pipes
Extending and burying the discharge pipes in the ground
Testing the sump pump and FreezeGuard™ attachment
Installing an energy-efficient basement dehumidifier
JES Foundation Repair ensures minimal disruption to landscaping or underground utilities during the installation in the mid-Atlantic region, guaranteeing quality and effectiveness.
Why JES Foundation Repair is Your Best Choice in the Mid-Atlantic 
JES Foundation Repair stands out as the premier provider of anti-freeze discharge line attachments in the mid-Atlantic region due to:
Superior customization and build quality
Effectiveness in extreme weather conditions
Easy installation process
Warranty protection
Inclusion in our annual maintenance service plan
Contact JES Foundation Repair Today!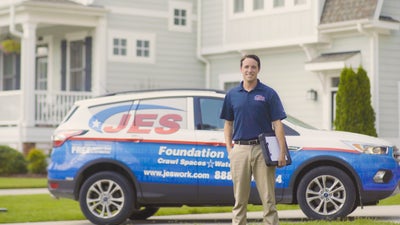 Don't compromise on your home's protection in the mid-Atlantic region. Fortify your basement with the proven AquaStop FreezeGuard™ from JES Foundation Repair. Contact us today for a complimentary inspection and estimate. Our experts will assess your home and recommend tailored solutions, including the indispensable FreezeGuard™ attachment. Secure the lasting health and comfort of your home today.
Publish Date:
Last Modified Date: