If you find wet carpet in your basement, you might have several questions. What could be causing it? Can it be removed? Is there a way to address the concerns it brings? It's common for homeowners to feel unsure about dealing with wet carpet in their basements. Here's some helpful information to understand this frustrating issue.
What Damage Can Wet Carpet Cause to My Home?
Some individuals may not immediately recognize the severity of having wet carpet in their basement. It may seem unnecessary to address it with such concern. However, there are several potential issues that can arise:
Mold and Mildew
The primary and possibly most significant problem associated with wet basement carpet is the growth of mold and mildew. When there is moisture in an enclosed space, particularly in a basement, and the conditions are suitable, mold and mildew are likely to thrive. Basements provide an ideal environment for these organisms to flourish.
In many cases, the temperature preferred by humans is also favorable for mold and mildew growth. This is why basements often experience a high presence of these organisms when there is damp carpet. It is crucial to have the situation inspected as there is a good chance that mold and mildew may be present on, around, or beneath the wet carpet.
Musty Basement Smell
A musty smell in your basement is usually a result of mold and mildew. It may seem tempting to dismiss it as a stale odor that simply needs some fresh air. However, in most cases, this smell originates from mold or mildew growth inside the basement.
To eliminate the musty basement smell, the underlying issue of mold and mildew must be addressed. However, before you can tackle the mold and mildew problem, it's important to thoroughly investigate your basement to identify the root cause. The presence of a musty smell should be promptly addressed.
Damp Baseboards
If your basement carpet is placed on wooden baseboards, it's highly likely that wet carpet will also lead to damp baseboards. In fact, it's almost certain that wet baseboards will accompany wet carpet, especially if the moisture is allowed to linger. Avoid letting your wet carpet sit for too long, as the water seepage can spread moisture throughout the baseboards.
Damp baseboards can present various issues. They not only provide an environment for mold and mildew to thrive but also contribute to wood rot, which is challenging to treat or eliminate. Wet carpet alone should be reason enough to address the moisture problem in your basement. Additionally, consider the potential problems that wet baseboards can cause.
Can I Fix My Basement Carpet Myself?
While the do-it-yourself (DIY) approach may seem appealing for basement carpet repairs, it's critical to understand its potential pitfalls. Here are the common risks associated with DIY repairs:
Amplifying the Issue: DIY attempts can escalate minor problems into significant, costly repairs.
Overlooking the Root Cause: DIY solutions may only address visible symptoms, neglecting the underlying issue.
Creating Additional Damage: Accidental damage during DIY repairs adds to overall costs and responsibility.
Succumbing to the 'Cheap Fix' Temptation: Temporary 'cheap fixes' rarely solve the problem permanently, leading to increased future expenses.
Fixing Your Wet Basement Carpet
When dealing with a wet basement carpet, seeking professional help can ensure a lasting resolution. Here's how an expert approach differs from DIY:
Identify the Source of the Problem
It's essential to locate the root cause of your damp carpet. While some sources, like a burst pipe, are obvious, others may be hidden, needing an expert eye. Professionals, such as basement waterproofing experts, can unearth the elusive issues which might escape the DIY approach.
Address the Source of the Problem

Once you have identified the source of the issue, it's crucial to fix it directly. This step is essential because it ensures you're addressing the root cause rather than merely treating the symptoms. After all, you want to prevent the problem from recurring once you believe you have "fixed" it.
In some cases, addressing the source can be simple, such as tightening a leaking pipe or removing excess water from a flooding incident. However, suppose you encounter a more complex source problem, like cracks in your basement walls. In that case, it's advisable to seek the assistance of an expert who can provide the appropriate solution.
Replace Your Wet Basement Carpet
Replacing the carpet should only come after resolving the root cause. Otherwise, the issue will likely recur, causing your new carpet to get wet. Professionals ensure the first two steps are handled properly before moving on to carpet replacement, preventing repeat issues.
Maintain Your Basement with JES Waterproofing Solutions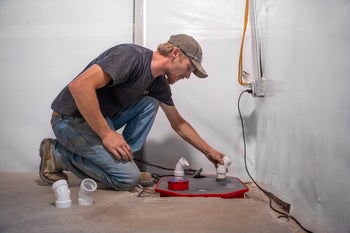 Lastly, it's crucial to prioritize the maintenance of your basement to preserve its optimal condition. This involves implementing effective measures, such as utilizing state-of-the-art products from JES specifically for basement waterproofing solutions, such as BasementGutter™ Interior Drain Systems and a Basement Dehumidifier. By investing in these essential maintenance solutions, you can ensure the long-term health of your basement.
When it comes to maintaining your basement, contact JES. With our extensive knowledge and expertise, we can offer invaluable insights tailored to the specific requirements of your basement. Trust JES to provide the comprehensive support and guidance needed to keep your basement in exceptional shape for years to come.
Wet Basement Carpet Solutions in Virginia, Maryland, and DC
Fixing problems associated with dampness, cracks, and flooding is not always easy, and you can't always fix it on your own. The good news is that a basement waterproofing expert can help you find a solution.
Free Homeowner's Guide to Basement Waterproofing
Subscribe to our email list today and receive your Free Homeowner's Guide to Basement Waterproofing, written by Professional Engineers, a $19.95 value! You'll learn about wet basement problem signs and what they could mean for your home's health and safety.