The basement of your home offers extensive possibilities – it could serve as an extra storage space, a dedicated home gym, a secluded office, or even an additional bedroom. This versatile area significantly enhances your property by adding invaluable square footage, thereby increasing its overall value.
However, basements aren't without their challenges. One common problem is that they're prone to flooding and water damage. These issues can cause a big headache and if left untreated, can harm the structural integrity and foundation of your home. Luckily, with services like basement waterproofing, you can protect your home and stop these issues from becoming worse and inevitably more expensive.  
Top Indicators of a Flooded Basement
Maintaining a dry and secure basement requires constant vigilance for signs of potential flooding or water damage. Consider the following key indicators: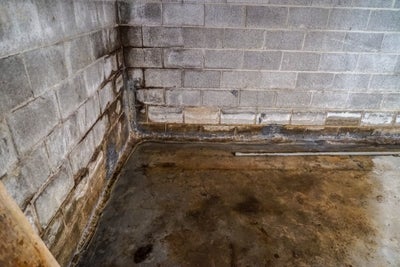 Pooling Water: One clear sign of basement flooding is the presence of standing water. If you notice any such accumulation on the floor, immediate action is required. 
Persistent Musty Smell: Basements, being underground, are typically cooler and a bit moist. However, a lingering damp or musty smell may be a red flag, indicating too much moisture or stagnant water. 
Discolorations or Stains: Unusual marks, stains, or color changes on your walls or floors, particularly after heavy rainfall, can signal water damage. 
Basement Wall or Floor Cracks: Visible cracks in the walls or floor of your basement could point to serious foundational issues. Even the smallest crack can allow water ingress, potentially leading to flooding. 
Mold Growth: A thriving mold colony in damp conditions is an unfortunate sign of excess moisture. The presence of mold needs immediate intervention. 
The Impact of Basement Flooding
Experiencing basement flooding extends far beyond the immediate issue of water damage—it presents several challenges for homeowners. Below are some key impacts you might face: 
Financial Strain: Flooding in the basement can lead to hefty repair and replacement expenses. From damaging appliances and personal items to causing structural harm to your home, these events can put a significant financial strain on you. 
Health Risks: A waterlogged basement can quickly become a breeding place for mold and mildew, which pose substantial health hazards. The presence of these organisms can exacerbate allergies, asthma, and other respiratory conditions among those living in the house. 
Decreased Home Value: Consistent basement flooding and the ensuing damage can greatly depreciate your property's worth. This decrease could pose a serious drawback if you decide to sell your home down the line. 
Life Disruption: The process of cleaning and restoring your home after a flood can be a lengthy and disruptive one, causing temporary displacement for your family and interrupting regular routines. 
Common Causes of Basement Flooding
Several factors can lead to a flooded basement, including: 
Malfunctioning Sump Pumps: When your sump pump doesn't function as it should, it can't effectively remove surplus water, leading to potential flooding. 
Snow Melt or Intense Rainfall: Rain and snow are frequent culprit, especially in regions with insufficient drainage systems. 
Inefficient Drainage: A poor or obstructed drainage system can lead to water accumulation around your home, which can infiltrate your basement. 
Foundation Cracks: Your home's foundation can develop fissures over time due to factors like shifting soil, temperature fluctuations, or pressure from water accumulation. These cracks serve as pathways for water, resulting in basement flooding. 
JES Solutions for Flooded Basements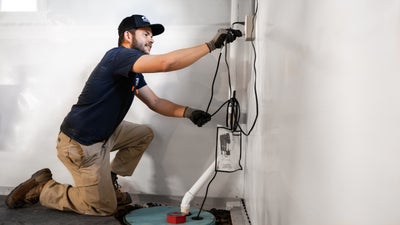 Do you dread seeing thunderstorms in the forecast, knowing your basement is likely going to flood? You don't have to deal with this problem alone. JES has a line of effective solutions that can help you save your property from water damage.
Our interior drainage systems work by catching water and sending it through a sump pump that efficiently removes it from your basement. We also offer three different AquaStop™ sump pump systems that are designed specifically for basement flood repairs.
To further ensure that your basement stays dry, we install dehumidifiers that help reduce the moisture level in the air. This promotes proper airflow and prevents mold growth that can cause additional damage. 
Choose JES for a dry and safe basement that you and your family can enjoy for years to come. 
Expert Services for Your Basement Flooding Solution
Thankfully, basement flooding can be prevented with the help of professional waterproofing services. At JES, we are experts in basement waterproofing and foundation repair. Our professional team is ready to safeguard your basement against potential flooding, sparing you from possible harm and anxiety. Contact us today for a free quote to take the first step towards keeping your home dry, secure, and safe.