The Truth About Crawl Space Vents: A Tidewater Regional Guide
When it's pleasant outside, it's satisfying to throw open the windows and let fresh air into your home.
This is all well and good for your main living space, but it's not a good idea for other areas of your house.
Take your crawl space, for example. "Airing out" or venting your crawl space is a dangerous practice, despite what many builders think.
As you can see in this crawl space image, vents contribute to a host of problems that lurk unnoticed just beneath your feet.
In this guide, we'll cover the reasoning behind crawl space vents, how they impact your crawl space and home, and what you can do to mitigate their effects.
---
Crawl Space Vents: Are They Needed?
Virginia itself is home to many old, historical homes. Many older and even newer homes have crawl space features that are detrimental – particularly open crawl space vents.
Crawl spaces have traditionally been required to have open vents to improve ventilation, let the crawl space "breathe," and reduce moisture and mildew problems.
However, foundation specialists have discovered that crawl space vents actually contribute to the very issues they were designed to solve.
How Crawl Space Vents Affect Your Crawl Space
If your home has crawl space vents, you need to know what they're doing to your home and family.
Open vents let rain runoff, humid and unconditioned air, and other nuisances into your crawl space. This leads to a variety of problems, including:
Water Infiltration
Dangerous Growths
Structural Instability
Pest Invasion
Damaged Protective Measures
Energy Loss
Unpleasant Odors
Understanding the Stack Effect
Unlike the Las Vegas adage, what happens in your crawl space does not stay in your crawl space. It's going to impact your home and family.
That's because of a phenomenon known as the stack effect, which is aided by open vents.
The stack effect, also known as the chimney effect, is the natural flow of air in your home from bottom to top.
Air pressure is also a factor. Air moves from high-pressure areas to low-pressure ones. When there is a considerable difference between indoor and outdoor temperatures, airflow becomes more significant.
As a result of this airflow, everything in your crawl space, including mold spores, insect feces, and damp air, will become airborne and circulate throughout the rest of your home.
This not only results in poor air quality but also poses health risks.
Curious what the stack effect looks like? Check out this video to learn more.
The Bottom Line: Cover Your Vents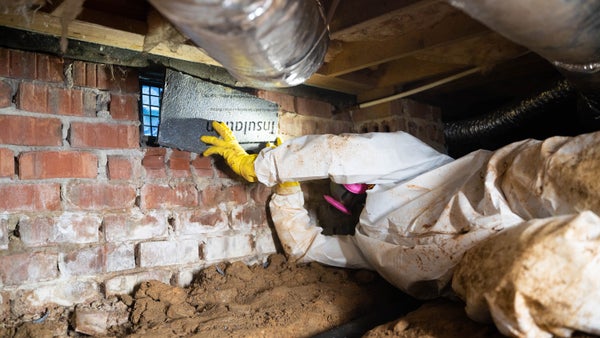 The best way to deal with crawl space vents is to close and seal them.
But this is not always as simple as it sounds. There's room for error with DIY installations of big-box store items, which allows crawl space problems to continue.
Crawl space repair professionals will block off and cover your vents with superior materials, as well as install other crawl space encapsulation and repair solutions.
---
Knowledge About Open Vents Will Empower Your Home Repair Decisions
As you can see, open crawl space vents are a major problem.
Although the design of crawl spaces has been critically defective, it is important to note that building codes have recently been updated to allow for unvented crawl spaces.
While unvented crawl spaces still need to be conditioned, homes with these vents also need to be properly sealed.
Crawl space professionals can help you with this task, as well as create a healthier home with crawl space encapsulation.
If this sounds like a project your home and family can benefit from, give our experienced team a call! We'd love to meet with you and provide you with a free inspection and estimate.
Some crawl spaces, especially in older homes, are vented because it was required by building code.
It was thought that open vents would help with the airflow through the crawl space and minimize the presence of moisture and mold.
But in more recent years, foundation experts have found that vents actually cause those problems and more.
Replacing, removing, or altering crawl space vents in any way is a project best suited for crawl space and foundation repair professionals. This ensures your crawl space has the appropriate repairs it needs to lock out outside air and moisture. 
Professionals will seal off the vents with sturdy foam insulation blocks, as well as place vent covers on the home's exterior for aesthetic purposes upon your request. 
Call JES for a Free Estimate!
Our team at JES Foundation Repair is proud to serve homeowners in locations throughout Virginia, including:
Chesapeake
Newport News
Norfolk
Richmond
Virginia Beach
Don't see your service area? Check here.