Crawl Space Humidity in the Tidewater Region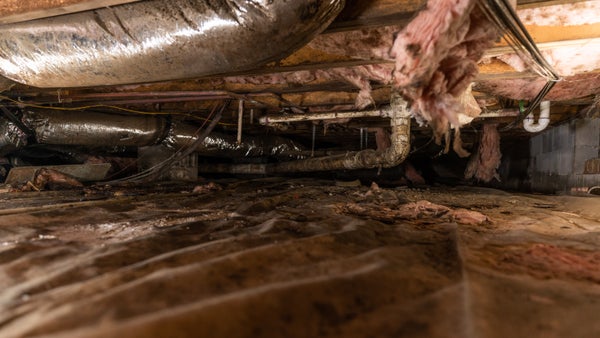 The Tidewater Region throughout Virginia is a warm and humid area that is inviting to the wrong kinds of visitors.
Pests, mold, and wood rot gravitate to and thrive in warm, damp areas, and they'd love nothing more than to make your home their own by setting up shop in your humid crawl space.
A humid crawl space, like the one pictured here, endangers your family's health and your home's structural stability. Keep reading to learn more about its negative impacts and tips on how to handle these issues in our handy guide.
---
How Humidity Affects Your Crawl Space
While no or low humidity creates dangerously dry conditions, more than 55% humidity in your crawl space leads to other hazards, including:
Condensation
Mold Growth
Wood Rot
Sagging, Uneven Floors
Ineffective Insulation
High Energy Bills
Pest Infestation
The biggest threat to your crawl space is open vents.
They are the source of most crawl space issues, as they let unconditioned outside air into your crawl space. This is a particular danger during warm, wet summer months.
As long as there is moisture in the air, humidity exists on some level.
Let's take a closer look at each of these dangers.
Condensation
Your crawl space is naturally cooler than the rest of your home. 
When warm air enters through vents and meets cool surfaces like ductwork, it condenses and forms water droplets, which you can see here. 
This water can saturate materials in your crawl space like wooden supports, fiberglass insulation, and plastic liners, and lead to further problems detailed below including mold and rot.
Mold Growth
Mold requires just three things to grow and thrive, and your crawl space has them in spades: Air, Water, Food (organic material).
Because of the stack effect, mold won't be confined to your crawl space, but will travel upwards and circulate in the air throughout your home. The spores can spawn further mold growth elsewhere in your home and cause health issues in sensitive individuals. 
To learn more about crawl space mold, check out our complete guide. 
Wood Rot
Moisture and humidity also attack your crawl space in another way. Another type of mold known as wood rot forms on wooden supports and floor joists, pictured here, and eats away at the building. 
This is particularly dangerous because it impacts the structural stability of your entire home. 
Sagging, Uneven Floors
As mold and wood rot feast on the structural components of your house, you'll be able to tell this is happening when you walk across your floors. 
If the floor feels soft, bouncy, and uneven, this means the underlying fungus has significantly weakened the support system and cannot uphold the weight of the structure. 
Ineffective Insulation
Insulation is used throughout your house to help with temperature control and energy efficiency. Soft fiberglass insulation is often used in a variety of places, but it proves to be ineffective and hazardous in a crawl space. 
As you can see in this photo of an unhealthy crawl space, if any water or moisture comes into contact with fiberglass insulation, the material soaks it up, holds onto it, and creates other issues. 
It is no longer effective, and pests are drawn to it to nest and inhabit. 
If the insulation is in the rim joist or band board and touching the wooden supports, the wood can become wet, and rot can form. 
High Energy Bills
Without proper insulation protecting your crawl space and home, cool winter air from the crawl space travels upward through the floor. This makes the floors in your living area feel cooler, and your furnace will work overtime to try to create your desired temperature. 
The same happens with warm summer air, which will make your upper floors feel hotter than normal and overtax your AC unit. 
Both instances result in poor energy efficiency as well as higher than normal energy and electric bills. 
Pest Infestation
Pests like the ones pictured here love dark, damp, secluded areas to live, nest, and breed. That makes humid, vented crawl spaces their ideal home. 
Pests of all varieties – from bugs to small animals – can infiltrate your crawl space. They can find their way into your main living space to wreak havoc, and their feces and carcasses impact the health and quality of the air you breathe in your home. 
Dealing with Humidity in the Tidewater Region
A dehumidifier is a huge piece of the puzzle when dealing with humidity in your crawl space and home, but it's not the only solution.
You can't just put a store-bought dehumidifier in your crawl space and call it a day. That's not going to solve the problem.
Following a professional inspection, your crawl space expert may recommend installing some or all the following crawl space encapsulation solutions to address crawl space humidity:
Water Management Systems
Foam Board Insulation
Vapor Barrier
Air System
Vent Sealing
Browse through this gallery and follow along below.
Water Management Systems
Instead of puddles of water lingering on your dirt crawl space floor and contributing to humidity, the following products are installed together to intercept water and remove it from your home:
Interior perimeter drainage system
Drainage matting
Foam Board Insulation
Before any further work continues, old crawl space insulation is removed, and foam boards are placed on the interior walls.
This type of insulation is more desirable in your crawl space because it does not absorb water or moisture. It also is better at controlling the temperature in your crawl space because of its closed cell foam and thermal properties.
Vapor Barrier
Next, the walls and floor are covered with a 20-mil vapor barrier.
Among its many benefits, this thick and durable barrier locks out moisture, is waterproof, and resists mold growth.
Air System
An energy-efficient dehumidifier is the key to controlling the humidity level in your crawl space.
But this unit is more than just a dehumidifier. It is a complete air system that cleans and filters the crawl space air so it will be healthier for your family.
Vent Sealing
Because open crawl space vents are the main culprit when it comes to humidity, they need to be closed and sealed.
The same foam board used on the walls will be cut to fit each vent opening and used to block the vent from the inside.
Vent covers placed on the home's exterior for aesthetic purposes are available upon request.
---
Make Informed Decisions About Addressing Crawl Space Humidity
You may never see the inside of your crawl space. Most of the time, there's no reason to.
But it is crucial for you to be aware of its condition, especially where humidity and air quality are concerned.
That's why you will benefit from professional crawl space inspection, repair, and maintenance. Trained and experienced crawl space experts know exactly what to look for in your crawl space; how to measure, monitor, and control humidity; and how to repair any damage.
If you are concerned about the level of humidity in your crawl space and home, contact our friendly and knowledgeable staff at JES Foundation repair today to book your free inspection and estimate.
For additional information about crawl spaces, head over to our Virginia Crawl Space Guide.
Crawl Space Humidity
FAQs
You can install a remote hygrometer in your crawl space.
The device reads the amount of moisture and humidity in the crawl space, and you can view these readings on your phone after downloading the appropriate app.
The best way to lower crawl space humidity is with professionally installed crawl space encapsulation solutions, including the following:
Vapor barrier
Dehumidifier
Sealed vents
The ideal level of humidity in both your crawl space and the rest of your home ranges from 50%-55%. Anything below 50% creates dangerously dry air, but when it's above 55%, mold can grow easily and spread quickly. 
Call JES for a Free Estimate!
Our team at JES Foundation Repair is proud to serve homeowners in locations throughout Virginia, including:
Chesapeake
Newport News
Norfolk
Richmond
Virginia Beach
Don't see your service area? Check here.