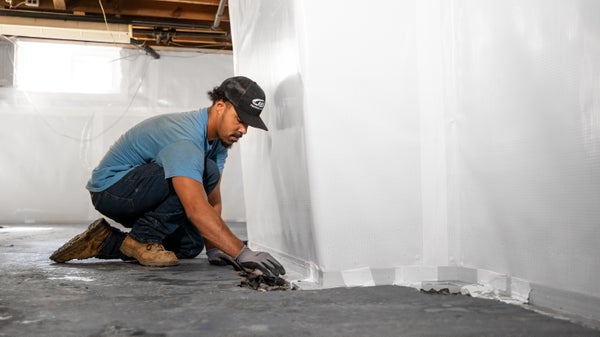 How much does basement waterproofing cost? The cost to waterproof your basement depends on the level of waterproofing you need. If you have dampness without puddles, then a reliable basement dehumidifier may be all you need.
Otherwise, a serious water issue and a foundation problem could cost more. In any case, it's always good to call in a basement waterproofing expert.
Furthermore, be careful of contractors who tell you the cost of basement waterproofing before they see the problem. Notably, every home has unique soil and environmental factors. Waterproofing problems are uniquely different. As a result, the solution should be customized for your home.
Basement Waterproofing: Know Your Options
There are two main options available when you waterproof your basement: exterior or interior waterproofing.
Exterior Waterproofing
Exterior waterproofing involves digging down to the basement foundation footing. Once the digging is complete, waterproof barriers would be installed over the foundation walls. Finally, an external drainage system would be implemented. While this is a permanent solution, it damages your foundation and is very expensive. Moreover, external drains can cause problems down the road. Since they clog easily, it's important to keep up with maintenance. To clean the drains, you'll need to excavate down to the drains in order to remove the clog. Consequently, this puts your basement foundation at risk for damage caused by the digging.
Interior Waterproofing
Interior waterproofing is the most cost-effective way to take care of your basement's water problem. This can involve installing a french drain or above-floor drainage system. You may also need a basement dehumidifier and a sump pump. As a result, this removes the water collected in the drainage system and dehumidifier.
When properly done, waterproofing can preserve the value of your home, while also maintaining its safety. See what Angie has to say about Basement Waterproofing costs.
Are You Looking For Basement Waterproofing Experts in Virginia, DC, Maryland, or Northeastern North Carolina?
At JES Foundation Repair, our team of in-house basement waterproofing experts have warranted solutions for basements and foundations of all types. How much does basement waterproofing cost? They'll be able to review specific options with you.
If you would like a free quote, we're ready to help you. Call or e-mail us today to schedule an on-site consultation and written quote.
We're proud to serve all of Hampton Roads, from Virginia Beach throughout Williamsburg and surrounding areas; Northern Virginia, DC, and Southern Maryland. View a complete list of our service areas.
Free Homeowner's Guide to Basement Waterproofing
Subscribe to our email list today and receive your Free Homeowner's Guide to Basement Waterproofing, written by Professional Engineers, a $19.95 value! You'll learn about wet basement problem signs and what they could mean for your home's health and safety.