Navigating the Storm: How to Handle a Wet Basement
Does your basement have moisture, standing water or leaking after a heavy rain? Learn how to fix your wet basement.
Schedule Free Inspection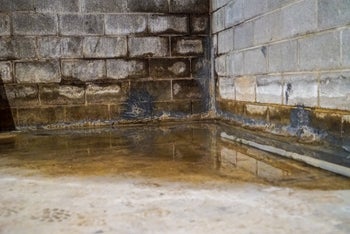 Discovering standing water around your walls is a sight you'd rather not encounter in your basement. Sadly, both new and older homes that aren't adequately prepared to manage heavy rainfall can experience leaks. If you observe that your basement is dampfollowing severe weather, homeowners need to locate the source as soon as possible.
Why? Because a damp basement is not just inconvenient. Wet conditions in your basement can foster the growth of mold and damage items you have stored there.
But how do you determine when a wet basement is a temporary problem or when it necessitates more urgent action? Let's explore the indicators of a leaking basement and the steps required to address it.
Identifying Signs of a Damp Basement
Recognizing if your basement has experienced moisture infiltration after rainfall usually isn't challenging. However, there's more to a wet basement than just visible puddles of water. Your basement might be leaking even without obvious pooling. Therefore, it's essential to be aware of other indicators. These can include:
Cooler temperatures as a result of increased moisture in the air
Increased humidity
Curling papers or damaged materials
Foggy windows
Warped door frames
Presence of mold
While some of these signs might be common during mid-Atlantic winters, they shouldn't be a constant fixture in your basement. If they are, it might be necessary to contact a professional to diagnose the problem.
The Importance of Prompt Basement Leak Repair
If you think your basement is leaking, you will want to address the problem as soon as possible. Standing water or consistent dampness inside your basement is a safety hazard for several reasons. Pools of water will compromise the electrical workings within your home. They'll also threaten the stability of your home's foundation, making it more challenging to live in and almost impossible to sell in the long run.
Moreover, standing water or constant dampness can foster the growth of black mold within your basement. Exposure to this type of mold can harm your health, and it is particularly risky if you have children.
Don't resign yourself to just living with a wet basement. Expert teams, such as ours at JES Foundation Repair, are ready and willing to help you address and fix any leakage problems in your basement.
Five Steps to Fixing a Wet Basement
Curious about what the basement waterproofing process involves? Typically, it includes the following steps:
1. Find the Leak
The initial step is locating the source of water ingress into your basement, which could be done by you or a professional contractor. Possible causes could be a burst pipe, a cracked foundation, or warped window frames. Identifying the leak source is crucial to effectively address it.
2. Remove the Water
If your basement has standing water or dampness, it needs to be removed before repairing the leak. A dehumidifier can help eliminate moisture in the air, while a shop vac can help remove any standing water.
3. Controlling Mold Growth
If the water has damaged any paper, wood, leather, or fabric items, you will need to dispose of them or have them treated, as these materials can foster basement mold, posing a health risk. If there are such materials that you need to salvage, let them dry for a day or two. Any growths indicate the need for immediate disposal. Be aware that larger items like door frames or wooden window frames might also need to be replaced to prevent mold growth. Discuss with your contractor about replacing any disposed materials.
4. Checking for External Leak Sources
Inspect your home's exterior features like gutters and downspouts to ensure they are not contributing to your leaks. Cleaning gutters or redirecting water flow away from your home might help lessen the severity of your leaks.
5. Implementing Preventive Measures
Finally, collaborate with your contractor to determine the best waterproofing solutions for your basement. Temporary solutions include dehumidifiers, French drains, drainage mats, and interior sealants. For a more permanent solution, discuss external waterproofing options with your contractor.
Ready to Reclaim Your Dry Basement?
Don't let basement leaks dampen your day or threaten your home's integrity. The expert team at JES Foundation Repair is ready to assist in navigating this issue. With a comprehensive understanding of local weather conditions and state-of-the-art solutions, we can help restore the health and safety of your basement.
As part of our commitment to providing excellent service, we offer a free inspection to identify the source of your basement leaks and propose the most effective, customized solutions. Together, let's transform your damp basement into a dry, safe space.
Contact JES Foundation Repair today to schedule your free inspection and take the first step toward reclaiming your home.
Publish Date:
Last Modified Date: